Sitting at an outdoor table, with your shoes off, toes in the sand, sipping on a refreshing cocktail as you drink in the incredible sunset – does life get any better? On the Edge Bar & Grill is tucked back from A1A on South Hutchinson Island, and is one of the island's top choices for happy hour.
Location: 1136 Seaway Dr. Fort Pierce, Florida (South Hutchinson Island)
Menu: On The Edge's cuisine is reflective of it's
Florida location, offering an array of fresh seafood. You will find a selection of locally caught fish on the menu. Mahi-Mahi, Swordfish, Tuna, Snapper, and Tilefish are just a few of the choices you will find. Much of the seafood is sourced right from the boats as they come in.
On the Edge offers a variety of sandwiches and burgers, as well as main courses that include seafood, chicken, and steak. There is something for everyone at On the Edge.
Thoughts: The fish tacos are reminiscent of those you would find in
California, and are topped with an avocado sour cream and stuffed with fresh cabbage, cheddar cheese and served with a fantastic mango salsa. I could eat the
mango salsa all day long!
Preparing the food simply allows the flavors of the dish to take center stage. Their Jamby is an excellent example of this. Sautéed shrimp, chicken, and
chorizo sausage are added to a hot simmering blend of rice and vegetables with a unique blend of herbs and spices. The dish is flavorful with just a bit of spice added to enhance, not hide, the flavors of the chicken, shrimp, and chorizo sausage.
One of the standout dishes is the Edge Mac & Cheese. Using a four-cheese sauce, it is blended with the macaroni to ensure that eat bite is a bit of cheesy goodness. Topped with seasoned breadcrumbs and then baked, this is one of our favorite dishes. Add to the Mac & Cheese your favorite meat – gator, lobster, or chicken and you are in for a tasty, delightful surprise that will leave your tastebuds sated.
I adore a great Conch Chowder. Outside of the
Bahamas, it is rare that I have found one that shines. On the Edge's Conch Chowder is as tangy and tasty as what I have tasted in the Bahamas. If you find yourself in Fort Pierce, stop in to On the Edge for their conch chowder and let it transport you straight to the islands as you delight in this savory chowder.
This family-owned restaurant prides itself on being a "scratch-made kitchen," where good food takes time to prepare. As they say, "the best things in life take a little time, so grab a drink, relax and enjoy the view." Dining at the Edge allows you a chance to imbibe a little, enjoy each other's company and watch the sun slowly slide down beyond the horizon, as you wait for your dinner to be served. For a special treat, have dinner down on the sand, perched on the very edge of the inlet. Here you can bring your four-legged pal, kick your shoes off, dig your toes in the sand and enjoy a drink or two while you enjoy the sunset while you enjoy dinner.
Prefer to visit by boat? No problem. On The Edge has a nice large dock where you can tie up after a day on the water, relax with a cocktail and have a delightful meal with a spectacular view.
Price Range: Appetizers range from $6 to $15. Tacos and sandwiches are $11 to $14. Main dishes range from $21 to $23.
Happy hour is offered from 2 pm to 6 pm daily, and anytime it rains.
Pin this Post For Later!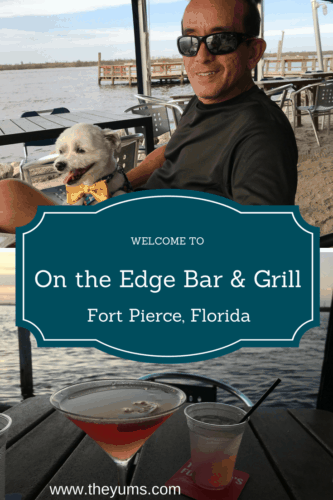 Disclosure: This post contains affiliate links. Clicking through for additional information or to make a purchase may result in a small commission being paid. By doing so, you help support this site and its authors, and we thank you.

Betsi is the founder and creative editor of
Betsi's World
, bringing her attention to detail to every piece she produces. Both in freelancing and on the blog, she crafts lifestyle, history, culture and cuisine content to thrill every adventurer's heart. She shares insights on multi-generational travel, boomer travel and luxury getaways for couples.
Betsi has been featured in Honeymoon Away, Lost Treasure Magazine, MilesGeek, Epicurean Traveler, and Confetti Travel Café. She is a regular contributor to the Fort Pierce, Florida Main Street Focus and the Best of Life Magazine. She can also be found as a guest contributor to The Traveling Fool, Word Traveling, Big World, Small Pockets, and A Traveler's Postcard.
Along with her husband Jim, Betsi travels extensively throughout Florida and surrounding states, the Bahamas and Caribbean basin. When possible, she travels by water, onboard their boat, Saltwater Gypsea.

Latest posts by Betsi Hill (see all)