You walk into an Italian restaurant, hoping, for one delightful meal, to be transported to an overseas destination. Only, of course, to be disappointed by a typical serving of lackluster American Italian fare. Sound familiar? Fortunately, Pistarro is dishing up an authentic foodie solution to your problem.
Location: Pistarro is located at 221 North East St., Frederick,
Menu: Pistarro is an Italian restaurant, so the menu breakdown will look familiar: antipasti (appetizers), pasta entrees, pizzas. But their focus is on authenticity. Instead of the typical spaghetti with red sauce, you'll find the traditional Carbonara, or Trofi (pasta with basil puree and parmesan).  They also have a wide selection of meats imported directly from Italy that play a starring role in many of their thin-crust pizza combinations.
Thoughts: From the moment you walk through the doors, Pistarro feels like a warm hug from your Italian Nonna. Cherry wood tables line the wall and fairy lights hang across the ceiling. The smell of fresh basil and roasting tomatoes permeates the restaurant. The glow from the pizza oven in the back corner is inviting even on a mid-August day.
If you want to get closer to the pizza oven, you can. One of Pistarro's unique features is their pizza bar, where you can sit and watch your pizza be born right in front of you.
From Pistarro's brick oven, hand-made in Naples with volcanic ash, come pizzas topped with a mouth-watering selection of truly Italian ingredients. Their meat selection, including mortadella, soppressata, speck, and prosciutto, is imported directly from Italy. The mozzarella is made in-house. The dough, crafted with traditional 00 caputo flour, is spread thin and baked to crunchy Napoleonic perfection. The extensive menu options can make it difficult to pick just one combination, so my dining partner and I split a half-and-half pizza: half Salsiccia (Italian sausage, roasted peppers, house-made mozzarella, basil) and half Capricciosa (mushroom, artichoke, speck, and more of that wonderful house-made mozzarella).
The restaurant is casual, but the impressive wine list is a reminder that this isn't your average pizza joint (just in cases the pizzas themselves didn't prove that already). The list features selections from a number of
, and blends unique to Italy, such as medium-bodied, delicately smooth Rosso. The beverage list also has several varieties of Grappa, the product of distilled grape skins and known as the Italian form of vodka.
Just like in
or
, for the pastas, simplicity is key. Key toppings such as drizzled olive oil, pine nuts,
, freshly shaved pecorino, black truffle dust, or basil puree enhance the hand cut pasta. And, unlike standard American Italian restaurants, the portion sizes are reasonable. No plates of endless spaghetti noodles that get wasted at Pistarro. Full from the pizza, I ordered a pasta dish to take home, the Trofi. The pesto and sun-dried tomatoes delicately topped the twisted pasta noodles, instead of drowning them in olive oil, as can often be the case.
You'll want to make sure to save room for dessert! I wanted an afternoon pick-me-up after my meal, so I ordered their affogato made with coffee gelato and
. It made for the perfect, light ending to a true
.
Price Range: Considering everything is made in-house or imported from
, the prices are very reasonable. The pizzas range from $9-14. The entrée pastas are around $10. A glass of wine averages at $8. A cookie from "Nonna's cookie jar" is $1.50 and a full-size dessert is $7.
For Pinterest: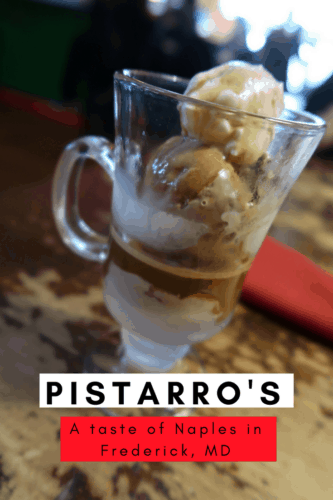 Guest Author Bio: Maggie is a politico from Virginia who spends most of her time on Capitol Hill. In order to stay sane and counteract the effects of dealing with politics on a daily basis, she travels far away from DC and writes about her journeys, sharing stories and tips with others looking to escape their day jobs. You can follow her travels at http://pinkcaddytravelogue.com or on Instagram @pinkcaddytravelogue.

The Yums is pleased to share reviews from well-fed writers around the world. If you would like to contribute a guest review, please get in touch.

Latest posts by Guest Contributor (see all)