Today, Briar Rose Chophouse & Saloon mixes the old West and twenty-first-century tastes. In the late 1890's, the Briar Rose Mine, high atop Peak Ten, offered an abundance of silver. After a long day laboring in the mine, miners returned to their boarding house on Lincoln Street for a hearty meal and a couple of shots, and maybe a round of cards before calling it a day. Ultimately the boarding house became a favorite destination for those seeking good food in an inviting atmosphere. As the mining era faded, miners abandoned the boarding house, and finally, it burned to the ground.
In the early 1960's, another building constructed on that same spot on Lincoln street featured the same mining-house style as the original boarding house. The proprietors named the restaurant after the  Briar Rose Mine and revived the fine food from the boarding house days.
Location: Briar Rose Chophouse & Saloon located at 109 Lincoln Avenue in downtown Breckenridge, Colorado.
Menu: The menu is heavily meat-centric with aged beef and fresh Colorado wild game. Briar Rose locally sources their meat from the Harris Ranch and the Emerald Valley ranch. Colorado game offerings include such favorites as Cervena elk medallions with a wild mushroom demi-glace and Emerald Valley ranch buffalo short ribs served on whipped Yukon Gold potatoes. Another local favorite is the sautéed Rocky Mountain trout with spinach almandine.
Vegetarians don't despair. Vegetarians will enjoy a combination of the vegetable sides, perhaps, pair the grilled asparagus accompanied by a sweet balsamic reduction with a salad and Lyonnais potatoes. Be sure to check with your server on the vegetable dishes, because some may contain meat products, for example, the Brussel sprouts with chorizo.
Thoughts: The venue has two settings to accommodate whatever your mood. The saloon with bare tables and a causal mountain cabin vibe is perfect for a come-as-you-are meal after a day on the mountain. The historic back-bar is entertainment central here, where you can choose from the entire menu, or have simply drinks and small plates.
The formal dining room has an elegant atmosphere for that special occasion worthy of white table clothes and napkins. In Breckenridge,  jeans are fine even for more formal dinners.
Some of my favorite dishes include:
Anything with those tart yet slightly sweet relative of the cranberry, known as lingonberries. I enjoyed the Swiss Mule, a lingonberry spiced Breckenridge vodka mixed with ginger beer. Another lingonberry favorite with the lingonberry demiglace that I poured over my perfectly cooked six-ounce petit filet mignon. All of the steaks are certified USDA Choice from all natural Black Angus raised on the Harris Ranch and then aged for 28 days.
The cheesy, gooey macaroni and cheese, baked in an oven-proof bowl and served a topping of baked, melted cheese, oozing over the top and dripping over the side.
The creamed corn slightly spiced with jalapenos kept in check by the cream.
The Briar's four-layer chocolate cake topped with a few Amarena Cherries Frangelico soaked in Port Wine. It's moist with a deep, dark chocolate flavor.
Price Range: Small plates on the saloon menu range from $6 for curry parmesan popcorn to $14 for ahi tuna lolly pops with an eel sauce or Raclette cheese with sweet cornichons. On the dinner menu, in the soup category, the butternut squash with truffled crème Fraiche is $9. A variety of salads are $12. Steaks and chops run from $26 for an eight-ounce top sirloin to $50 for Colorado double-cut lamb chops with an apple-mint Mustardo. Order family-style sides separately from the protein. They range from $9 for creamed spinach to $11 for fresh roasted wild mushrooms. The majority of the desserts are $9. Dinner for two runs about $100 including tax and gratuity.
For Pinterest: Pin this on your favorite chophouse restaurant board.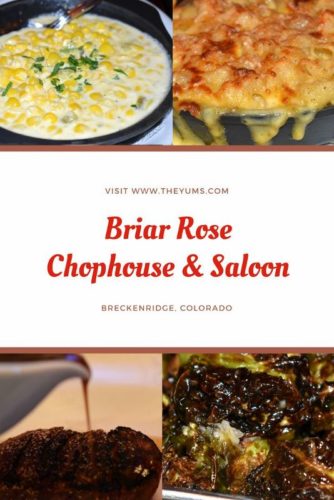 Latest posts by Amy Piper
(see all)