The Grove Restaurant offers earth-to-table dining through the support of local farmers and artisans. Michigan is second only to [easyazon_link identifier="B00TNDP0G4″ locale="US" tag="theyum-20″]California[/easyazon_link] in the United States crop production and Michigan's west coast produces 80% of them. Farm-fresh produce is the foundation for Grove's seasonal meals. There are no fresh tomatoes on the menu in February. The positive side is the fresh taste and healthy feeling. The negative is your favorite dish may be gone on your next visit, off the menu until next year. Oh, my longing for those out-of-season heirloom tomatoes!
Location: Grove Restaurant is at 919 Cherry Street S.E. in the East Hills neighborhood, Grand Rapids, Michigan.
Menu: The menu is a single sheet describing the day's offerings with the wine list on the back. Since the menu changes daily, the waiters aren't afraid to mark your favorite pairings from the wine list and let you can take the menu with you. Then enjoy the same wine with a home-cooked meal. Instead of dinner on Sunday, they serve brunch. The items range from Michigan favorites like cherries and whitefish to international fares like pierogi and kolache.
Thoughts: There's a casual family-friendly neighborhood vibe, with diners going from one table to another, just to say hello to someone they haven't seen in a while. The food is fancy, but the environment isn't. No white table clothes here, but the food quality reflects that caliber of restaurant. Stylishly presented dishes make the food as pleasing to the eye as it is on the palate.
Waiters are dressed in jeans and black T-shirts and welcome the young man whose girlfriend's parents chide him for being underdressed in his cartoon dinosaur T-shirt and surfer shorts. The dress is business casual.
To sample as many items as possible, we each ordered a different dish to share. If you want to know exactly where your food is coming from, check the chalkboard for their suppliers.
One surprise was the bread-and-butter-pickle hush puppies with pickled onions and aioli. The hush puppies have bits of pickle fried into the batter, while sliced bread-and-butter pickles accompany the lavishly plated dish. There's no comparison to those jarred pickles from the supermarket shelf.
When we arrived for brunch at 11:00 am, the restaurant had just opened, and there wasn't a wait; however, it's a good idea to have reservations as the small restaurant is often packed. In summer, a street-facing patio provides additional seating.
My favorite dishes are:
The stuffed French toast made from house-made milk bread and custard that is golden brown. The orange-bourbon cream cheese is sandwiched between two slices of French toast and cut into quarters. A warm blueberry compote and spiced nuts top the artfully arranged quarters. A snowy dusting of powdered sugar makes the blueberries pop. The chefs freeze local blueberries in summer and use them in the off-season.
The biscuits and gumbo sausage gravy studded with onions, and red and green peppers are reminiscent of New Orleans. Poached eggs and pickled onions grace the top. Although this dish is usually an entrée portion, the waiter cheerfully provided a side portion so that we could sample more dishes.
The house-made bacon has a slightly thicker cut, so even when it is brown and crispy, there is a slight chew.
A cubed apple compote scented with warm spices tops the cinnamon roll's center. The cream cheese glaze gently falls off the side of the roll enrobing it in a slightly sweet coating.
Read more reviews here.
Price range: Our brunch for two was about $40. Brunch snacks range from $5 to $13. Brunch entrees range from a $6 breakfast taco to a whitefish lunch for $22. Cocktails range from $8 to $13.
Hours: Sunday brunch is from 11 am to 3 pm, dinner is Monday through Thursday from 5 pm to 10 pm, Friday and Saturday from 5 pm to 11 pm.
For Pinterest: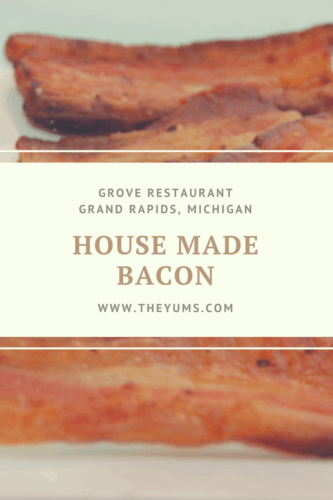 Author Bio:  Amy Piper is a freelance food and travel writer. She writes about food and multi-generational travel on her blog Follow the Piper. Follow her on Twitter @amythepiper.
Disclosure:  This post contains affiliate links. Clicking through for additional information or to make a purchase may result in a small commission being paid. By doing so, you help support this site and its authors, and we thank you.
Latest posts by Amy Piper
(see all)