The Dutch have a long-beloved tradition called bruine kroegs, or brown cafes. This is Dutch pub culture at its most traditional, and Cafe Papeneiland is one of the oldest and most typical of them all. In fact, it was first granted a liquor license in 1642, but was likely serving up drinks to patrons a good 40 years before that.
Imagine, the 36-year-old Rembrandt might well have walked across town to the Jordaan neighborhood, where Papeneiland is located, to lift a pint or sip a glass of genever here, while discussing a commission with a prospective customer or bargaining with a carpenter over the cost of finishing details on his beautiful new house. And not only do these wood-paneled walls house a long and deep history, but they also provide great snacks, good drinks and conversation and some of the very best apple pie in Amsterdam – and that is saying something.
Add in the fact that it's located on what is perhaps the prettiest and most photographed corner in town, where the lovely Prinsengracht and Browersgracht canals cross, and you have a recipe for a chance to perfectly experience that unique combination of charm, coziness, and conviviality the Dutch call gezelligheid.
Location: Prinsengracht 2, Amsterdam, at the Brouwersgracht
Menu: Expect a short list of classic Dutch pub food—bitterballen, sausages, cheese sticks, tostis and a variety of other sandwiches. There's a good beer list, focusing on local beers, with several on tap, and a classic list of drinks, including the traditional Dutch gin called genever. They also serve non-alcoholic cold drinks, great fresh peppermint tea and excellent coffee. But most of all, it's all about the apple pie. Real Dutch apple pie. With real whipped cream.
Thoughts: You really must not go to Amsterdam without experiencing at least one brown café. These typically Dutch pubs get their name because the walls, usually paneled in wood, have been stained a warm umber from the smoke of centuries of Dutch pipe lovers—and later cigarette smokers—and Papeneiland is no exception. Fortunately for us non-smokers, smoking is no longer allowed in the brown cafes (or in most other indoor public spaces in the Netherlands), and the walls hold no telltale nicotine smell. For the Dutch, the neighborhood brown café is an extension of their living room—where they meet friends, argue politics, debate the virtues of various sports teams, fall in love, and tip a few.
The minute you step past the terrace sitters and into this 400+-year-old building, you fall back in time. High walls, tables and floors of dark wood, large, leaded windows overlooking the canals, an old wood stove backed by blue-and-white Delft tiles, drawings and a pair of antique copper bed warmers, and twinkling fairy lights hanging from the high ceiling welcome you into the gezellig atmosphere. It's been run by the Netel family for more than 50 years, with each succeeding generation headed by a fellow named Thiel. I'm told Thiel #3 is now working there, learning the ropes. The blessed lack of music means you can actually hold a conversation here.
There are two floors with the upper floor being a bit quieter, with beautiful views on the canals from the windows. But beware: the stairway to get up there is perilously steep, in true Dutch fashion. For a bit of quiet downstairs, try for the table in its own little nook across from the bar. Or to chat up a local, sit at one of the few bar stools. On sunny days, look for a chance to grab one of the few seats outside by the front door. There is no better people-watching spot in all of Amsterdam.
So what can you order once seated? There's a long-running rivalry among Amsterdam cafes for which one serves up the very best appeltaart met slagroom, or Dutch apple pie with whipped cream. I've tried more than a few of them myself. And while I don't want to weigh in on the best of the best, I'd have to put the one from Papeneiland in the top three… or maybe two.
This is not your mom's apple pie. Unless you are Dutch. It's a huge slab, at least two inches high, sometimes more, of layer upon layer of two types of thinly-sliced local apples laced with raisins and cinnamon, mixed with a small amount of sugar and lemon juice, and piled into a crust that is more cake-like than we're used to on the other side of the Atlantic. The result is a not-too-sweet, slightly savory slice of heaven, made more angelic with a big dollop of freshly whipped cream. And remember Dutch cows produce some of the richest milk in the world, so that cream is to die for.
How good is this apple pie? Well, Bill Clinton stopped by for a slice in 2011 and liked it so much he sent an aide back later to pick up two whole pies to take home! In the morning, an espresso or koffie verkeerd (much like a café latte) is the perfect accompaniment. But at any time of day, this apple pie goes surprisingly well with good Dutch beer. The bar features some brews from the local craft brewery Brouwerij 't IJ that make for a perfect match. The on-tap choices are pulled from gorgeous antique ceramic taps. I like to pair my appeltaart with their IJwit, a wheat beer with a soft, foamy head and a fresh, slightly sweet aftertaste. Or try it with a light, popular I.P.A. It's lovely on a warm day.
Also on the drinks list you'll find a number of very traditional Dutch liquors from the Van Wees distillery, the only true craft distillery left in Amsterdam. They use only traditional preparation techniques and authentic copper kettles. You can choose from a range of Dutch genevers, the famous Dutch gin that later was adapted into English gin. They say it first migrated across the Channel when the Dutch William of Orange became King of England in 1689 and could not exist without his Dutch gin. On a wintry night, a glass of hot mulled glühwein makes a good alternate choice.
Now about the name. Papeneiland is what local people called the neighborhood back in the day, and it translates as "Papist's Island," so-called because many Catholics lived in this working-class neighborhood. The Protestant Reformist Dutch Republic banned the Catholic religion in 1580. Catholic services were winked at with famous Dutch tolerance, but they could not be celebrated publicly, nor could a Catholic place of worship have a visible façade. There were many "hidden" Catholic churches in the city at that time. The most famous, Onze Lieve Vrouw Op Solder/Our Dear Lady in the Attic, located in what is now the Red Light District, makes a wonderful and enlightening visit. One of the hidden churches was directly across the canal from Café Papeneiland, with its entrance through a hidden tunnel from the cafe. Ask the bartender about it during your visit.
If, for some bizarre reason, you are not in the mood for Dutch apple pie, you can choose from several types of tostis, or toasted sandwiches, or boiled eggs displayed in an antique ornamental egg rack, excellent Dutch cheeses, sausages such as the traditional uncooked osseworst, and bitterballen. The last is probably the most typical and popular bar snack in the Netherlands. Balls of thick gravy mixed with minced beef or veal are rolled in seasoned bread crumbs and deep fried, then served with spicy brown mustard. Spear one with a toothpick, dip it in the mustard, and pop it in. Be careful not to burn your mouth. Ask me how I know this.
So… go for the apple pie, the great beer, the excellent traditional drinks, the ancient atmosphere, the charming décor. You will inhale the true meaning of that essentially untranslatable Dutch word: gezelligheid.
Price Range: You'll pay typical prices for bar snacks, ranging from €1-8. A piece of apple pie with a large dollop of whipped cream will set you back €4.50. Coffee drinks from €3-5, beers from €3-6.00
Pin it For Later: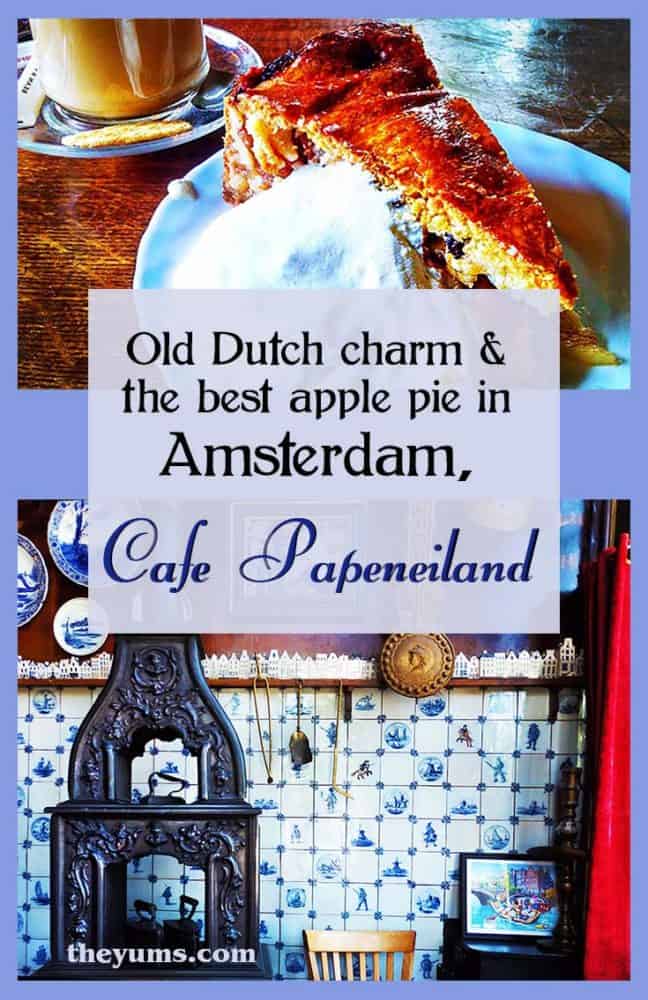 Latest posts by Donna Meyer
(see all)