"Eat this – it'll help" encourages the white-neon sign on the white exposed-brick wall. Its early afternoon on Sunday at Clementine Café and five cooks dressed in black T-shirts orchestrate brunch from the open kitchen. This is comfort food at its best.
Location: Clementine Café located in the Exchange District at 123 Princess Street, Winnipeg, [amazon_textlink asin='0978478452′ text='Manitoba' template='ProductLink' store='theyums-20′ marketplace='US' link_id='cef76166-bd42-11e8-8554-c5c21acbfb94′].
Menu: The menu has a laser-sharp breakfast-brunch-lunch focus with nine main entrees and nine sides comprising the food menu. The menu has a global influence, sporting such items as Turkish eggs. While some menu items remain standard, others rotate according to what's in season. For example, summer's black-cherry semifreddo with dark chocolate evolves into autumn's apple semifreddo with dulce de leche.
The beverage menu has a greater variety. With a dozen hot drinks, you can enjoy everything from a good ole cuppa Joe to beverages sporting latte-art. Craft beer and wine are also available.
Thoughts: Clementine Café is in the basement, so there are about a dozen steps down to enter the café. Although it is in a basement, the environment appears bright and airy with potted plants on the ledges around the windows. The café has a retro industrial vibe. Black wallpaper with the orange floral pattern, wood beams in the ceiling and unfinished pipes contribute to this feel. It's small with about 15 tables seating two to four guests each and two high-top long-community tables accommodating ten guests each.
The friendly server presents an old-fashioned glass milk bottle as a water carafe with yet another nod to the retro feel. The servers wear black, gray, and khaki beige as designating colors, yet their clothes aren't a specific uniform.
They don't take reservations; however, here are a couple of tips that might save some time waiting in line. First, give a call and see how long the wait is. That may help you make up your mind if you need to go another day. Second, they are only open until 3:00 pm on weekdays and 4:00 pm on weekends. I arrived on Sunday at about 1:30 pm and only waited about ten minutes. The rush seemed to be over at that time of the day. All of that said, it is well worth the wait.
Some of my favorite dishes are:
The Brussels-style waffle was crispy on the outside, yet cake-like on the inside. First, the waffle topped with blueberry syrup. Then, in the middle was a dollop of lemon-infused whipped cream and a beautiful sprinkling of lemon zest. A shallow well formed by the back of a spoon held a handful of fresh blueberries. Finally, covered in frosted pecans for added crunch.
The baby red potatoes roasted with garlic and onions are crispy and creamy all at the same time. The honey and lemon aioli artfully decorated the plate. Garnished with dill fronds, the plate is fresh and pretty.
The house-made maple-glazed bacon is a wonderful combination of sweet and salty. Cut from pork belly, it's hearty and has a nice chew.
A sauce full of plump-black cherries dons the slice of black cherry semifreddo. Then a thick squiggle of dark chocolate mousse decorates it all. The dessert garnished with mint leaves, and spiced pecans is cold but not frozen. While it's creamy, the spiced pecans provide texture and crunch.
Price Range: Exchange rates vary. These prices are in Canadian dollars with the exchange rate currently at $1.25 CD to $1 USD. The mains range from $7 for the mixed grains porridge with coconut and pineapple butter stirred in and then topped with fresh berries and cashews to $13 for fried chicken on toast. The sides range from $5 for maple braised bacon to $7 for a tomato and ricotta toast. Freshly squeezed juices are $4.5, while a dozen versions of hot tea, coffee, and chocolate run from $2.75 to $4.75.
For Pinterest: Pin this to your favorite breakfast or brunch restaurant board.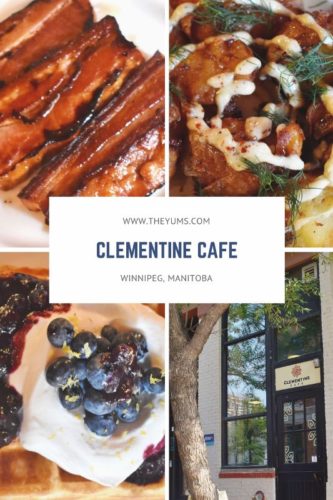 Latest posts by Amy Piper
(see all)