When you're in Amsterdam, and a friend recommends a bakery café with the name De Laatste Kruimel, meaning The Last Crumb, you go looking for it with a sense of anticipation. Then you see an old-fashioned shopfront—two big show windows on either side of the door. The one on the right is filled with huge slices of a range of quiches and savory pies, blocks of polenta topped with ricotta and basil, bowls of quinoa salad and greens. Then on the left—oh, my, on the left—you see a stepped mountain of wooden crates and vintage cake plates piled high with cakes and pies, croissants and scones, muffins, egg tarts, brownies, and sweet bread pudding topped with berries. Yes, you've arrived, and I hope you're hungry.
Location: Langebrugsteeg 4, Amsterdam, Between Nes and the Rokin
Menu: This is primarily a bakery, but that doesn't mean you come only for desserts. De Laatste Kruimel's tag line is Hartig & Zoet, meaning "Savory & Sweet." There are enough choices on the menu to make a filling breakfast, a satisfying lunch, or a light supper. Savories include a range of sandwiches—meat-filled, vegetarian or vegan, on house-baked sourdough breads—soup of the day and salads, plus meat and vegetarian bread puddings, besides that range of quiches and savory pies in the window. But do leave room for dessert. All those pastries mentioned above, plus many more, will tempt you. Add in a range of coffees and teas, fresh-squeezed juices and smoothies. The menu changes seasonally, using all organic ingredients and fruits and veggies in season.
Thoughts: It's been a few years since I first passed that window and almost swooned at the sight of that colorful goodness. Now, a visit to De Laatste Kruimel is part of every return I make to Amsterdam. Or more than once if I can swing it. I love not just the pastries and the quiches and everything else on the menu. I also like the vibe, the friendliness of the staff, the good smells coming from the open kitchen.
This delightful spot just a short walk from the Rokin was opened in early 2015 by a young expat couple from Bulgaria. Pavel had worked in a bakery; Ivelina had been an art student. When they moved to Amsterdam, they had a dream to create a place where everyone would feel welcome and comfortable and the food would be divine. Pavel had a cookbook about "Modern Cuisine," published in 1910, and from it he drew inspiration for the quiches and breads, cakes and savories. Ivelina used her art background to imagine what their place would look like. It took them a solid two years of looking before they found the perfect location, but even before that, Ivelina was already scouring the shelves and piles at the Noordermarkt flea market, picking up decorative treasures and storing them away in a box. When they finally found this perfect location, it took hardly any time at all to put the space together. It had already been completely designed in her head.
The space feels a bit like a very crowded, shabby chic French grandmother's parlor. The walls are collaged with Victorian sheet music and pictures of flowers. The counter was built out of wooden pallets and is set off with vintage flowered china teacups. The back wall sports shelves loaded with jars of house-made jams, jellies, and lemon curd. There are a few chairs, but most of the seating is upturned wooden crates topped with chintz-covered cushions. The room is deep but narrow, the tables are tiny, the seating is definitely "cozy." And it all works together beautifully.
After perusing the treasures in the front windows, come in and look at the chalkboard menu on the wall. The extremely friendly staff will happily answer any questions you have and help you decide, if necessary. You'll place your order for food and drink at the counter, and it will be brought to you when it's ready. Because the space is so small, there is often a line, but it's worth the wait. Many will be buying to take their treasures away, so the wait for a table is seldom long. If the weather is nice, I always opt for one of the wooden crate stools and micro-sized tables on the tiny terrace at the back, overlooking the Grimburgwal Canal. Even in winter, if it's not raining or snowing, try for the terrace, which will have heaters to make it bearable. If you sit inside, try to snag a table towards the back, where you can see the constant stream of baked goods being turned out in the open kitchen.
And what wonders come out of that little kitchen! I've tried my share, or more than, and every one of them seemed better than the last. The croissant French toast I had for breakfast one morning, with a glass of fresh-squeezed orange juice and coffee, was the best way to start a day in Amsterdam. At lunches, I've tried the vegetarian quiche with basil, tomatoes, onions and Dutch Beemster cheese, rich and gooey and so good. I've also tried the sandwich with Porchetta, that wonderfully soft Italian ham, with pickles and anchovy mayo. A friend had one of the oven-baked sandwiches, with goat cheese, apple-olive jam, walnuts and sun-dried tomatoes and loved every bite. Portions are hefty. The sandwiches come in small and large, and the large size is very large indeed.
For dessert or a quick pick-up mid-day, any of the pastries from the window with a cup of coffee will do the job, and nicely too. The sweet bread pudding is an absolute favorite, made with yesterday's leftover sourdough bread and not quite like anything I've ever had. I loved it. Carrot cake and zucchini cake with lemon curd are perennial favorites on the menu, as are whatever sort of cheesecakes Pavel is baking that day. There are gluten-free options and always a vegan muffin of the day.
Price Range: Amsterdam is a pretty expensive city, but the prices at De Laatste Kruimel are reasonable. A large slice of quiche is €4.50. A savory pie, such as the one with portobello mushrooms, sun-dried tomatoes and bacon is €5.20, as is a hefty serving of the polenta with toppings. Sandwiches are €3.50-4.40 for a small one, €4.90-5.70 for large. A large, meal-sized layered salad is €6.60.  Pastries begin at €1 for a mini pastel de nata or €1.10 for a flaky fresh croissant up to €3 for a brownie or sweet bread pudding. Cake and pie range from €3.60-3.90. Organic yoghurt with home-made granola is €4.50.
Pin it For Later: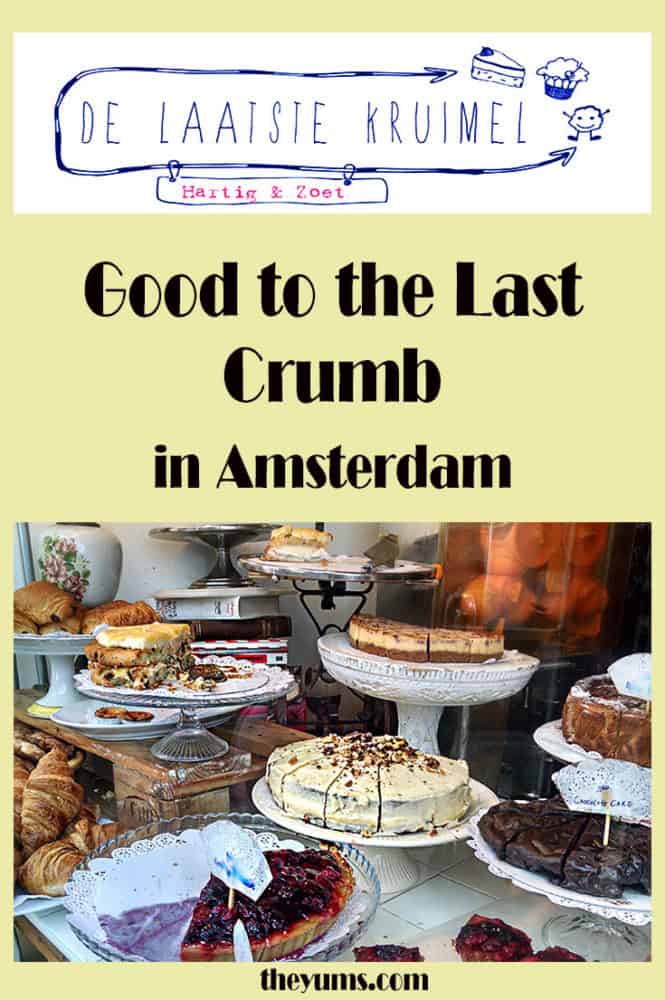 Latest posts by Donna Meyer
(see all)