BuzzCatz Coffee and Sweets is drawing a crowd for breakfast and brunch or for sweet treats throughout the afternoon and evening. Owners Brian and Jodi Harsany recognized a void in the breakfast options on the [amazon_textlink asin='1493008129′ text='Alabama Gulf Coast' template='ProductLink' store='theyums-20′ marketplace='US' link_id='03aacbea-efea-11e7-8ce3-cf4c57effd3c'] and filled it in a deliciously appealing way.
Location: 25689 Canal Road, Orange Beach, Alabama
Menu: A person can certainly walk in and order eggs, sausage or bacon and toast with a side of fruit or gravy, but BuzzCatz has more tempting offerings for each day of the week.  Monday is FlapJack Day, followed by Tortilla Tuesday, Waffle Wednesday, EGGstraordinary Thursday, French Toast Friday, Saturday Classic and Cinnamon Roll Sunday. Can you imagine anything more decadent than Bananas Foster Waffles?
A few lunch choices are available, such as chicken salad wraps, quiche and pasta salad, but BuzzCatz Coffee and Sweets really pulls out all the stops with their pastries, cakes and breakfast breads, like muffins, kitten head biscuits, cinnamon rolls, housemade "Pop Tarts," granola and breakfast bars. Kitten head biscuits, by the way, consist of 9 pull apart mini-biscuits with butter and preserves.
Certainly, the coffee is special, too. Locally-roasted in nearby Fairhope, Alabama, BuzzCatz serves its own signature blend along with Espresso, Gibraltar, Cappuccino, Latte, Mocha, Cuban, Chai Tea Latte, hot and iced tea, and hot chocolate.
Frozen treats are a big hit in the sweltry [amazon_textlink asin='1493003828′ text='Alabama' template='ProductLink' store='theyums-20′ marketplace='US' link_id='4e0bc83b-efea-11e7-874c-614ff8114cbe'] summertime. Build-your-own ice cream sandwiches, made-to-order milkshakes, and Buzz Frappe flavors are just a few of the options.
Thoughts: Brian and Jodi Harsany know a thing or two about creating restaurants and menus that become hits with residents of Orange Beach and the hordes of visitors who head to the Alabama Gulf Coast every year. Their three other restaurants in town – Cosmo's, Cobalt, and Luna's – are open for lunch and dinner and have extensive menus with a focus on fresh seafood. Cosmo's and Luna's were both named for a couple of their beloved rescue dogs and are on the same piece of property as BuzzCatz on Canal Road. Cobalt is more upscale and has a waterfront location near the Alabama/Florida state line.
Brian knew he wanted a cat theme in the decor of his new breakfast place, but couldn't quite come up with the right name. One day he'd been out sampling various coffee blends. When he walked in, he announced to the construction crew that he felt "buzzed." Finally, the "aha" moment arrived, and the name BuzzCatz immediately fit.
Manager Juanita Hendrix talks with pleasure about how much fun it is to work at BuzzCatz. She describes a family atmosphere and enjoys being trained by Pastry Chef Kimberly Asbury. They work so well together that they teamed up in the recent World Food Championships held there in Orange Beach and competed with 440 other teams from all of the United States and from 14 countries around the world. They placed high in the bacon category and topped one of their dishes with Red Onion Jam which is made in-house every Saturday and Sunday.
Price Range: Every item on the menu is between $2 and $6. The only items higher are specially-ordered whole cakes. A six-inch whole cake is $25, and a nine-inch whole cake is $50.
For Pinterest: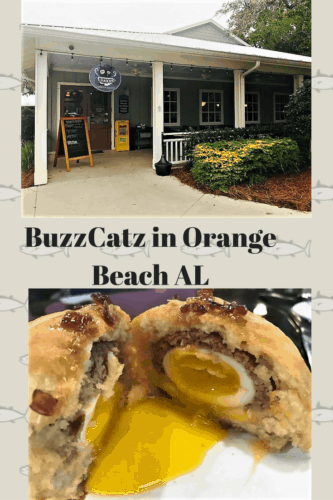 Disclosure: The author received a complimentary meal to facilitate this review. 

Latest posts by Connie Pearson
(see all)