If you, like me, are a fan of TV cooking shows, especially Top Chef, then you really need to put the pan-Asian fusion restaurant Departure, in downtown Portland, Oregon, on your must-eat-at list. It's helmed by Chef Gregory Gourdet, who was a Season 12 finalist. If you're not a fan of the show, you still need to add it to that list. Because Departure is a delightful experience for the eye and the palate, and a delicious way to taste Portland.
Location: 525 SW Morrison St., in downtown Portland, Oregon. Located on the top floor of The Nines Hotel, across from Pioneer Courthouse Square.
Menu: The food at Departure Restaurant is modern pan-Asian fusion, with some modern twists and Pacific Northwest adaptations to take advantage of local products. There are options for just about every palate and dietary restriction. Are you vegan? Gluten challenged? Eating Paleo, dairy-free, or vegetarian? There's a menu for that. Most dishes come as small tapas-like plates designed for sharing. A few, such as the bibimbap or whole grilled fish, are larger.
Thoughts: The culinary approach of Chef Gourdet blends traditional Asian methods and ingredients—Japanese, Laotian, Korean, Thai—with the generous coastal bounty of the Pacific Northwest. Everything is locally sourced and very fresh. In fact, a good number of items come from the premises themselves. A roof garden with four beehives provides herbs and honey, a mushroom garden grows downstairs, and a hydroponic growing area in the basement produces tomatoes, bok choy, and tilapia. Other produce is brought in twice a week from local organic farms. With a focus on sustainability, they only serve green-certified fish, and all food scraps from the kitchen are turned into usable food by fermentation or pickling to create less waste.
As soon as you step off the dedicated elevator that whisks you to the 15th floor of The Nines Hotel, in the historic Meier & Frank building, you know you're someplace unique. The corridor to the restaurant feels like you're heading for a starship flight deck. Then you enter the room itself, and it is sleek and chic, edgy yet comfortable. The space is huge—some 9000 sq. ft.—but it's broken up into nooks and corners as well as open areas that work well for larger groups. A skylight ceiling soars overhead, and huge windows open to a pair of terraces that wrap the roof, offering up fantastic views of downtown Portland, the Willamette River, and majestic Mt. Hood beyond. That view can hold its own in any competition with the very fine food.
The bar serves up some intriguing and innovative cocktails and mocktails for those eschewing alcohol. Many people come simply for a drink and a snack at the bar or on the terrace. It's a popular happy hour after-work stop-off for people who work downtown. But do come for the food, because it is worth setting aside a few hours for.
The menu is relatively limited, but each item is thoughtfully designed to blend well with the others. Dishes are meant to be shared at Departure, and your server will likely suggest ordering two items per person, unless you are choosing the Korean Bibimbap or fish. When I dined there, my group started with one small plate per person, knowing we would likely order more. And order more we did, each dish more interesting and delicious than the last. We did not leave hungry.
We started with the charred carrots, one of the most popular dishes they serve, and it was easy to see why. The lightly caramelized carrots blended so well with orange sections, cashews, chilis, and sour coconut cream. We followed this a plate of crispy pork belly that was a revelation. Prepared with peanuts, honey, chili, and black pepper, it simply melted in the mouth. It was everyone's favorite dish, so much so we had to order another plate of it. We all shared in an order of the bibimbap, which is prepared at the table. I had never had it before, but if this is what I can expect, I will certainly have it again. The crisp rice mixed with veggies, kimchi, beef and a delicious sauce made everyone at the table smile. The smoked octopus was wonderfully tender and flavorful, enhanced by chili-hazelnut and crispy potatoes.
The finale—well, the before-dessert finale—was the Ishiyaki steak, brought to the table nearly raw and sizzling on a hot stone so we could finish cooking it to our personal taste. The wagyu sirloin, grilled with garlic and ginger, was beyond tender and so full of flavor.
The final finale was the desserts. I loved the jackfruit pudding, served with young coconut, candied tapioca, and an ice made of cacao juice. It was unlike anything I've ever experienced. A bit more familiar was the berries and cream, made elegant and very special with strawberry curd, mini doughnuts and scalded coconut milk ice cream.
One terrific way to experience the range of Chef Gourdet's culinary talent is to order the Imperial Tasting Menu. It consists of ten dishes chosen to take you through the entire menu plus a pair of desserts. Add a group of wines chosen by the sommelier to complement each dish for a genuine feast.
The staff at Departure are friendly, efficient, and very knowledgeable about the menu. They will happily make suggestions, after asking questions about your tastes, and explain ingredients and dishes you may be unfamiliar with.
Price Range: Dinner at Departure Restaurant is not an inexpensive meal. You can sit at the bar and have a single plate and a drink for a reasonable price. For an entire meal, you should expect to pay up to $150 or more for two people. If you order the Imperial Tasting Menu with the chosen wine selections, that will be closer to $300. One upside—Oregon has no sales tax. Here are a few representative prices: House cocktails start around $15. Crispy crab roll is $18; miso scallops are $22; Big Eye tuna poke is $19; the steak is $30. The Imperial Tasting Menu was $125 per person, with a two-person minimum.
Pin it For Later: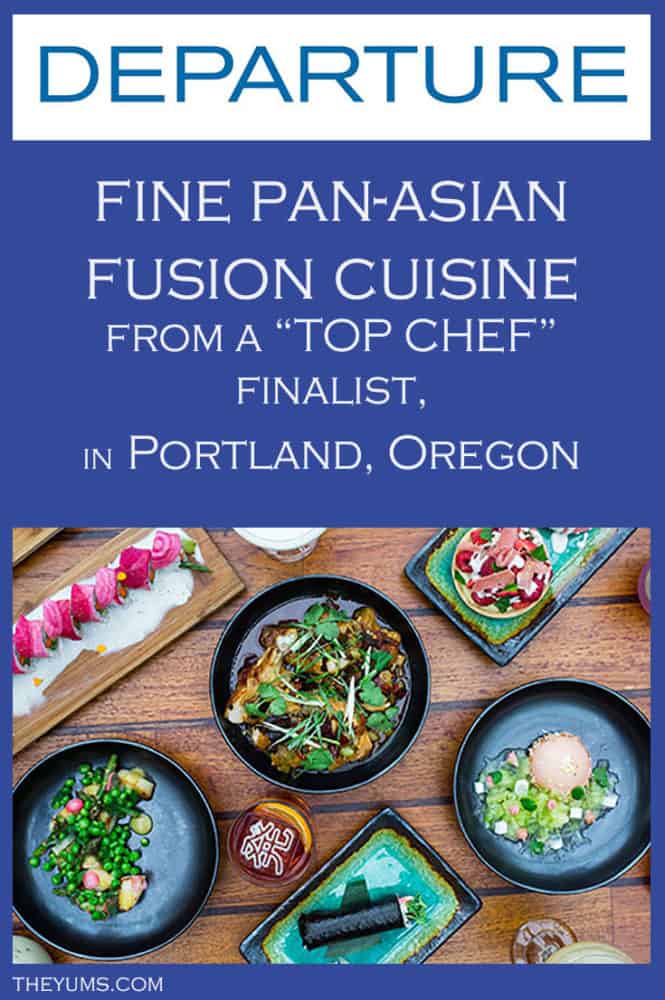 Latest posts by Donna Meyer
(see all)