Donuts are good. Fresh, warm donuts are better. Donuts made to order, so fresh you watch them roll off the cooker, which are then glazed, sprinkled, and drizzled to your specific order are the best of all. That is what Duck Donuts does for you. And the original store, right on the boardwalk in the little town of Duck, on the beautiful Outer Banks of North Carolina, is the very best place to scarf them down.
Location: The original Duck Donuts is located at 1190 Duck Rd. at Osprey Landing, on the Sound side of this sandbar island. There are now several other locations up and down the length of the Outer Banks, including Corolla, Kitty Hawk and Kill Devil Hills, and Nag's Head. New franchises are opening regularly around the eastern US. In this review, we're talking about the original location in Duck.
Menu: At its base, the menu is simple. It's donuts. Donuts and coffee. For the non-caffeine set, there's also hot chocolate, milk, soda, and juices. But within that shortlist is a wealth of options.
All the donuts are the same, a moist, just-right vanilla cake donut. It's crispy and not greasy on the outside, light and fluffy on the inside. After studying the list of choices, you pick a glaze or icing for it to be dipped in. Then you pick the toppings. Then you pick a drizzle if you want one. Your specific combination of deliciousness is then made to order just for you.
Thoughts: The concept works, very well as it turns out. There is usually a line in high season, as vacationers and locals alike wait for their donut dosage. The wait is not a huge trial. The heady smell of the fresh frying dough vies with the salty air wafting in from the sea for your nostrils' attention. And it's the beach; everyone's in a good mood.
As you walk up into the breezeway from the parking area, you'll see two entrances for Duck Donuts, so you might be confused. You go into the one on the left to order and pay for your food. They'll give you a number. Then you go back out, cross the breezeway, where people are sitting at the wooden tables scarfing down their warm treats, into the other entrance. Here, you can watch them make your donuts to order before handing them over.
To order, take a long look at the menu board. Decide on an icing/glaze. The options include chocolate, vanilla, strawberry, peanut butter, lemon, blueberry, and maple as well as powdered sugar glaze or cinnamon sugar. Next, pick a topping from the list that includes various sprinkles, peanuts, Oreos, coconut, and the very popular bacon pieces. Finally, if you're not done with your donut creativity, pick a drizzle, such as hot fudge, blackberry, raspberry or salted caramel. To make the choices easier, there's a printed order sheet with some of the most popular combinations printed at the top. Just tick off your favorite and hand it over.
Step next door, drawn in by the smell, and watch the magic get finished. Workers pick the fresh, hot donuts off a conveyor belt as they come from the fryer, which uses a soy-based shortening. They dip them in a glaze, generously sprinkle on the toppings and squiggle the top with a drizzle then line them up in the signature kraft boxes.
I was with a large group and we ordered a dozen. The #1 choice was maple icing with bacon bits on top, a perennial Duck Donuts favorite. The combination of sweet and salty was divine and the chorus of "Ahhhs" resounding. My second choice was strawberry glaze with hot fudge drizzle. It was also sublimely delicious. I would have eaten more if I possibly could have!
If you're not planning to take your treasures home, sit at one of the wooden tables in the breezeway, and tell your neighbors how good they are. Or pick up a small mountain of napkins and walk through to the Duck Boardwalk and stroll along as you eat. The boardwalk runs for nearly a mile along the Currituck Sound, with views of marshes and sand dunes, birds, and boats. We saw green turtles, pelicans, and, of course, ducks. A very short distance away is the Duck Town Park, 11 acres of trails, maritime forest, and willow swamp right on the Sound.
Price: You can get three donuts for about $4, a dozen for about $12. A small coffee is a $1.50.
Additional Notes: Duck Donuts in Duck is open every day from 6:30 am to 3 pm. There are now many places to get Duck Donuts, as the franchise expands into the southeastern US. But if you can possibly make it to the original, in pretty little Duck, on the beautiful Outer Banks of North Carolina, do it. Eat donuts. Wipe your sticky smile with a napkin. Walk the Boardwalk and talk to the seagulls. Enjoy your day. You're welcome.
Pinterest: Save for later. You want to remember the donuts!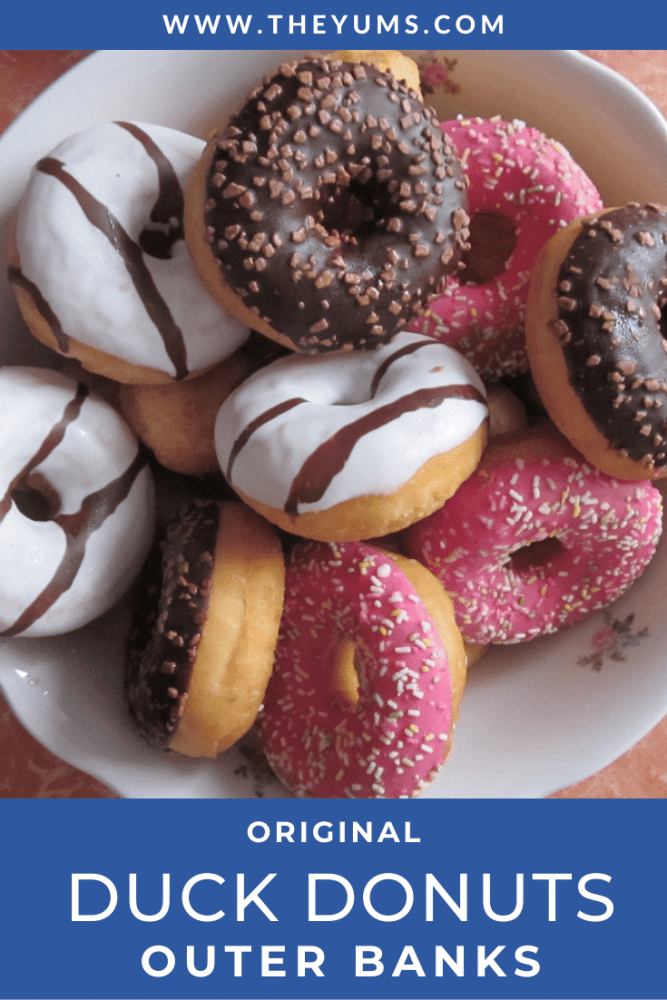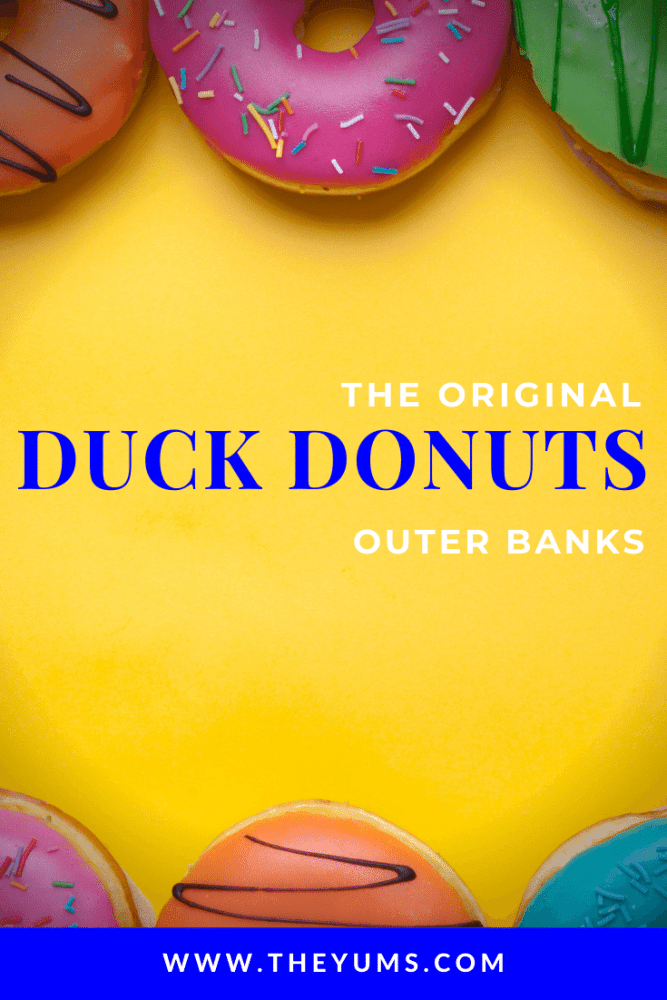 Disclosure: The author's visit to Duck Donuts was part of a press trip, sponsored by the Outer Banks Visitors Bureau. This post contains affiliate links. Clicking through for additional information or to make a purchase may result in a small commission being paid. By doing so, you help support this site and its authors, and we thank you.
Latest posts by Donna Meyer
(see all)