Established in 1903, El Rana Verde has the best location in town – across the street from the  Royal Palace, adjacent to the Prince's Garden, and on the banks of the Tagus River. With such impressive views, one might think the food wouldn't live up to its prestigious location.
You'd be wrong. The food is more than worthy.
Location: 1 Calle de la Reina, Aranjuez, [amazon_textlink asin='1631216708′ text='Spain' template='ProductLink' store='theyums-20′ marketplace='US' link_id='cc9a4ef5-7a2a-11e8-abd4-f7a615181828′]
Menu: El Rana Verde (The Green Frog) has a menu befitting its name. A sampling of starters includes frog legs in garlic or tomato sauce, slices of the well-loved [amazon_textlink asin='B008ZAYIZ0′ text='Iberian ham' template='ProductLink' store='theyums-20′ marketplace='US' link_id='e03b2e00-7a2a-11e8-bddf-d12f7c6be85f'], and melon with [amazon_textlink asin='B0000D9N38′ text='Manchego cheese' template='ProductLink' store='theyums-20′ marketplace='US' link_id='e927e1ba-7a2a-11e8-bbc4-41b7f2d45498′].
There are eight salads that run the gamut from a tame green salad to tender sprouts with pickled partridge. If you're hankering for seafood, salmon tartar with strawberry vinaigrette or hake with green sauce might fit the bill.
Popular Spanish items include suckling pig, pheasant with stewed vegetables, and of course grilled steak. It's an extensive menu and you'll probably have difficulty making a decision. We did.
Thoughts: Long before we spotted the restaurant the aromas wafting from the open doors assaulted our taste buds. We knew the food had to be delicious.
The restaurant is large – it seats 400 between the dining rooms, covered sidewalk tables and the terrace on the Tagus. When asked about our preference, we opted for the terrace where couples and groups of families were seated. The tables were set with snowy white linen and heavy cutlery, elegant but not stuffy. From the terrace, you can see the Palace in the distance, the grounds of the Prince's Park next door, and the kayakers on the river. It was extremely pleasant.
Our waiter brought the menus and a carafe of water. A patron overheard our conversation in English and shared that the restaurant is loved by locals, it's a family business passed from one generation to the next. I asked for recommendations and she suggested we look at the menu del dia. We took her advice.
It included bread, a starter, entree, dessert, and a beverage (including wine or beer). The price for two was €35.99 (about $42). We found this very reasonable.
I ordered salmon mousse for my starter. The portion was generous, the presentation elegant. My mousse was drizzled with a delicious cream sauce, a small salad was to the side, the food and plate, dusted with chopped parsley. The mousse was light and not fishy, and with the size could have easily been an entree. My husband tried mushrooms cooked in a rich, creamy sauce. The aroma was mouthwatering and the taste heavenly. With such large portions, I knew we might have trouble finishing our meal.
My entree was a turkey drumstick with potatoes, my husband's was chicken with assorted vegetables. The waiter laughed when he saw my face, this is what I call "big food." Both entrees were beautifully seasoned, cooked to perfection and delicious. Shockingly, we cleaned our plates.
While clearing the table our waiter asked if we were ready for dessert. When I said "yes" he motioned to a young man who brought our desserts. I had chocolate mousse, while my husband had a strawberry tart. My mousse was creamy, light, and decadent. My husband's tart was indescribable, so delicious. I later found out that desserts are homemade and Aranjuez is famous for its strawberries.
Tip:  Come hungry if ordering a meal.
The setting is perfect for drinks with friends or a romantic rendezvous.
Price Range:  Starters are €8 – €24, a basic house salad is €7 while the sprouts with pickled partridge is €15. Entrees range from €13 for salmon tartar to €27 for baked lamb shoulder. The dessert list is extensive, the average price is €5. This is not an inexpensive restaurant but considering the location and the portions, it's spot on. The menu del dia is a bargain at €17.99 including IVA.
Pin for later: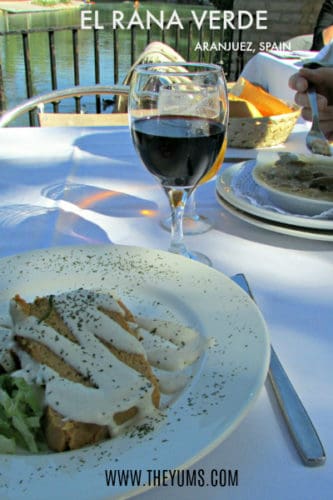 Latest posts by Barb Harmon
(see all)