San Miguel de Allende, in the very heart of Mexico, is fast becoming known as a foodie destination. Well-known chefs from all over the country and the world are opening up restaurants at warp speed in this colonial UNESCO World Heritage town. But what you probably don't expect to find among the Haute Mexican and gourmet goodies is some of the best Lebanese food in Mexico. But here it is, at Fenicia Restaurant, an unassuming and comfortable place just a five-minute walk from the Jardín, the town's central plaza. Owned and run by Letitia and Nancy, a pair of cousins from Lebanon, it serves fresh-made, tasty, and authentic middle-Eastern food at a very reasonable price.
Location: Zacateros 73, five blocks from the main square.
Menu: Fenicia Restaurant has the traditional Lebanese dishes you expect: hummus, tabbule and babagganough, kebabs, kibbes and mezzas both vegetarian and with meat. There's kaffta and falafel, dolmas and dips, shawarmas and spiced fava beans. It's a large menu, with several combination platters. It's also excellent for mixed groups of vegans, vegetarians, and carnivores, as there are many choices for all. Add some traditional Lebanese sweets, and delicious rose tea or mint lemonade. There's also local beer, wine, and arak, the powerful Levantine anise-flavored spirit. The dark, rich Lebanese coffee comes in a proper cezve, the long-handled Arabic coffee pot.
Thoughts: This unpretentious restaurant is easy to miss if you're just walking by. Look for the open brown door with the music stand holding a menu in the doorway. Once inside, the space is inviting, with warm yellow walls, quarry tile floors, and comfortable Mexican equipal chairs encircling round tables for four. It's a casual, easy space, low-key and informal. Though the street outside is a busy one, here it is quiet except for the soft Arab music accompanying the belly dancer likely shimmying on the TV set in one corner. Windows at the back of the space allow light to pour into the completely open and spotless kitchen. You can watch the cook prepare your entire meal from scratch, mixing fresh ingredients with years of experience to serve up an authentic Lebanese meal with all the flavors and spices of the middle East.
Fenicia Restaurant has rapidly become one of my go-to places for a delicious meal at a reasonable price in San Miguel de Allende. I have gone alone and with groups of friends, and it's where I often take out-of-town visitors when they've topped out on Mexican food. As an omnivore who will eat most anything once, I have sampled much of the menu.
I love to start with an order of the muhammara, a dip made from roasted red peppers mashed with olive oil and macadamia nuts. It's perfect scooped up with the crispy pita chips they bring out, drizzled with olive oil and sprinkled with sesame seeds. Add a plate of their excellent hummus, and it could be a light lunch all on its own. But then you'd miss out on so many other delicacies.
On my last visit, I especially enjoyed the Shish Touck, a chicken kebab served with rice, hummus, and tabbule. The chicken was moist and perfectly cooked, with a nice sear, and the side dishes made for a full meal. The tabbule was well balanced, not too much parsley, just enough lemon. My vegetarian friend had a platter with a pair of falafels, hummus, tabbule, and babbagannough. She reported that the classic dish of eggplant blended with tahini, here served smooth rather than chunky, was beautifully spiced with just the right rich smokiness. The falafel was crispy outside, soft on the inside and some of the lightest she'd ever had. The bright pink marinated onion sprinkled on top gave the dish a festive air, and the falafels were so good she ordered a few more to take home.
In addition to all the vegetarian and vegan options, Fenicia Restaurant recently added gluten-free pita to the menu for those with special needs or just looking to eat healthy.
For dessert, the baklava is a crispy nest on top, over layers of flaky pastry and ground walnuts and drenched in honey. But my go-to dessert is the orange blossom sorbet, an unexpected delight.
Service is friendly and generally quick. Since every meal is cooked fresh to order, you should be prepared to wait for it, especially if there are more than a few tables filled. But it won't be long and it's worth being patient for. Owner Letty will likely stop by your table to chat. Or you might want to go up to the counter in front of the kitchen and look at the items for sale…Lebanese coffee pots and hookahs and middle-eastern sweets.
On a blackboard on the wall near the kitchen, you'll see a long list of foods you can order in bulk to take home in ¼, ½ or 1 liter containers: hummus and the other dips, tabulle and labneh, dolmas, malfuf (cabbage salad), jiar by laban (cucumber/yoghurt salad) and more.
Price Range: Prices at Fenicia Restaurant are extremely reasonable. The single most expensive thing on the menu is the kebabs, beef or lamb, served with rice, hummus and tabbule, for 160 pesos or $8.50 calculated at current exchange rates of 19 pesos to US$1. Add a Mexican beer, rose tea, or a cup of dark Lebanese coffee, plus sorbet or baklava for dessert, and you'll still find it hard to break $15 per person. Pita wraps are $4.75-6. Stuffed grape or cabbage leaves are $4; a bowl of labneh, the creamy, tangy cream cheese made from strained yoghurt, is under $3. Various salads are $3.25-4. Vegetarian Mezza is $5.25, or $6.50 with meat, while a plate of four falafels is under $4. Desserts are $2; Lebanese coffee, properly served, is $1.60
Fenicia Restaurant does not take reservations and payment is Cash Only, no credit cards.
Pin it for Later: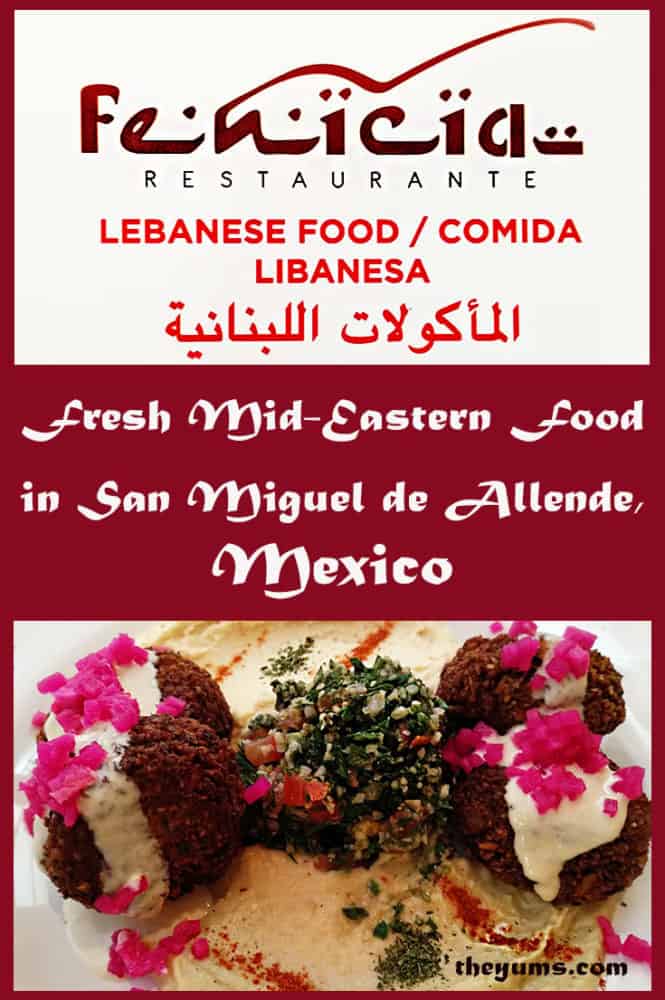 Latest posts by Donna Meyer
(see all)