If you're wandering around the Plaza in Old Town Albuquerque, New Mexico, when hunger strikes…no problem. Just a few steps from the plaza you'll find Gobble This. And as soon as a plate of their delicious Salvadoran food is placed in front of you, you will indeed want to gobble it down. And you'll enjoy doing it. That's a promise.
Location: 308 San Felipe Street Northwest, Albuquerque, NM, half a block from the Plaza in Old Town.
Menu: The basic menu is very limited—papusas, street tacos, and pan con pavo, a Salvadoran turkey sandwich whose beauty and richness of flavors belie such a simple name. But within that limited list are many variations, including some vegetarian and vegan options. There is also a range of daily specials on offer, from tostones of crispy fried plantains with bean and avocado dips to massive grilled burritos to a skyscraper of Nestor's Nachos. The drinks list includes such luscious Latin fare as horchata latte, cold brew coffee with coconut milk, and an amazing fruit drink called an ensalada….which is basically a drinkable fruit salad in a glass. It's wonderfully refreshing on a hot New Mexico day.
Thoughts: What began in 2015 as a food truck that parked at various craft breweries and other venues around town, morphed into a brick-and-mortar eatery in early 2018. Those who used to slavishly check the Gobble This facebook page to find out where they would be parked that day, now have a set location they can return to again and again. For fans of the food truck experience, an outdoor seating area allows for sunny reminiscence. The look of the place is all Latin, all Albuquerque. It's all about the color, a bright yellow-ocher building with turquoise pillars and outside tables and chairs painted purple, green, red. If the food truck is parked in the front yard, add a big burst of orange with green trimmed windows to the mix. It's a color explosion before you're even inside. The interior is pleasant, welcoming and unpretentious, with colorful paintings on the walls, lots of wood, and bright serape-style textiles.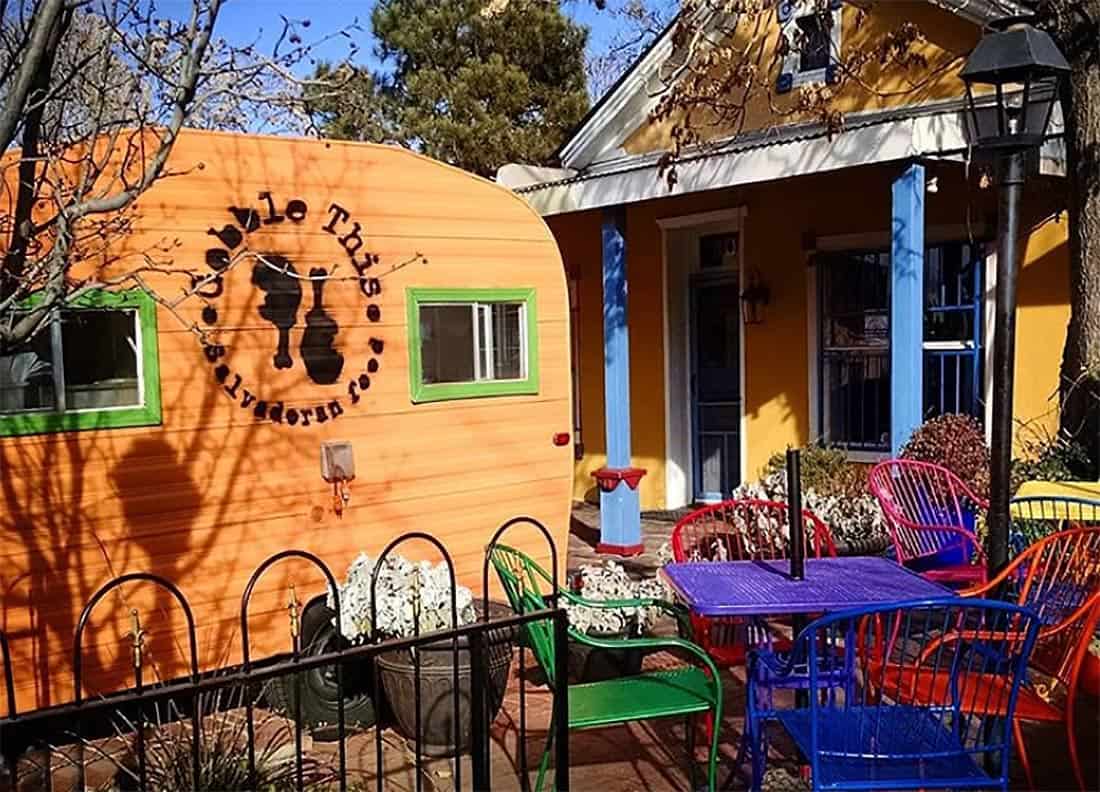 When a café is entirely created, run and staffed by the owners, you can usually bet the service will be first rate. Gobble This is no exception. The welcome is as sunny as the Albuquerque weather you'll find most of the year. For owners Nestor Lopez and Jenna Shurter, the love for their business and their customers is evident everywhere. Friendly, helpful service seems to be their religion. For those unaccustomed to Salvadoran food (which is probably most of us), they will happily describe any dish and make helpful suggestions for ordering.
With inspiration from his Salvadoran mom, Noemi, Nestor's love of food is inbred and life-long. He studied at "Le Cordon Bleu" school in Hollywood, California, then worked in local food businesses. One of them, Alex's Gourmet Catering, sent him to New Mexico to cater the sets of some major film and TV productions, including "Breaking Bad." He liked the city and the culinary potential he saw in Albuquerque and made a move. After working for a few local restaurants, he decided to start Gobble This. Jenna left her job as an optician to join him.
And now for the food: it's fresh, unique, and yummily delicious. At Jenna's suggestion, I had the combination platter so I could taste several items. This consists of two tacos, half a pan con pavo sandwich, and one papusa. What, you might wonder, is a papusa if you've never had Salvadoran food? It's sort of like a taco or tamale but not. It's a fat, soft disc of fresh cornmeal masa filled with goodness, like green chili cheese, fresh veggies, black beans, carne asada, or the daily special. It's cooked on the griddle till all the flavors are melted and oozed together. You eat it with your fingers, pulling it apart into pieces, then dipping a piece first into curtido (a mix of crisp, pickled vegetables) and then into salsa. Then close your eyes and feel all the flavors explode together in your mouth. An experience not easily forgotten and one to be repeated as often as possible.
For the tacos, I opted for carne asada and shredded pork carnitas. Oh my! They came topped with diced cucumbers, onions, radish, and cilantro, plus house-made salsa, with lime wedges and jalapeño on the side. And the pan con pavo sandwich, the true Gobble This house specialty that started it all, was a revelation. What you get is a pile of shredded Salvadoran turkey on a fresh bolillo roll dressed with slaw, cucumber slices, radish slices, mango-pineapple-habanero sauce and topped with fresh watercress. "I've been eating this sandwich my whole life," says Chef Nestor, who was eager to bring it to those who have never had the privilege.
I asked him what makes the turkey "Salvadoran." "I get asked that a lot," Nestor said. "It's the Salsa Recaudo that makes the shredded turkey special. It's got pumpkin seeds, sesame seeds, peanuts, chile rioja, chile negra and achiote or annatto." Another thing it's got, I can testify, is a load of deliciousness.
A friend with me ordered the daily special of a Salvi Dog, another popular favorite from the food truck days. A ¼ lb. beef dog is split, grilled, and placed on a sesame bun. This is then topped with a pile of shredded Salvadoran turkey cooked in that amazing salsa, tangy cabbage slaw, and a lashing of mango-pineapple-habanero sauce. It was an amazing blend of sweet, savory, tangy, and spicy.
To drink, we both had the ensalada fruit drink. It is made with mangos, apples, ginger, pineapple juice, and jalapeño, with minced apples and mangos floating on top. And it tastes like summer in your mouth.
Finally, Gobble This is kid friendly. They offer special happy-kid food and have an area for games, puzzles and coloring books. Kids will be happy here.
Price Range: This is easy. The three main items on the menu—an order of papusas, a pan con pavo sandwich, or three street tacos—are all just under $12. Daily specials are similarly priced. The combo platter, at $15, is the most expensive item on the menu.
Pin It For Later: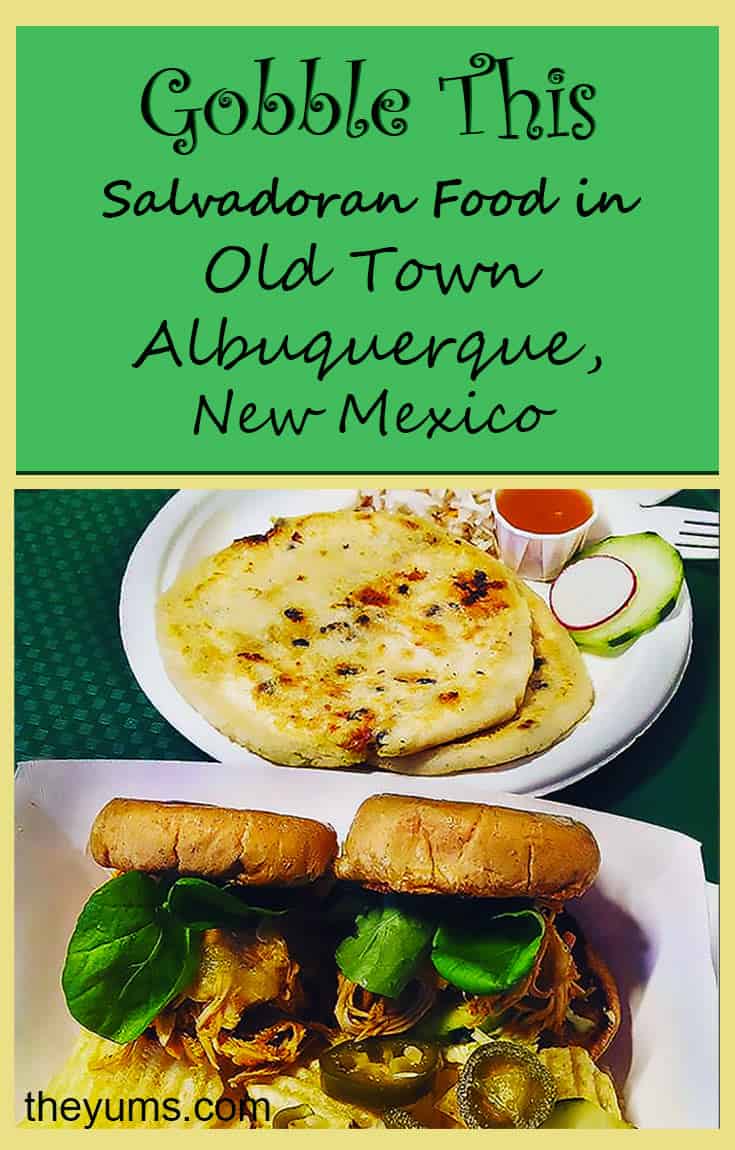 Latest posts by Donna Meyer
(see all)