We asked shopkeepers, innkeepers, carriage drivers, and friends: "Where can we get the best and freshest seafood in Charleston?" Without exception, they all recommended Hank's Seafood.
Location: 10 Hayne Street, off of Meeting Street and at the corner of Church and Hayne, [amazon_textlink asin='110187810X' text='Charleston' template='ProductLink' store='theyums-20′ marketplace='US' link_id='96a6924d-c01e-11e7-811f-4dd1f67f6f51′], South Carolina.
Menu: If you search diligently, you can find Seared Beef Tenderloin and Buttermilk Fried Chicken. Otherwise, just walk in the door thinking seafood, seafood, seafood, and you won't be disappointed at Hank's Seafood.
Thoughts:  The Raw Bar brings the first list of temptations: ceviche, tuna tartare, smoked salmon and shrimp cocktails, plus iced shellfish made into towers and castles to be shared by a whole table of friends. Other appetizers and starters include [amazon_textlink asin='B00KI9OOH8′ text='she-crab soup' template='ProductLink' store='theyums-20′ marketplace='US' link_id='bb59dd10-c01e-11e7-b070-4f9abadcc404′], clams, oysters, calamari, mussels, crab cakes, salads and Hank's Oyster Stew. That stew resembles a chowder with its generous number of oysters, leeks, potatoes, and bacon.
The classic entrees feature swordfish, grouper, tuna, salmon, flounder, giant sea scallops, and lobster. But, you will also find a loaded bouillabaisse with a mixture of fish, oysters, mussels, clams, scallops, and shrimp. As with most Lowcountry restaurants, Hank's has its own version of Shrimp and Grits. Sides are both Lowcountry, Southern and upscale – asparagus, sauteed mushrooms, spinach, collard greens, and pimento cheese grits, among others.
The Broiled Seafood Platter contains a grouper filet, fresh shrimp, sea scallops, hushpuppies, sweet potato fries, and coleslaw.
Desserts are particularly tempting with pecan pie, creme brulee, key lime pie, fruit and peanut butter pie.
Hank's has an extensive wine and cocktail menu with signature cocktails, such as Hank's Oyster Shooter, Pretty in Pink, Colonial Daiquiri, the Holliday, Ginger Pineapple Margarita and Fleur de Lis.
The atmosphere is loud and boisterous, making it a perfect place for celebrations. Walk to Hank's if you can. Otherwise, the nearest parking lot is on Church Street with other possibilities at the Cumberland Garage, the Republic Parking System, the Bank of America Garage, or the 69 Wentworth Garage.
The Executive Chef at Hank's is Tim Richardson. His formal training came from Johnson and Wales University there in Charleston, but his experience and skill were honed in restaurants in Columbia, [amazon_textlink asin='0881509310′ text='South Carolina' template='ProductLink' store='theyums-20′ marketplace='US' link_id='fc74e382-c01e-11e7-9ffd-551bad36d7c6′], and Blowing Rock, [amazon_textlink asin='0760325928′ text='North Carolina' template='ProductLink' store='theyums-20′ marketplace='US' link_id='07e88f1f-c01f-11e7-93a9-c53d6cfdba2e'], before coming to Charleston.
Hank's Seafood is located in a turn-of-the-century warehouse near the Charleston City Market. The lettering is aged and weather-worn on the outside, but the decor inside reflects Charleston's port history and is a perfect setting for the menu that has contributed to its ranking as #1 seafood restaurant for 17 consecutive years.
Hank's Oyster Stew made the list of "Charleston's 16 Most Iconic Dishes," and USAToday's 10Best put Hank's on its roster of Charleston's 10 Best Oyster Bars. Hank's is also committed to serving local and sustainable seafood as much as possible.
There is even a Hank's Store where fans of the restaurant can purchase hats, napkins, t-shirts and gift cards.
Reservations are highly recommended because of its extreme popularity. Hank's is open for dinner seven nights a week.
Price Range: Raw bar, soups, salads, and appetizers range from $8 to $18. A la carte seafood items are $25 and $26. Entrees range from $24 to $35. Sides are $5 each. All desserts are $9.
For Pinterest: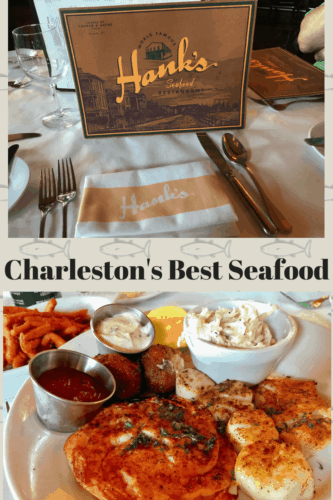 Disclosure: This post contains affiliate links. Clicking through for additional information or to make a purchase may result in a small commission being paid. By doing so, you help support this site and its authors, and we thank you.

Latest posts by Connie Pearson
(see all)