From the green hills of County Kilkenny, Ireland, to the green hills of Syracuse, in Central New York, might seem a long way. But David Hoyne not only made the journey many years ago, he also brought some Ireland with him to New York State. And he's happy to share it with you at Kitty Hoynes Irish Pub. From the Harp Lager and the Guinness in your glass, to the Reuben Fritters and Shepherd's Pie on your plate, Kitty Hoynes brings you the Irish, and it's not phonied up. This is the real deal. Celebrating 20 years this year (2019), this Irish pub and restaurant should be on your must-eat-and-drink-here list when traveling to Syracuse.
Location: 301 West Fayette Street, in downtown Syracuse, NY
Menu: If it's real Irish, it's quite likely on the menu here. Fish and Chips, Bangers and Mash, Irish Meatloaf. Also, they are famous for their real Irish breakfast. Chef Damien Brownlow has also added a few unusual touches, like award-winning New England clam chowder and buck-a-shuck fresh oysters some nights. And of course, you get a full bar with several taps for delightful brews.
Thoughts: I've not been to Ireland—yet, but man, is it on my list—so I was unsure what to expect of the Irish fare at Kitty Hoynes. Can I just say I am now a convert and know I need to schedule a flight to Dublin soonest? Everything about this place feels just right. And there's a reason for that. It's in the history and in David Coynes' genes. When he was growing up back in County Kilkenny, his father ran Wm. Hoyne & Sons, a multi-faceted family business that included a hardware store, grocery store, bar and undertaking business. It was there that David learned business and hospitality. And he brought his knowledge and his heritage to New York State. Kitty Hoynes Irish Pub is named after his mother, Catherine.
You get a feeling for what is to come from your first look at the façade–like an old Irish shop front. The first room as you enter through the main door is the bar, lively and noisy and openly friendly, with live music several nights a week. It's very "pub-y" and welcoming, with lots of dark wood, a vintage tile floor, and a deep red pressed-tin ceiling, and loads of old photos and bric-a-brac on the walls. This is your pit stop if you're after a brew or a whiskey. But if you want a meal and conversation, head on through into the restaurant where the noise level is better geared to eating and talking.
And you DO want to eat here. Because the food, in a word, is wonderful. My group started with a few appetizers. The Irish charcuterie platter, which came loaded with Irish cheeses, house-cured pork belly, Irish bangers, Irish smoked salmon, brown bread, a quail egg, and house-made condiments, is big, so you'll definitely want to share. The mini-shepherds' pie served in a demitasse cup was a hit with everyone. The meat/potatoes/veggies base was rich and savory, heavy on flavor, then topped with a mound of piped-on mashed potatoes that looked like whipped cream. This small taste was good enough to let me know I should order the regular-size shepherds' pie on my next visit.
But the star of the starters was and always will be the Reuben Fritters, aka "Irish Cannonballs." Delectable bites of corned beef, sauerkraut, Swiss and cream cheese rolled into a smooth ball, coated in seasoned crumbs and deep fried, they really do explode with flavor at the first bite. Especially when you dip them in the accompanying Guinness whole-grain honey mustard dipping sauce. These things are "Wow" good. They come four to an order, and I promise you're not going to want to share them. You could easily make a meal of these fritters and a charcuterie platter or perhaps the Irish poutine starter—house fries and cheese curds topped with Guinness onion gravy and scallions. But do save room for the main event. It's worth it.
After guaranteeing I could get malt vinegar as well as tartar sauce, I ordered the fish and chips. It turned out to be some of the best I've had. The beer batter was light, a bit puffy, not at all greasy. The haddock was cooked to perfection, falling into flaky bites on the fork. The house-made tartar sauce was so good it almost made me abandon my beloved malt vinegar. Turns out they are even better together! You can order a single piece of fish or two. My one piece was very large, but I managed to make room for the soft Irish soda bread, served with good butter.
A friend who was with me ordered the other most famous item on the Kitty Hoynes menu, the Irish meatloaf. It's made from a mix of lamb, beef, Irish white pudding, and Dubliner cheddar, topped with a rich cabbage cream sauce, and served with mixed vegetables and a mountain of "champ," the traditional Irish style of creamy mashed potatoes with scallions mixed in. It's a huge plate of food and all of it delicious. I'm told another favorite with many locals is the all-day Irish breakfast. You get Tommy Moloney's Irish bacon rashers, Irish breakfast sausage, black and white pork pudding, fried eggs, Irish soda bread, grilled tomato and potatoes. Whew! It's a lot to put away.
Kitty Hoynes is a pub so of course the drinks menu is long and varied. For their brews, they use the old Imperial 20-oz pint glasses, so a hefty pour is guaranteed. Guinness drinkers can count on having a perfectly topped glass of "the black stuff." They also serve several of the craft brews this part of Central New York is becoming known for as well as others from farther off. Irish whiskey lovers will be in heaven at Kitty Hoynes, home to the largest Irish whiskey collection in upstate New York, bringing "the soul of Ireland" across the Atlantic. You can order a flight of whiskey to try a few and see which one you like best.
We also tried a few desserts. My favorite was lemon-blueberry upside-down cake, but I tasted several and every one was great. For a final touch o' the Irish, top your meal off with an Irish Coffee, served in a wine class for an ideal ending.
The service from everyone at Kitty Hoynes is as good as the food. Friendly, knowledgeable, helpful, funny, charming, they are all that. And if you are waited on by Joe, our server, you'll be even more greatly blessed. From friendliness, to humor, to knowledge of everything on the menu, he was perfection on every level. Overall, the service rounded off a great meal for my whole group.
Kitty Hoynes is in the heart of downtown Syracuse. For sunny days and evenings when the weather cooperates, there are outside tables. Parking is on the street, unmetered on weeknights.
Price Range: Starters run from $7 up to $15 for the Irish Charcuterie platter. Salads are $12-15, sandwiches $11-18. Irish Specialty mains range from $12 up to $26.
Disclosure: The author received a complimentary meal at Kitty Hoynes while attending a conference.
Pin It for Later: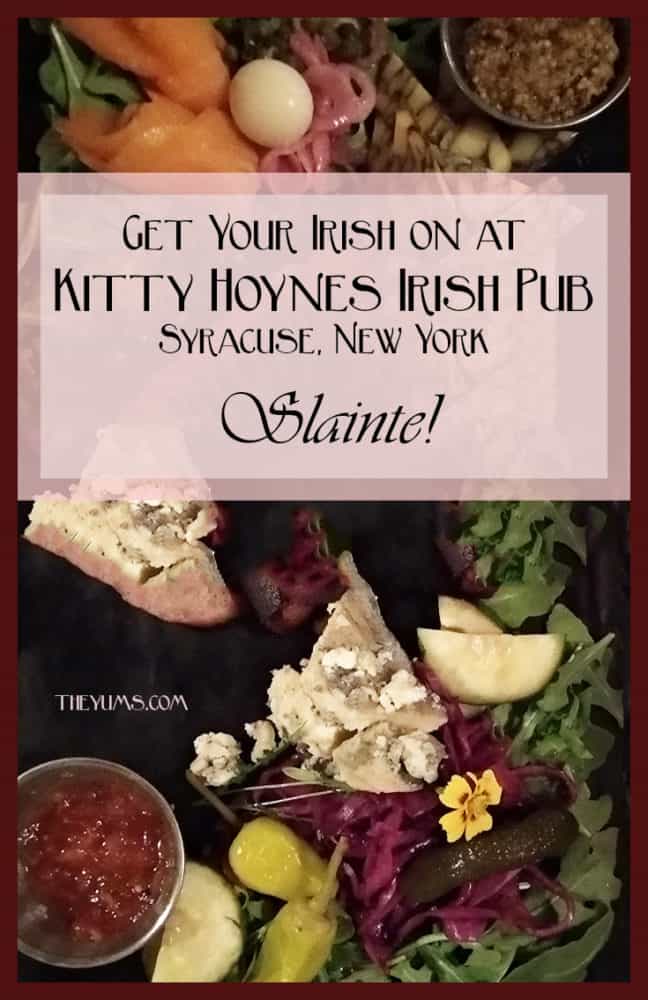 Latest posts by Donna Meyer
(see all)