Dining while taking in a great view—there's something magical about the experience. And that magic is in full force at La Terraza Restaurant, at the Gran Hotel in Mexico City. The fifth-floor balcony restaurant and bar offers a sweeping vista of the grand urban square called the Zocalo, the pulsing heart at the core of this great city. Here, while sipping a mammoth, flavored margarita or eating a perfectly seared steak, your view includes the enormous square, the long sweep of the National Palace, and the 16th-century Metropolitan Cathedral.
At dusk, you can watch the dramatic flag-lowering ceremony, then sip some more as the day fades into sunset, the lights below you come on, and the sweep of night takes over the square. If you're lucky, like I was, you'll see a vivid orange moon rise directly behind the palace, making your evening complete.
Location: Av. 16 de Septiembre #82. Note: The entrance to the hotel is on a pedestrians-only street. If you take a taxi, it will drop you at the corner and you will walk about 30 yards to the main door. Cross the lobby and take the elevator to the 4th floor.
Menu: La Terraza Restaurant offers Mexican Haute Cuisine, with authentic flavors, freshly made salsas, regional specialties like cochinita pibil and an array of sauces and salsas that are both authentic and innovative, using traditional herbal flavorings like Hoja Santa, epazote, and papalo oil. They also have a big local reputation for their parilladas—grilled platters of meats, vegetables, and portobello mushrooms.
Thoughts: Whether you come to La Terraza at the Gran Hotel for brunch, lunch, or dinner, appetizers and drinks, or a late-night snack, the fine food and drink is merely the bonus. What you are really coming for is the view.
Spread wide in front of you is the Zocalo, the place where Mexico's heart beats strongest with its history. Before the conquerors arrived from Spain and changed everything, this area was already a major ceremonial center of the Aztec city of Tenochtitlan. The Conqueror Cortes built the long National Palace on the site of the Aztec Emperor Moctezuna's palace and raised the magnificent Metropolitan Cathedral next to and partly on top of the Aztec's Templo Mayor complex. All this history is laid out before you as you sip an enormous flavored margarita—mixed with either tequila or mescal—or savor a glass of fine wine.
Its location on the roof terrace of the Gran Hotel means you also get the great pleasure of wandering through the hotel's gorgeous Art Nouveau lobby. Built in 1899 as El Centro Mercantil, the building was originally the most exclusive department store in all of Latin America.
Passing through the lobby, you can still see all the fin-de-siècle beauty of those glory days, including the 1908 Tiffany stained-glass canopy ceiling, one of the largest in the world and likely to stop you dead in your tracks. See the wrought-iron birdcage elevators (yes, they still work), scroll-work iron balconies, and an enormous Louis XV chandelier. Head across this Art Nouveau wonderland to the modern elevators and go up to the fourth floor. From there, a gracefully curved staircase takes you to the roof-top restaurant.
Once seated, you'll have to take your eyes off that wide-open view to look at the menu. And everything we tried on it was a delight. The view clearly invites a toast, so consider beginning with a margarita. Those at La Terraza are legendary—huge and offered in more than dozen flavors. I ordered a dark chocolate margarita, which was velvety smooth and rich, while my friend had a mango-raspberry one, bright, fresh and sweet.
We began our meal with the cheese curd mousse with chili marmalade. The cheese was creamy and dense, offset by a mixture of slightly bitter greens and wild mushrooms, and a smear of the marmalade with its smoky chipotle depth, sweet and not too spicy but with a small kick underneath.
On another visit, the roasted tomato salad was excellent, the still-warm tomatoes nestled in a bed of baby spinach with avocado cream and a dried chili vinaigrette. Also very fine was the cream of roasted corn soup, with baby corn, a tamal, and a chunk of pork carnitas.
For a main dish, I chose the shellfish-stuffed cheese with tapioca tentacles, which when it came was not quite what I expected. The seafood was like a stew of small pieces in a red sauce, very tasty, topped with melted cheese.
My friend ordered a sirloin steak in bleu cheese sauce with a red wine reduction, and it showed us why La Terraza is famous for its meat cuts. Butter tender and perfectly seared, it was wonderful. On a future visit, I will try the chorizo-chili crusted fresh codfish with raspberry-artichoke risotto and grilled veggies.
Soon, the "salsa lady" will come to your table with her cart to make your traditional Mexican salsa right at your table. She begins with grinding the spices in the stone molcajete and shows you eight different types of chilis to choose from, explaining the fire level of each. Then she adds in the roasted tomatoes or tomatillos and presents you with the stone bowl to enjoy with the toasted tortillas and crema on the table. Delicous!
Whatever you do, save room for dessert, because both the meal and the view deserve a proper send-off, and the options are legendary. Take for instance the molten chocolate cake. It comes to the table on a huge, hot metal platter and is topped with mascarpone ice cream. The waiter explains that you should dig in and mix the warm cake, the hot runny pudding center and let the mascarpone melt into it, then whirl it all together before scooping it up. A truly amazing dish.
To ensure you get a table out on the balcony, it's important to book ahead. But wherever you are seated, you can feel free to get up and linger at the balcony, taking in the activity in the giant square below. It's where much of Mexico City life happens—and has for centuries. The waiters will even be happy to snap a picture of you with that gorgeous view behind you.
Price Range: La Terraza is not inexpensive by Mexico City standards, nor is it the spendiest place in town. My friend and I shared one appetizer, each had a main dish, and shared a dessert for just under $50 for two, not including drinks. You could also spend twice that, depending on your order.
A recent three-course "Flavors of Mexico" tasting menu was priced at $26. The House Special, "Terraza's Cowboy Steak," comes with a side of grilled cactus and cheese, plus a salad and soup for $50. Appetizers run $4.50-8.50; soups are $4.50-5. Main dishes are $12-19. Desserts are $5-8. Brunch is $25.
Pin it For Later: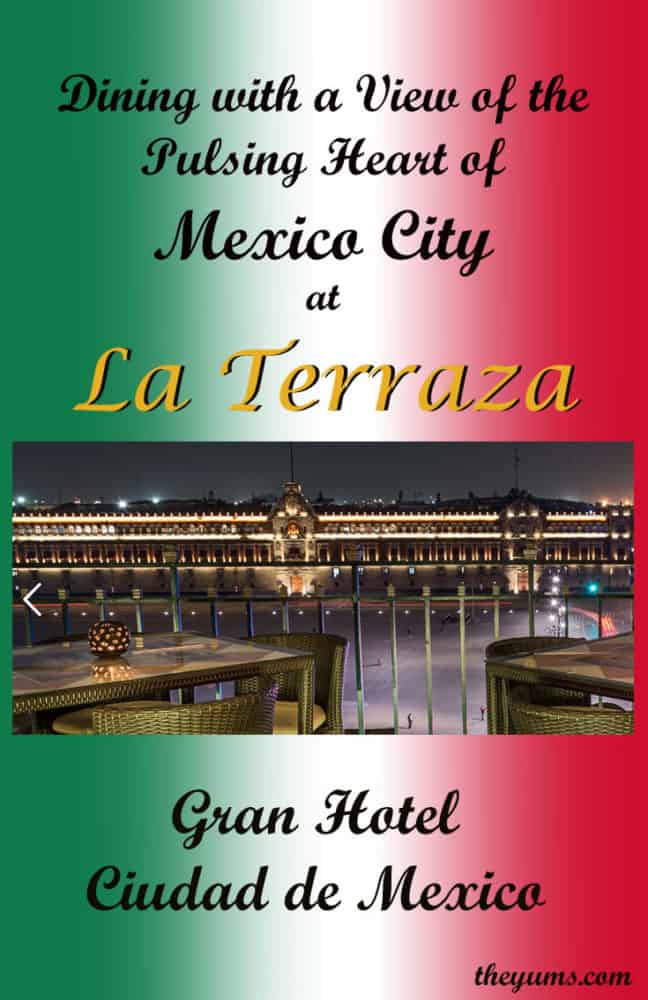 Latest posts by Donna Meyer
(see all)