When the prime rib is tender and tasty, the chicken fried steak is obviously made from scratch, the whiteboard specials include Cajun snapper with a fresh tomato spinach salsa, the room is full of locals, and the staff laughs a lot… well, you know you're where you ought to be eating. Add in an oceanside park with a historic lighthouse just down the street and you know you've found a gem at the Lighthouse Café & Deli in San Pedro, California, home of the giant Los Angeles Harbor. One of the best casual, neighborhood breakfast-lunch-and-dinner spots in the town locals call simply "Pedro," it should be on your radar if you visit this beach town or stay over before or after a cruise out of the LA Cruise Terminal in the harbor here.
Location: 508 W 39th Street, San Pedro, California
Menu: The Lighthouse Café & Deli offers typical diner food, made fresh and done well, and with a few twists. Some menu items have an authentic Mexican accent, like burritos, huevos rancheros, or a machaca omelette (this is southern California, after all), and the daily specials often go beyond diner staples. This being a beach town and a long-time commercial fishing center, you can count on really good, really fresh fish and seafood specials as well, from a calamari steak sandwich to grilled tilapia to Cajun shark. The menu offers quite a few vegetarian options and even a few vegan ones. Open from early morning until late evening, they will satisfy your hunger solidly at any time of day.
Thoughts: When I travel, I love seeking out the places most popular with locals. For this trip, I didn't even need to ask. I grew up in San Pedro, and though I have been gone for many years, I knew the Lighthouse Café had to be on my itinerary. I went a couple of times, with old friends seeking the same memories, and none of us was disappointed. The Lighthouse is still a taste of home. A delicious and very filling taste.
The menu is huge and varied, whether you're looking for breakfast, lunch, dinner, or just a bottomless cup of coffee and a snack. The breakfast menu is available all day and it's very popular. Big, fluffy, three-egg omelettes, waffles, buttermilk stacks, and skillet combos. There are plenty of add-ons, like cinnamon apples piled high on your pancakes. My first morning there, I ordered the International Omelette with ham, sausage, bacon, onions, tomatoes, mushrooms, and jack and cheddar cheese (yes, I was really hungry!). It came with some of the best hash brown potatoes I've had, light, not greasy, with a perfect crust on them and moist inside. A nice touch listed on the specials board is their "batter of the day." They make a different one each day—could be pumpkin or buckwheat, cinnamon apple or blueberry buttermilk—and you can order a single pancake if you just want to try it out.
I went back for a late lunch/early dinner a couple of nights later, and despite Fish & Chips and the Swordfish Steak in Lemon Butter listed on the board, I had no trouble deciding on my order. I'm a sucker for good pot roast, and the Lighthouse version is very good indeed. It had a depth of flavor you only get with long, slow cooking and was fork tender. One friend had beef too but in the form of the Sunken City, a prime rib sandwich on superb sourdough bread, cut thick and grilled, layered with Cheddar and jack cheeses, lettuce and tomato and slathered with horseradish sauce. Beware, this is a three-napkin creation, but a delicious one (I sneaked a bite for you). The final dish on the table (which I also tasted) was the Abalone Cove, a breaded calamari steak (the poor man's abalone) on that same grilled sourdough and also with melted jack and cheddar. Both of them ordered curly fries with their sandwiches, a big pile of perfectly seasoned curlicues that rioted all over the plate and were superb.
The room is pleasant, a little funky and comfortable. Big windows let in plenty of that SoCal sunshine. The walls sport nautical décor and local photos. It feels homey without being corny or forced. Nope, nothing phony about the Lighthouse Café. It's just down the street from a typical Pedro residential neighborhood, and locals come from all over town and even farther to gather here. They crowd the long counter or the tables while others pass in and out to pick up to-go orders they've called in from home. The noise level can get a little high when it's busy. But there is also a nice terrace for the usually sunny days. And tables at the edge of the patio are dog friendly. They'll even bring out a Fido bowl of water. On weekends, come early on Saturdays or before church lets out on Sundays. Otherwise, the place fills up fast with hungry locals.
Unless you're having a late-night meal, take time to check out the neighborhood before or after your visit. The park hosting the giant Korean Friendship Bell is practically across the street. Or walk down to Pt. Fermin Park, my absolute favorite childhood spot in all of Pedro, and visit the beautifully restored historic lighthouse there. Whatever you do, please don't leave San Pedro without checking out The Lighthouse Café & Deli. It's worth it, every bite of it.
Price Range: At breakfast: Egg combinations range from $3.95 to $7.95. Breakfast skillets are $8.95.  Pancakes/waffles/French toast run $3.75-5.45. Omelettes are $6.25-7.95. Fresh homemade chili or the soup of the day costs $3.45-4.45. Burgers are $7.95-8.95. For the dinner items, the most expensive plate on the regular menu is $11.95. You might occasionally see an item in the whiteboard specials that's a dollar or so more. Bottom line: You'll never pay a lot for a meal here.
Pin it For Later: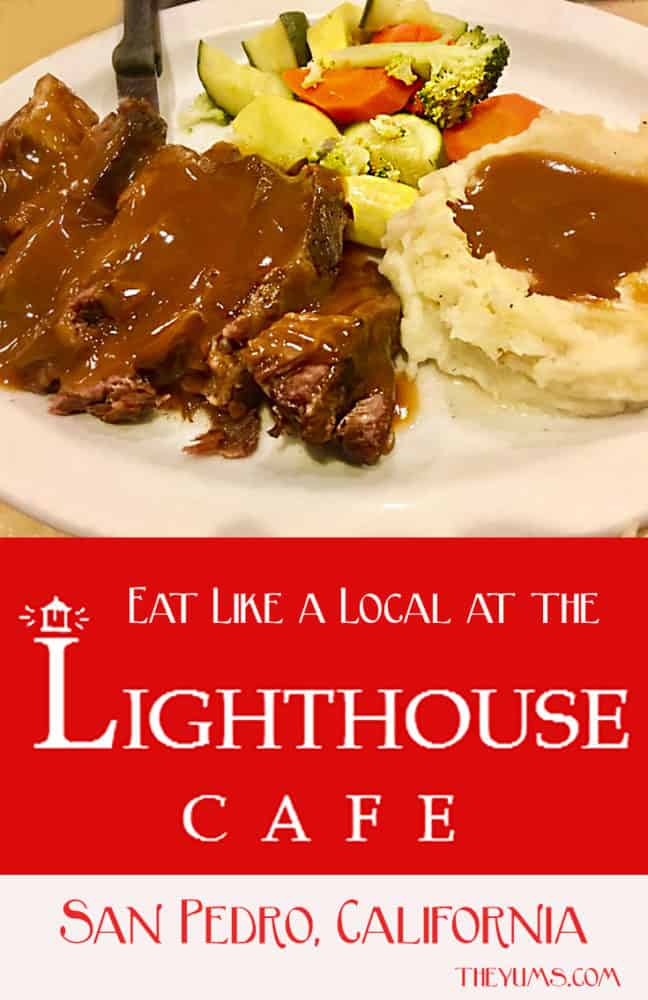 Latest posts by Donna Meyer
(see all)