The Occidental Grill & Seafood Restaurant has stood the test of time in Washington D.C. for more than 110 years.
Location: Occidental Grill & Seafood Restaurant located at 1475 Pennsylvania Avenue, NW in Washington, D.C. is just over a block from the White House.
Find a great Washington DC hotel by visiting TripAdvisor (here) for reviews, comparisons, and rates.
Menu: The menu featured American cuisine with seafood as a star attraction, for example, gulf shrimp, Maine lobster, and Maryland she-crab. The seasonal menu changes four times a year and features many locally-sourced ingredients.
One of the signature dishes was the Presidential burger. It started with a traditional burger and transformed it to a whole new level by adding a topping of high-end pan-seared foie gras, pieces of comforting braised short rib and smoked Stoney Point [amazon_textlink asin='B00LMGPDQ2′ text='bacon jam' template='ProductLink' store='theyums-20′ marketplace='US' link_id='1a812bca-f666-11e8-ab4d-9142e344e761′].
Thoughts: The Occidental Grill & Seafood Restaurant was one of those if-these-walls-could-talk kinds of places.  Our beige leather, button-tufted booth had secrets to tell.
In 1962, the [amazon_textlink asin='B072VYFH7M' text='Cuban Missile Crisis' template='ProductLink' store='theyums-20′ marketplace='US' link_id='57df774e-f666-11e8-808a-b1f648d9c18c'] occurred. An engraved brass plate posted at the booth indicates "At this table during the tense moments of the Cuban missile crisis a Russian offer to withdraw missiles from Cuba was passed by the mysterious Russian 'Mr. X' to ABC-TV correspondent [amazon_textlink asin='B001KMW046′ text='John Scali' template='ProductLink' store='theyums-20′ marketplace='US' link_id='6b46822c-f666-11e8-9629-f3acb3851251′]. On the basis of this meeting the threat of a possible nuclear war was avoided." A photo of John Scali accompanies the message.
The restaurant's elegant two-level dining room had walls lined with hundreds of black and white photos of the celebrities who have dined there. The beige button-tufted leather booths complement the restaurant's black and white color scheme while adding a pop of muted color. Exposed-bulb light fixtures accented the room, and white linens added to the elegance.
The servers' uniforms coordinated with the black and white restaurant decor. The servers wore white long-sleeved button-down shirts with a black vest, patterned tie, and black pants. A black apron covered the uniform.
In addition to the indoor dining, summer included patio dining. The bountiful floral-filled planter box trimming the patio brought nature and calm to the street-facing patio. It sported blue umbrellas and chair cushions.
Some of my favorite dishes included:
The house-made cornbread skillet. The cornbread had a nice crunch on the outside and a moist crumb on the inside. Sous-vide pear jam, honey butter, and smoked sea salt accompanied the cornbread. An example of the autumnal transformation is the honey butter morphed seasonally into squash butter.
The Porter-braised beef short rib hoagie. It was braised 18 hours and served with roasted mushrooms, caramelized onions, aged cheddar sauce, and garlic mayo. I substituted truffle fries for the standard fries with my sandwich. A sprinkling of freshly shaved Parmesan cheese decorated the top. As a heartier version, the Porter-braised beef short rib also appeared as an entrée served with baby beet farrotto, crispy shallots, and a red wine demi-glace.
The lemon-blueberry crème brûlée. This dessert served in a shallow oblong dish started with a layer of thick [amazon_textlink asin='B009KFFU5G' text='blueberry compote' template='ProductLink' store='theyums-20′ marketplace='US' link_id='ac8849ad-f666-11e8-ad0c-ffbdcf4d2b08′] on the bottom. The compote topped with a slightly tart lemon-flavored custard was then brûléed, decorated with a twist of whipped maple mascarpone and an almond-Florentine wafer.
Valet parking for a fee is available next door at the Willard Hotel. You will require parking validation from the Occidental Grill.
Price Range: Starters ranged from $8 for the homemade skillet cornbread to $16 for the Occidental chopped salad. Sandwiches ranged from $16 for the grilled marinated chicken breast sandwich to $30 for the Presidential Burger. Mains ranged from $25 for the tagliatelle Bolognese or $26 for the Porter-braised short rib to $29 for the tamarind-glazed Nova Scotia salmon or the grilled six-ounce filet mignon. Desserts were either $7 for ice cream or sorbet to $10 for all other desserts. Lunch for two is about $50 including tax and gratuity.
For Pinterest: Pin this to your favorite Washington D.C. restaurant board.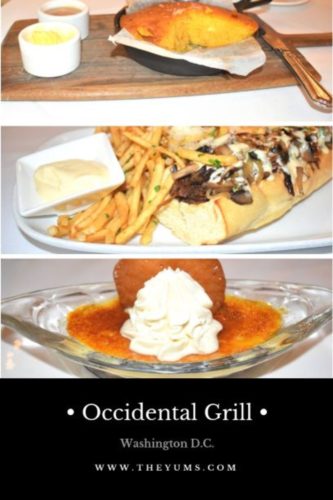 Latest posts by Amy Piper
(see all)