The Bubble Room on Florida's Captiva Island was designed to engage all of your senses, especially your sense of fun. The food is fresh and delicious, the decor and music are nostalgic, and the desserts will annihilate your willpower.
Location: 15001 Captiva Drive, Captiva Island, Florida
Menu: The Bubble Room'sclaim that all menu items are made fresh daily is a huge, but very believable, claim. The list is filled with fruits, seafood, grilled meats, and crisp veggies, and the titles harken back to the Golden Age of Cinema and to the recording artists from the '20s, '30s, and '40s.
Under the appetizer selections are such things as Tutti-Frutti O'Rudi with a mouthwatering array of fresh fruits and a strawberry yogurt dipping sauce. S'Marvelous She-Crab Soup is offered alongside Carolina Moons, which are their thin homemade potato chips.
On the lunch and dinner menu, you'll find the Pita Fonda, which consists of grilled chicken and veggies with a creamy cucumber sauce, the Errol "Fin", a grouper filet served with Caribbean rice and a cucumber vinegar salsa and the Turk Douglas, a turkey sandwich with bacon, pepper jack cheese, roasted peppers, Sriracha mayo and homemade guava jam. The Louis Armstrong is a New Orleans style muffuletta, and the Bing "Crab"sby is their way to describe crab cakes topped with lobster cream and served with mint mango coleslaw and jasmine rice. Fruit salads, veggie salads, burgers, chicken sandwiches and fish sandwiches are also served with housemade dressings.
Meat lovers will find plenty to satisfy with prime rib and pork tenderloin sandwiches. My personal choice was the Jumpin' Jive – a grilled grouper filet with tropical fruit salsa, Caribbean rice and black beans. It was outstanding. So full of flavor and fresh ingredients that perfectly reflected the island vibe of Captiva.
Then came the dessert tray, a profusion of colors, flavors and overwhelming temptations. Be prepared to share one of these creations, because the portions are gigantic. A Bubble Room original is the orange crunch cake, but you'll also find coconut cake, red velvet cake, chocolate cake, New York cheesecake, Key lime pie, Jamaican rum cake and several more.
Bubble bread, a buttery, cheese and garlic-filled gastronomic delight, is baked at 4:00 every afternoon and can be ordered by guests during the dinner hours. Folks are even known to line up and buy it as it comes out of the oven, or maybe I'm just speaking from personal experience.
Thoughts: The Bubble Room began with a few dining tables in the front room of the Farqhuarson family home in 1979. They opened at Christmas time that year and used bubble lights to decorate. The idea of a Christmas theme took shape, and today you will see "Merry Christmas" signs as you enter, and your server will greet you with "Merry Christmas! Because every day is Christmas at the Bubble Room."
Movie stars vacationing on Captiva visited and spread the word about the restaurant, and it soon mushroomed to cover three floors and five large dining rooms. Photos of those stars plus those of many other movie idols and iconic movie scenes adorn the walls, among a vast collection of vintage toys, antiques, hundreds of bubble lights and even aquariums. Model trains run on tracks throughout all three floors, while music from the 1920s, '30s and '40s plays in the background. Your eyes will constantly find new and unique things to capture your attention and imagination.
Original owners Jamie and Katie Farqhuarson made the very fortunate decision to combine their two talents and passions, his as a chef and hers as an artist, and thousands of lucky visitors have experienced the results. Another unique twist is that all of the servers wear Boy Scout uniforms with individual hats and accessories. When I asked about this tradition, I was told that the Farqhuarsons' daughter had been a Girl Scout who loved her uniform, so that became her contribution to the ambiance. Servers refer to themselves as Bubble Scouts. The Farqhuarsons were the first on the island to paint their building with bright pastel colors, but the habit soon caught on with many buildings following suit.
Price range: Appetizers start at $5.95 and go to $7.95. Salads are $10.95 to $18.95. Sandwiches are $10.95 to $16.95. Entrees are $23.95 to $40.95. Full entrees include bubble bread, sticky bun, side salad, starch and vegetables. Desserts are $7.95, and a whole cake can be purchased for $53.00. Bubble bread is $16.95 a loaf or $2.00 per slice.
Save this to your favorite Pinterest boards and plan a fun dinner at the Bubble Room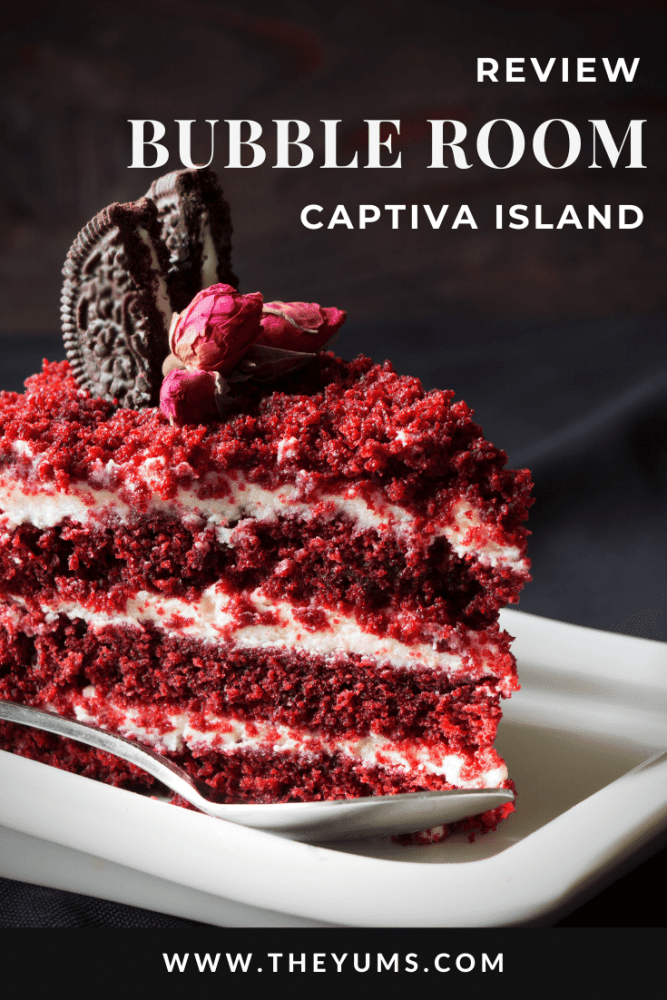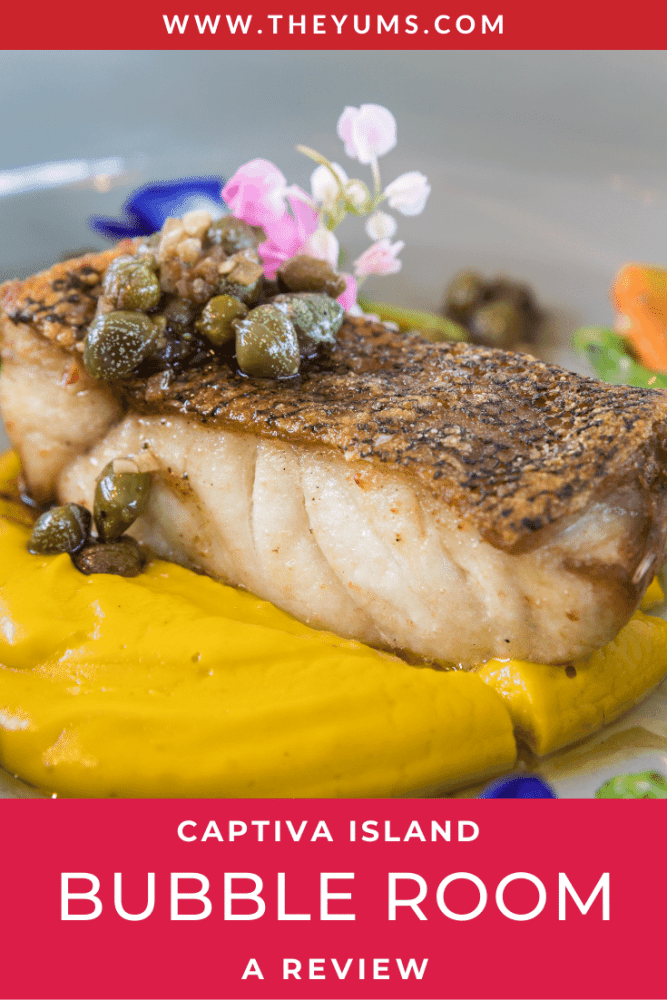 Latest posts by Connie Pearson
(see all)