I was lost in Copenhagen, late for a meeting and walking in circles, when I first spotted the pretty terrace of Restaurant Maven and Vinbar. Set in the shadow of the ancient brick walls and tower of the decommissioned Nikolaj Church, it looked totally inviting, but I had to run off. I didn't know it was recommended by Michelin, but I decided right then to come back and try it. I'm so glad I did. It was the best meal I had in the city.
Menu: The list is short and seasonal, changing frequently, with fresh, innovative takes on Nordic food. Smørrebrød, marinated herring, fish cakes, and fine de claire oysters, plus many other variations on fish and seafood, root vegetables, pork and beef, and with a few vegetarian and vegan options. There is an extensive wine list as well. In the summer, the menu is especially seafood heavy.
Location: Nikolaj Plads 10, Copenhagen, Denmark. The restaurant is connected to the Nikolaj Contemporary Art Center, at the Nikolaj Church, just a block from the famous Strøget shopping street and about one block from where the Canal Tour boats dock.
Thoughts: I found Maven Restaurant to be a completely delightful experience. It was a sunny but somewhat chilly day when I was there, but I wanted to enjoy that terrace that enticed me in the first place. The sight of standing heaters set around and thoughtfully provided blankets at each seat convinced me to take one of the umbrella tables beside the warm redbrick church walls. As soon as I was settled, my friendly waiter brought a basket of good bread.
I was curious to try the French fine de claire oysters so began my meal with an order of three of them. They were served with a bloody mary vinaigrette and were large, not fleshy, and had the characteristic green tinge I'd heard about. Slurping them up, I got a hit of saltiness followed by a nutty sweetness. Delicious. I paired them with a glass of a crisp Italian chardonnay. The menu is not large, but I still had trouble deciding what to have next. A sandwich of herring with grapes, apples and walnuts? The "Shooting Star" plate with plaice, salmon and prawns? Or perhaps half a grilled lobster with grapefruit beurre blanc, carrots and chives?
I finally opted for a plate of three smørrebrød, the open-faced sandwiches on chewy dark bread for which the Scandinavian countries are so rightly famous. What came out was a beautiful stoneware plate with one sandwich of Icelandic salmon topped with pink roe and garnished with fennel and dill, another with a slice of perfectly roasted beef garnished with crispy fried onions and horseradish, and a third of chicken salad with cress and capers. Each main flavor was distinct, perfectly fresh, and superbly complemented by its chosen garnish. I also ordered French fries because I'd seen them passing by and they looked irresistible. They came thick cut and well browned in a paper cone with a hefty side dollop of house-made mayonnaise. They were as good as I'd hoped.
There was barely room for dessert, but I'm a trooper. I had to try the buttermilk sorbet with oat crumble, blueberry and basil. Oh man, I wish I could make this at home!
Every dish I ordered, as well as each one I saw passing by to other tables, was beautifully presented, the plating perfectly designed and balanced. The wine list is extensive, offering labels from all over the world, with a heavy emphasis on French and Italian wines. Beer and cocktails are also available.
Before I waddled out, I asked, in the name of research, to see the dinner menu. I saw right off that I wanted to come back to try the celery gratin with a confit of sweetbread, truffle, and thyme. I'd follow that with grilled pork belly served with baked onions, beetroot and pepper sauce. Or maybe the rib-eye steak bernaise with ramson capers, oven-roasted garlic, and frites. And I'd definitely finish off with raspberry pavlova with meringue and white chocolate. Hmmm…guess I need to make another trip to Denmark.
I also peeked into the indoor section of the restaurant, set in a side room of the old church. The space is beautiful, both elegant and cozy at the same time, pretty and unpretentious. Persian carpets spread over the light wood plank floors, and high, multi-planed windows let the light pour in. Sage green walls are dotted with dark wooden cases filled with sparkling glassware and hundreds of bottles of wine. For evening, there are brass candlesticks and candelabra on the tables to lend a romantic air.
The service from everyone I spoke with was friendly and professional without being in any way pretentious. My waiter was knowledgeable about the wines by the glass and made a perfect suggestion. WiFi is available. Just ask your server for the password.
The restaurant's name comes from the history of the place. In the 19th century, the city's butchers set up their stalls and shops in the square, surrounded by the church walls. Because of them, the area came to be called "Maven," which means "stomach" in Danish. The restaurant owners chose the name to pay homage to the earlier inhabitants of the square.
Before or after your meal, take some time to explore the Art Center inside the church. You'll find exhibitions, concerts, performances, a bookstore, classes. It provides an intriguing glimpse of the contemporary arts scene in Copenhagen.
Price Range: Copenhagen is a very expensive city, yet I found Restaurant Maven surprisingly affordable for its quality and location. A two-course meal without wine will average about $23-25 per person. The lunch smørrebrød range from $5.75-9.75. The dinner three-course set menu is $27. Fine de claire oysters are $5.75 for three, $10.75 for six. A grilled half lobster is $16.50.  The most expensive main dish on the menu is the steak bearnaise with fries, at about $22. Desserts at both lunch and dinner range from $2.75-6.75 or $7.75 for a cheese platter.
Pin it for Later: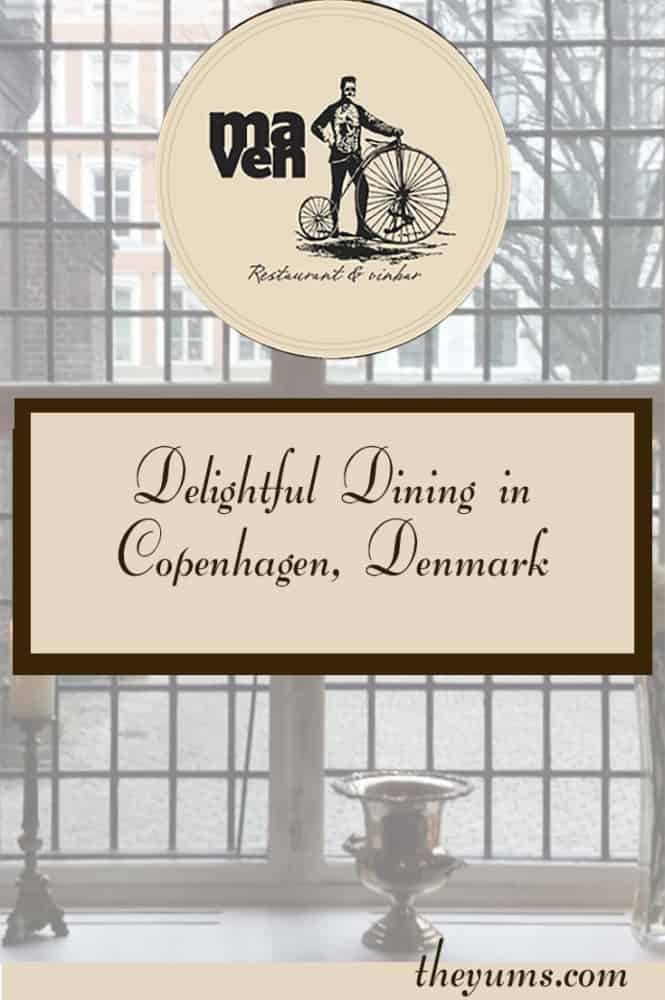 Latest posts by Donna Meyer
(see all)