The name Snack Bar completely belies the ambiance and the menu provided at this very upscale bistro where [amazon_textlink asin='0375413405′ text='French cuisine' template='ProductLink' store='theyums-20′ marketplace='US' link_id='0333b9ce-5841-11e8-a5c4-e5c513be9ddb'], New Orleans flavors and a mixture of [amazon_textlink asin='0848732669′ text='Southern comfort foods' template='ProductLink' store='theyums-20′ marketplace='US' link_id='17185868-5841-11e8-b8d7-21643c465218′] collide. With everything from crawfish to rabbit with a funeral sandwich thrown in for good measure, diners are sure to have a surprising experience from beginning to end at Oxford, Mississippi's Snack Bar.
Location: 721 North Lamar Boulevard, Oxford, [amazon_textlink asin='1493012819′ text='Mississippi' template='ProductLink' store='theyums-20′ marketplace='US' link_id='36eb9f72-5841-11e8-b681-0be66f871e12′]
Menu: Snack Bar offers a Raw Bar and a Happy Hour that opens early and closes late, but the main emphasis is on an amazing dinner. Raw Bar offerings include oysters, shrimp, crawfish and crab claws. The oysters, in particular, come in daily from the places where the best and freshest can be found at that moment.
Sandwiches served with seasoned fries (called frites on this menu) range from a gourmet concoction of Duck Confit Croquet Monsieur to a locally-traditional Funeral Sandwich consisting of smoked ham and gruyere with poppyseed dressing served on a Hawaiian roll. Even the hamburgers and grilled cheese sandwiches sound divine with unique touches.
Startling items such as Strawberries and Cornmeal Shortcake, Asparagus Soup, Fried Boudin Balls, Rabbit Lasagna, Goat Curry and Spanish Mackerel show up alongside Fried Chicken, Red Beans and Rice, and Pork Tenderloin.
Desserts also have surprising twists with the likes of Bananas Foster Upside-Down Cake and Coconut Pavlova.
Thoughts: Snack Bar is one of four distinctive restaurants in Oxford, Mississippi, owned by [amazon_textlink asin='B01MU5MN1G' text='Chef John Currence' template='ProductLink' store='theyums-20′ marketplace='US' link_id='54ce138b-5841-11e8-a4cf-d75ec85fd5d0′] who was the James Beard winner for Best Chef: South in 2009. Chef Currence was born in [amazon_textlink asin='1465457216′ text='New Orleans' template='ProductLink' store='theyums-20′ marketplace='US' link_id='61c66320-5841-11e8-8e21-bd8317e0a128′] but actually started cooking in Chapel Hill, [amazon_textlink asin='1634040929′ text='North Carolina' template='ProductLink' store='theyums-20′ marketplace='US' link_id='6bd8aaa2-5841-11e8-ab69-6da863f40162′]. There he was trained under Bill Neal but then returned to his New Orleans roots in 1989.
After moving through the ranks at Gautreau's, Bacco and Mr. B's Bistro, Currence decided it was time to pursue restaurant ownership for himself. He made his way to Oxford, Mississippi and began with City Grocery. He has since expanded to Snack Bar, Boure, Big Bad Breakfast and an extensive catering company called The Main Event. Two of his restaurants are around the downtown square, but Big Bad Breakfast and Snack Bar are actually in a small strip mall called  Mid-Town Shopping Center. They sit side-by-side and share a common kitchen. Big Bad Breakfast uses it for breakfast and lunch, then Snack Bar begins serving in the late afternoon. The formula appears to be working well.
At Snack Bar, the lighting is low with wood-paneled walls, a glass-tiled bar, wood tables, and no tablecloths. Art and wall decor suggest a hunting club atmosphere, and a buck with full antler rack is the logo on the menu. The mood is cozy, friendly and fun, and the waitstaff is attentive. With cocktails, live music, and possibly the best French onion soup you've ever tasted, this is a great place for an intimate dinner, a gathering of friends or a celebration.
Price range: Items from the Raw Bar are listed for Market Price. Sandwiches range from a Grilled Cheese for $11.50 to a Confit Duck Croque Madame for $15. Charcuterie selections begin at $8 for Fried Boudin Balls and go all the way to $24 for a full plate. Small plates range from $6 for Truffle Parmesan Frites to $17 for Louisiana Crawfish Ragout. Larger plates are $23 to $30, and all desserts (expertly prepared by Pastry Chef Austin Agent) are $9. Top off dessert with a French press coffee for $6.00 or a limoncello or lime-cello for $6.50.
For Pinterest: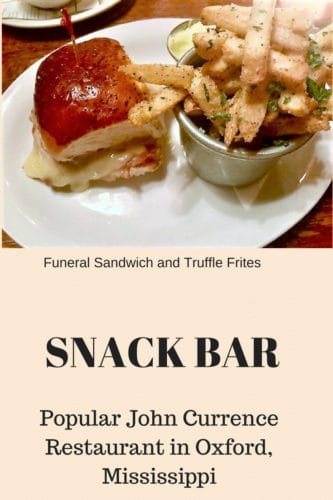 Latest posts by Connie Pearson
(see all)