For biscuits, brunches, beef or bars, The Asbury consistently makes the list of top restaurants in the city of Charlotte, [amazon_textlink asin='0760325928′ text='North Carolina' template='ProductLink' store='theyums-20′ marketplace='US' link_id='42585225-74e4-11e8-b6de-0737d93f7bc7′]. Executive Chef Matthew Krenz and Pastry Chef Miranda Brown are drawing diners frequently to come back for more.
Location: 235 North Tryon Street in the Fourth Ward of Uptown Charlotte, North Carolina
Menu: The menus for lunch, dinner and weekend brunch change seasonally, but signature items appear throughout the year. Sticky biscuits with country ham and goat cheese icing are baked by the hundreds every day and are considered to be an absolute must for any meal at The Asbury. Deviled eggs, dressed according to the chef's whim, are also very popular. When I visited, they were topped with succulent shrimp making every bite delightful.
Chef Krenz brings in beef for the restaurant from his family's cattle ranch, Krenz Ranch, near New Salem, North Carolina. As a result, the Krenz Ranch Burger with griddled cheddar, caramelized onions, and roasted mushrooms is very popular, as well as the nightly Beef Blackboard. Occasionally, beef tongue or heart will show up on the menu, because of the Krenz family's commitment to using ALL of an animal when it is slaughtered.
Maw Maw's Cast Iron Biscuits, along with Cheese and Charcuterie Boards, Cast Iron Mac + Cheese and Fried Chicken Sammies are other constants on the menu, but if you ask Chef Krenz to name his favorite item, he'll probably say, "Pork Cheeks."
The Asbury has developed a great weekend brunch following. Items such as their Bacon and Pimento Cheese-Stuffed Omelet contribute to this popularity, which was also helped by the restaurant's inclusion in a recent newspaper article called "Where to Find the 11 Best Biscuits in Town, Sweet to Savory."
Miranda Brown is the Pastry Chef at The Asbury, and her skill and creativity will certainly tempt you to save room for dessert. Her White Chocolate Panna Cotta with Fennel Gel and Apple Relish reflects her tendency to choose an ingredient for center stage and then enhance it with herbs and other fresh produce. As a result, she produces desserts that are unique and surprising.
Thoughts: Chef Krenz is in his early 30's and yet has an impressive resume of experience. Before coming to The Asbury, he worked at Four Square in Durham, North Carolina and Passion8 Bistro in Fort Mill, South Carolina, to name only a couple. In the 2017 North Carolina Chef Showdown, he was named the Chef of the Year. Krenz is dedicated to bringing the best possible ingredients into the kitchen of The Asbury. Krenz actually studied art and graphic design in earlier years, and that background shows up in the presentations and even in the combination of ingredients on the plates. The Asbury is also involved in a partnership with nearby Sozo Gallery, so that the art on the walls of the restaurant changes seasonally, reflecting revolving themes, subjects, and color schemes. For these reasons, a meal at The Asbury is delightful from both a taste and a visual standpoint.
Accolades for the restaurant include being named one of the "12 Most Iconic Brunch Places in Charlotte." The Asbury is #5 on the list of "50 Best Restaurants in Charlotte: 2018," and it is on the roster of "8 Best Hotel Bars in Charlotte." In that particular case, the hotel bar in the adjacent Dunhill Hotel also serves the restaurant. The cocktail menu rotates seasonally similarly to the dining menu and the artwork.
The Asbury has an advantageous location. It is situated in what is considered to be Uptown's Fourth Ward, which was named a historic district in 1976. Discovery Place and Carolina Theater Pocket Park are across the street, and Spirit Square Center for the Arts and Blumenthal Performing Arts are within a block. Parking for the restaurant is right around the corner in the garage for Fifth Third Bank. Guests only pay $5 for 2 hours with a validated ticket.
Price range: At lunchtime, starters are from $6 for deviled eggs to $18 for a charcuterie board. Entrees range from $8 for a single Krenz burger all the way to $36 for a large plate of chili-dusted fresh crab. Sides are $6 to $10. Dinner prices are similar. Brunch entrees run from $10 to $14 or a shareable breakfast for 4 people is offered at $50 and includes juice or coffee. A glass of white wine starts at $9 to $14, and red wine is $9 to $16 per glass.
For Pinterest: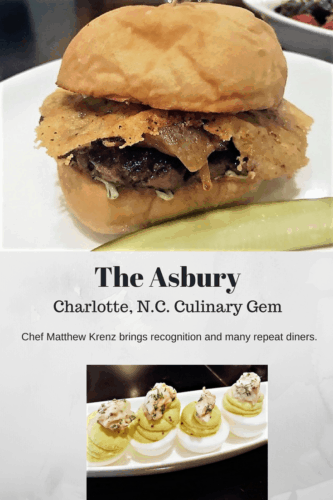 Latest posts by Connie Pearson
(see all)