I grew up in California, so I was an avocado lover long before they became a huge foodie fad and an Instagram trend a few years ago. I've loved them my whole life. So I was excited when I learned about The Avocado Show, in Amsterdam, a restaurant where the silky green fruit features in every dish on the menu, right up to and including avocado ice cream. I knew this shrine to all things avo had to go on my list for my next visit. The Avocado Show now has three locations in Amsterdam. I visited the original one, located in the trendy area called De Pijp. One of the most diverse neighborhoods in the city and home to the famous Albert Cuypstraat Market, the biggest outdoor market in town, the 'hood has recently become something of a mecca for Amsterdam foodies.
Location: Daniel Stappertstraat 61, Amsterdam, 1 ½ blocks from the Albert Cuypstraat market.
Menu: The name of The Avocado Show tells you right up front what the menu is all about. Whether you're ordering breakfast, brunch, or lunch, it's "Everything Avocado," with an emphasis on fresh and healthy. Whether it's a poké bowl, eggs benedict or pancakes, a burger or an open-faced sandwich, roasted veggies or cheesecake, avocado is in there somewhere, and more often than not, front and center. The restaurant's tagline is "Pretty Healthy Food," and it is that, with everything fresh and wholesome and beautiful to look at (and photograph). Also, a good number of menu items are marked vegetarian or vegan. They also point out that they use only sustainable and ethically sourced avocados grown in various regions in the world so as to provide fruit year round.
Thoughts: The avocado craze had already been building for a while by the time the restaurant opened for business in early 2017. Even before the doors opened, it was already Instagram famous. The restaurant's savvy owners began creating buzz for their "coming soon" all-avo temple by posting gorgeous photos of their artistic avo-culinary creations. Not only are the recipes original and intriguing, but the presentation is phenomenal. Remember that "Pretty Healthy Food" slogan. Yeah, the dishes are as lovely to look at as they are delightful to eat. With plating and presentation this spectacular, it's a restaurant just meant for Instagram. And indeed, virtually every patron around you will be pulling out their phones, snapping away. You'll instantly see why. It's a challenge not to snap food this pretty.
The menu is not extensive, but nearly every item is intriguing, making it hard to decide on just one or two choices. A couple of them seem obvious—a mountain of nachos or an order of guacamole (albeit one dressed up with the addition of truffles). But most are unexpected and will pique your curiosity. Going with a friend or group lends itself to sharing and tasting a number of items. But whatever you choose, I strongly recommend you begin with an order of Avo Fries, in which the avocado slices are crusted with spiced panko breadcrumbs then served with truffle mayo. They are, in a word, spectacular.
Among the most popular items are the poké bowls. The "bowl" itself is made from avocado slices, then filled with various fresh, healthy items with a lightly Asian accent. I loved the Truffle Deluxe, filled with Cajun chicken, edamame, pickled cucumber, sesame seeds, parmesan, sushi rice and soy dressing with truffle mayo. It tasted fabulous and felt oh-so-righteous. A friend raved about the Salamango, with the avocado bowl filled with salmon, mango, edamame, wakame, furikake, sesame seeds, sushi rice, and soy dressing with mango mayo or wasabi mayo. The other big stars of the menu are a pair of "burgers," with the usual hamburger bun replaced by a whole avocado, peeled and cut in half crosswise. The Bun Burger is stacked with Angus beef, bacon, lettuce, tomato, red onion and grill sauce (with optional cheese). The vegan version, The Fun Burger, includes a beet burger instead of beef. Great fun to look at and marvel over, and very fine to eat, though terribly messy. Another visual star of the show is their intricate and Insta-famous Avocado Rose, which tops the Mango Tango, a slice of thick sourdough toast under curried hummus and mango.
Good choices for breakfast include some of the best pancakes I have ever eaten. Made with spirulina, the pale green pancakes come layered with sliced avocado and topped with banana, blueberries, crispy bacon and edible flowers and served with maple syrup. The Benny Boy is their version of Eggs Benedictine, with avocado halves serving as the base for the poached eggs and crisp bacon topped with house-made Hollandaise and dressed with mixed leaves and flowers. The Smokey Salmon is the same dish but with salmon instead of bacon. The French Florentine is the vegetarian version, with sautéed spinach substituting for the meat.
And not to forget desserts. Yes, you can make a fabulous dessert from avocado. Like their smooth and creamy vegan peanut-butter-and-avocado ice cream served in a black waffle cone. Or… and yes, this is a thing…the Avocado Oreo Cheesecake, in which a truly smooth and delightful cheesecake is smothered in crushed cookie crumbs.
For drinks, there's a long list of juices, a pair of fruit and veggie smoothies, a range of coffees and teas, as well as beer, wine, plus a full bar.
One thing to note about The Avocado Show at the original location: They do not take reservations. That means you will very likely have to wait for a table. They have a pretty good system worked out, however. When you arrive and see a line, look for the waitlist host. They will give you an estimate of the wait time and take your cell number. You are then free to wander about the neighborhood, stop in one of the nearby cafes for a drink, check out the Albert Cuyp market just a block away while you wait. They'll send you an SMS/text message five minutes before your table is ready, giving you time to get back. To lessen the wait, arrive as early as you can for breakfast. The place usually starts to fill up by about 10:30. Or come in late afternoon, an hour or so before they close, when it is often less busy, except on weekends.
Once inside, the room is small, generally bustling, and can sometimes feel a bit packed. The design is pleasant, with a clean, modern look and an industrial edge–exposed ductwork and track lights overhead and unfinished floors. The hipster vibe of the neighborhood prevails. Pink tufted banquettes line the avocado green walls (what else?). Service is friendly and efficient, with servers happy to explain the menu in detail and also describe the specials of the day.
There are two other locations of the Avocado Show in Amsterdam (plus one in Brussels). The newest location, on the Keizersgracht in the city center, is much larger and does take reservations on the website. Still, at least 70% of the tables are left open for walk-ins. It also has a delightful terrace for outside dining on nice days with lovely canal-side views. It is also open later hours and is a good choice for dinner. Finally, The Avocado Show To Go, located on Williamsparkweg, has a slightly different menu, with more easily packable items. It offers eat in and take out as well as delivery to your door through Uber Eats.
Price Range: Amsterdam is not an inexpensive city, and the prices at The Avocado Show are at the higher end of mid-range. A typical brunch of one main dish plus dessert and coffee, tea, or juice will generally average about €20-27 per person. Most of the main dishes—poké bowls, pancakes, burgers, salads—are €15.75. A smoothie bowl made with coconut and soy yoghurt is €10.50. Those famous avo fries are €6.75. The varieties of avocado toast are €10-11. Desserts are €5-8.50.
IMPORTANT NOTE: The Avocado Show does NOT accept cash payments. They only take chip credit cards.
Pin it For Later: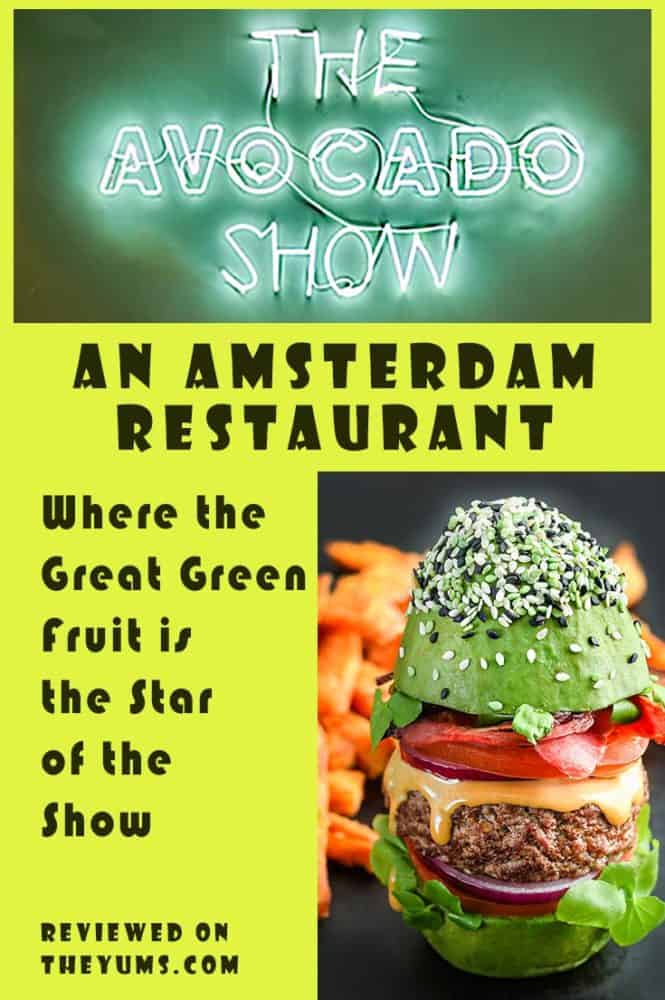 Latest posts by Donna Meyer
(see all)