A Haunted Hamburger joint? Indeed. Who could resist the idea of eating a Ghostly Hamburger in a "living ghost town" with a 100-mile Arizona view to die for? Not me, that's for sure. And not you, either, if you're smart and find yourself anywhere near Jerome, Arizona.
Plastered right onto the side of a steep mountain in the Black Hills, less than an hour from Sedona, Arizona, Jerome was once the fourth largest city in the state, back in the 1870s. A wealth of copper, plus some gold, silver, lead, zinc, malachite and assorted other riches were chopped out of the mountains here and supported some 15,000 souls. There were miners, smelters, mule-drivers and the like plus all the gamblers, saloon-keepers, storekeepers and outfitters, hookers and preachers necessary to keep the miners busy and happy and the mines pouring out their wealth.
By the 1950s, the mines had played out and the population dropped to about 50 people. A few free-spirited, artistic types "rediscovered" Jerome in the '70s and built it back up to about 450 people today. It's become something of a tourist mecca, and the wealth now streams from visitors' pockets.
The Haunted Hamburger, sited up a zig-zag street at the top of the hill, has been around nearly 25 years now, a casual hang-out for locals and tourists alike. And you really need to try it.
Location: 410 Clark St., Jerome, AZ – on historic Highway 89A
Menu: As the name implies, burgers are the big deal here, with several choices, like bacon cheese, mushroom cheese, BBQ cheese, and "Haunted," which includes bacon, cheddar, swiss, mushrooms, green chilies, grilled onions & guacamole. Whew! But there's lots more besides the burgers. Several chicken dishes, a great BBQ rack of ribs, cheese steaks, a fish sandwich. The chipotle deviled eggs are legendary with locals. There are plenty of vegetarian options, but it's not all that great for vegans. The full bar offers several specialty margaritas, and their "Boozy Shakes" are off-the-charts good.
Thoughts: How did the Haunted Hamburger get its name? Well, the building was once a miners' boarding house known as the Jerome Palace. It sat abandoned for years—probably decades—before Michelle and Eric Jurisin rediscovered it. When they began renovating it, they noticed some strange happenings. Doors slammed shut when there were no air currents. And tools kept disappearing, especially hammers. Lots of hammers. They would then reappear after awhile in some very conspicuous place. The occasional can will randomly fly off a shelf. A few times, guests have actually captured a ghostly presence in their photos of the place. Haunted? Judge for yourself. But delicious and fun? Definitely.
Even if the food and service were not splendid, the view alone would make a visit to the Haunted Hamburger worth the trip. Sitting out on the porch—under heat lamps in the chilly season—you're treated to a massive, wide-open view of the Verde Valley and beyond to the tips of the San Francisco Peaks near Flagstaff, often topped with snow.
So, how's the food? It's fine, mighty fine. I've been to the Haunted Hamburger several times, so I've had a chance to sample a range of menu options. The burgers are thick and juicy. You dress them up to taste with your favorites from the condiments bar, with fresh salsa, tomatoes, onion, jalapeños and the like. They come with your choice of fries, a twice-baked potato, spring greens, or a tangy jalapeño coleslaw. The buns are baked in house, and there's also a gluten-free option. For an extra buck or two you can add guacamole, a fried egg, grilled onions, green chilies or thick applewood-smoked bacon.
I also liked the chili a lot. Topped with shredded cheddar and eaten with a side order of deep-fried dill pickle spears with chipotle ranch dressing… yummo. Not a fried pickle fan? Opt for the onion rings, beer-battered and crispy, not greasy, served with house-made buttermilk dressing. The Ultimate Cheese Steak comes piled high with green peppers, onions, green chilies, and mushrooms. And do make space for an order of those deviled eggs the locals love so much. You'll soon see why.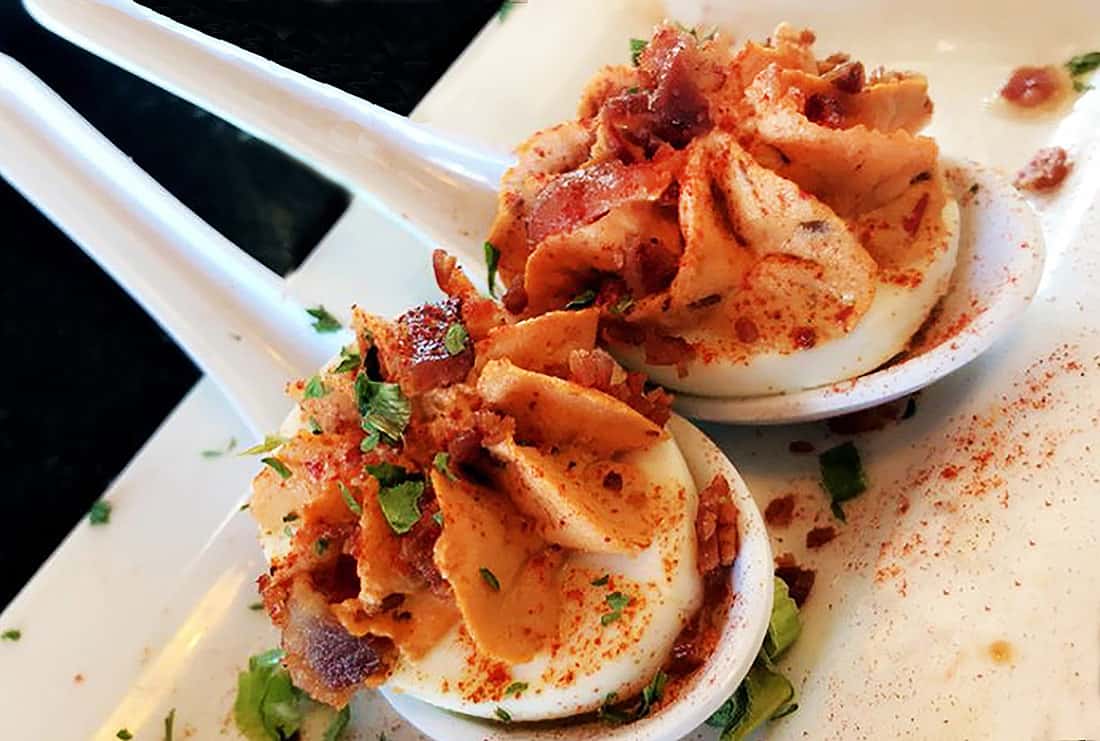 I fell in love with their innovative Boozy Shakes, like the Bourbon Bacon Shake, with caramel and vanilla ice cream. Their regular hand-spun milkshakes are also supreme, with my favorite being the Ghirardelli Caramel and Sea Salt.
But what about that view? Enormous windows line the view-side wall, so even in winter the vista spreads itself before you from nearly everywhere in the restaurant. Also, the terrace is dog friendly. No need to leave Fido in the car. Let him come enjoy the atmosphere too. They'll bring him a doggie bowl of fresh water.
Finally—and this will be difficult—try hard to leave room for dessert. Just inside the entrance is a glass case filled with the most gorgeous cakes and pies I've seen in a long time. The multi-layered chocolate cake is an epiphany. A giant chunk of gooey, fudgy, rich, dark, moist heaven. If that burger was just too much and there's not a square centimeter of space left in your stomach, order dessert to go and enjoy it later. Trust me on this… you'll thank me.
To get to Jerome, drive up a curvy, pretty two-lane road from Sedona. Or, if you're coming from the other side, from Prescott, you'll drive up Mingus Mountain. It's a gorgeous but somewhat scarifying drive, famous for its 127 curves in 12 miles, a favorite with motorcyclists.
Caveat One: Don't come to the Haunted Hamburger if you're in a hurry, especially at prime meal times. The place is very popular with locals and tourists alike and you WILL have to wait. And that wait can be up to an hour, or even more if you really want to sit outside on the terrace. They do handle it well. When you sign in, they'll take your cell number then send you a text when your table is about to be ready. You then have up to ten minutes to check back in. This means you're free to wander back down the hill and check out some of the kitschy fun of Jerome while you wait, or pop into one of the many places nearby for a drink. You can likely avoid much or all of the wait by sitting at the bar, which is perfectly comfortable. If you come during off-peak hours out of season, the wait will be less, if at all.
Caveat Two: Parking is something of a nightmare in Jerome and especially near the restaurant, i.e. there isn't any. You will have to park in one of the designated lots down the hill and then hike up some steep, narrow stairs to get back up to the restaurant level at the top of the town. Another option is to just spend the night at the beautiful Jerome Grand Hotel. Originally built in the 1920s as the town's hospital, in Mission Revival style, it's also said to be haunted. But the hotel is beautiful and better yet, just a short walk down the hill brings you to the your dream burger.
Price Range: The Haunted Hamburger is not a cheap meal, but for the quality, the super-friendly service, and the view, it's worth the price, I think. Burgers with included sides range from $11-14, or up to $17 for a Double Haunted. A half rack of BBQ Baby Back Ribs is $16, or $18 with an added chicken breast. A full rack is $21. A large ¼ lb. beef hot dog is $6.75, two bucks more topped with chili and cheddar. The Ultimate Cheese Steak is $12.75; a salmon burger is $14. Regular milkshakes are $5-6; boozy ones are $9-10. The Chipotle Deviled Eggs are $6.50 for an order of three, nicely presented. Nice to note: On Wednesdays, all burgers are half price, a great deal. On Tuesdays, Not Burger meals are also half price.
Pin It for Later: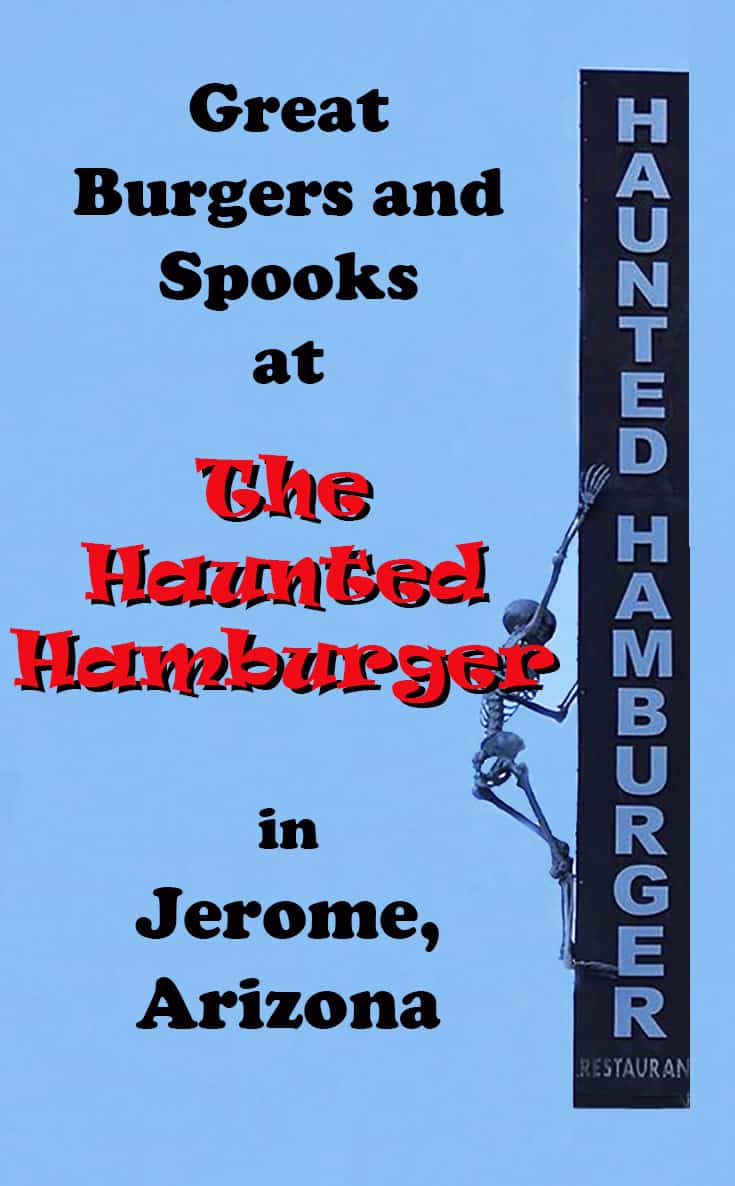 Latest posts by Donna Meyer
(see all)