It doesn't get a whole lot more "small town" than Chloride, Arizona. With a population of around 275 folks (if everyone's home), this "living ghost town" in the far northwest corner of Arizona is a far cry from its silver and lead-mining heyday. In 1899, the town boasted more than 100 active mines and 3000 people, along with the hotels, restaurants, boarding houses, stores and brothels necessary to service them all. Today, Chloride is a fun place to make a short visit, especially as a stopover on a road trip from Las Vegas to Phoenix or the Grand Canyon. And that stop should include a meal at The Prospector Bar & Grill, a true small-town roadhouse with surprisingly tasty food.
Location: 4962 Tennessee Ave, Chloride, [amazon_textlink asin='1742207251′ text='Arizona.' template='ProductLink' store='theyums-20′ marketplace='US' link_id='aad6cc5e-b3bb-11e8-bab3-f3c094b6260d'] It's on the corner of Tennessee and 2nd St. on the right, at the stop sign as you enter the town.
Menu: Expect good quality Americana roadhouse food at The Prospector Bar & Grill—fish 'n' chips, burgers, sandwiches and sloppy joes for lunch, rib-eye steak, pan-fried trout or a steak salad for dinner. For dessert, there is, of course, apple pie. Or try the bread pudding with whiskey sauce. Or best of all, you can make your own campfire s'mores. On weekends, they also serve breakfast with some pretty tasty omelets, steak 'n' eggs, pancakes, biscuits 'n' gravy, good coffee… you get the idea. There's also a full bar, and the beer is always cold.
Thoughts: A little bit funky, a little bit down-home, and a lot friendly, The Prospector is a pretty good reflection of the town of Chloride itself. You'll quite possibly see a few locals sitting on the porch, who are as like as not to invite you to join them on one of the wooden benches. The outside look fits the town—old wood and corrugated metal, decorated with tall branches of dead trees that look like driftwood. Baked by the Arizona sun and polished by blowing sand, they're pretty. The façade has an Old-West roofline of aged barn wood, with vintage touches like rusty chains hanging here and there.
If it's too hot for the porch (this is the high desert of Arizona, remember), head on inside where the swamp coolers keep the temps bearable. The place is clean and homey, with white cinderblock walls, gray wainscoting and beadboard, and decorated with the skeletons of giant cactus. It's the kind of place you can put your elbows on the table and nobody gives a hoot. There are only four tables in the main café, but the adjacent bar area has more, as well as a free jukebox. Sometimes you get live music in the bar in the afternoons.
I ate two meals at The Prospector recently, one weekend breakfast and a lunch. Both were completely satisfying. My breakfast was a good omelet, fluffy egg filled with onions, yellow peppers, cheddar cheese, and lots of bacon, cut in strips, not micro-sized bacon bits.
For lunch, I had the fish and chips, which in this case was cornmeal-crusted catfish—the coating thin and crisp, the fish flaky—accompanied by garlic fries, heavy on the minced garlic. It came with coleslaw, crisp and not too soppy, topped with lots of cracked black pepper. My companion had a BLT on sourdough (because, as he said, "bigger bread = more bacon!") He also ordered a side salad, which turned out to be big enough for a light meal all by itself, a bowl of spring mix greens topped with whole baby carrots, big chunks of beets, cherry tomatoes. We also shared an order of "Cowboy Caviar," a house specialty that's a hearty serving of southwest salsa with corn, beans, and jalapeños served with tortilla chips. If I'd had room, I would have ordered the make-your-own Campfire S'mores for dessert, so reminiscent of Girl Scout days and campfires at the beach.
Service at The Prospector Bar & Grill is as friendly as it gets. With manager Genna waiting tables and her boyfriend Cassidy in the kitchen, you're pretty much made to feel like you're a guest in their home. And any locals around are sure to want to know where you're from and how you ended up in Chloride, this little "town at the end of the road."
Before or after your meal, be sure to take time to explore Chloride. You can visit the 100+-year-old jail, the old Santa Fe RR station, the Baptist church (at 125 years, it's one of the oldest in Arizona). Also, check out some of the wild, funky, and over-the-top creative yard art around town, much of it cobbled together from old metal mining detritus. For a map of the town and a bit of interesting history, stop into the Visitors' Center inside the Mineshaft Market, half-a-block up the street from The Prospector Bar & Grill, on the right.
Price Range: At weekend breakfast, the most you can spend is $10 for steak and eggs with potatoes and toast. An omelet with toast is $6; pancakes are $5; biscuits and gravy are $4. Add a huge cup of good coffee for a buck and a half. Lunchtime sandwiches run $6-8 with your choice of side. Burgers are $10. My fish and chips cost $12 and was worth it. The most expensive thing on the menu is the dinner order of a 12-oz rib-eye with garlic butter or mushrooms and a side or salad at $18. The pan-fried trout is $14. Desserts run $3-4. Beer is $3.50-5, for draft or imports. Cocktails are $4.50 up to $6 for top shelf.
Pin It to Your Favorite USA Road Trip or Roadhouse Food Board: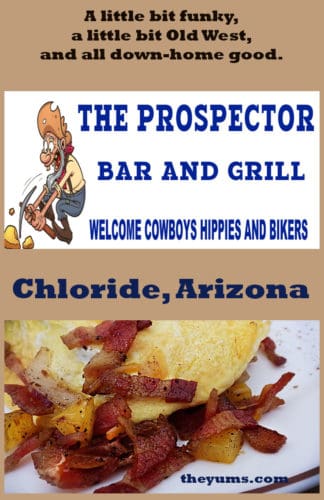 Latest posts by Donna Meyer
(see all)