Rarely do history and contemporary culinary talent meet in the same place; they do at The Turquoise Room at La Posada Hotel in Winslow, Arizona. The restaurant, in the renovated historic hotel, once the crown jewel in the Fred Harvey empire, merges vintage touches with chef/owner John Sharpe's innovative farm-to-table menu. The retro touches such as the colorful placemats designed by Sharpe's wife, Patricia, recall a bygone time. Servers are dressed in outfits inspired by those worn by the legendary Harvey Girls. 
The menu offerings are diverse. A mélange of American Indian-inspired dishes, fitting for a restaurant set amidst American Indian reservations, including Navajo Nation and Hopi served alongside Harvey era classics. Harvey hotels and eating houses served passengers of the Atchison, Topeka and Santa Fe Railway and other travelers from the late 19th to the mid-twentieth century.
Location: 305 East Second Street, Winslow, Arizona.
Menu: Because the Turquoise Room is a hotel restaurant it serves three meals a day. In addition, they also offer a Travelers Menu after the close of lunch service.
Breakfast is a selection of eggs, pancakes, and waffles as well as cereals and baked goods. Don't miss their signature Spicy Green Chile Gratin potatoes made with roasted Poblano, three types of cheese, cream, and russet potatoes.
Lunch offers some of The Turquoise Room's signature appetizers that are found on the dinner menu as well including Piki Bread (a Pueblo specialty) with Hopi Hummus, Crispy Fried Clear Creek Calamari, and The Signature Soup (smooth black bean and cream of corn served in a single bowl with the corn on one side and the bean on the other; eat them separately or mix them together). Other choices include salads, a few sandwiches such as the Fred Harvey French Dip, Navajo Taco "Fry Bread" with Churro Lamb and Charro Beans as well as certified Angus burgers. The Travelers Menu, served from 2 to 4 pm, is basically an abbreviated version of the lunch menu.
Dinner offers the signature appetizers on the lunch menu as well as a few additional options. When they are in season, try the perfectly-fried Famous Stuffed Squash Blossoms. Entrees include the Churro Lamb Sampler featuring heritage breed Churro lamb raised by Antonio and Molly Manzanares in Tierra Amarillo, New Mexico, pork carnitas, Seared Colorado Elk Medallion, Prime Rib and the Harvey era Classic Pepper Steak with "Boulangere Potatoes" as well as seasonal offerings. The fish entrée, according to Sharpe is always different.
Thoughts: If we hadn't heard mostly rave reviews from serious foodie friends we wouldn't have had high expectations for a restaurant just off I-40 in Northern Arizona. But we had and we did. Frequently, when you arrive with high expectations you leave disappointed. It's often hard to live up to the hype, but our dinner at The Turquoise Room didn't disappoint. We were excited about two things; Chef Sharpe is committed to sustainably sourcing his food. In summer he sources produce from the Prescott and Chino Valleys as well from other high desert areas. Winter produce and fruit come from McClendon's Select, a family-run, certified organic farm in Peoria, Arizona. He buys naturally-raised, whole, free-range churro lambs (a heritage breed brought from [amazon_textlink asin='1631216708′ text='Spain' template='ProductLink' store='theyums-20′ marketplace='US' link_id='988fd5ff-ab17-11e7-bb14-a327bd4f0082′] hundreds of years ago, now traditionally raised by Navajos) from Tierra Amarilla, [amazon_textlink asin='1631214209′ text='New Mexico' template='ProductLink' store='theyums-20′ marketplace='US' link_id='aa907248-ab17-11e7-9a46-65d641da5f6f'], and serves [amazon_textlink asin='1101879653′ text='Colorado' template='ProductLink' store='theyums-20′ marketplace='US' link_id='bcbe6030-ab17-11e7-910c-098bd075fd3b']-raised beef.
Sharpe has a small garden where he grows basil, squash, and peppers, some of which show up on The Turquoise Room menu in season. He also uses [amazon_textlink asin='B003T6Y3G4′ text='quince' template='ProductLink' store='theyums-20′ marketplace='US' link_id='d8cc6271-ab17-11e7-b85a-331683b946c9′] from trees planted at La Posada in the 1930s. Not only does he source locally whenever possible, he goes even further, honoring native food ways. The Piki Bread with Hopi Hummus is Sharpe's version of, a native dish the menu calls a "hummus made with reservation grown [amazon_textlink asin='B00S8PA3EM' text='Tepary beans' template='ProductLink' store='theyums-20′ marketplace='US' link_id='ee823e9b-ab17-11e7-8a8c-a1718224bb9b'], pit roasted corn, and sunflower oils," then garnished with [amazon_textlink asin='B00I9DAGWW' text='sunflower seeds' template='ProductLink' store='theyums-20′ marketplace='US' link_id='fa938a6d-ab17-11e7-b305-e72b2991ef99′]. The paper-thin piki, made from heritage blue corn and baked on stone, made by Joyce Saufkie, from Hopi's Second Mesa, follows an ages-old tradition, passed from generation to generation.
Because I'm a lamb lover, I opted for the Churro Lamb Sampler, which features a bowl of red corn, lamb pozole, a lamb chorizo patty in red chili sauce, a sweet corn tamale topped with braised and pulled lamb shoulder with green chili and a lamb chop or loin medallion on a bed of Tuscan kale with a mint and garlic sauce accompanied by a fresh vegetable medley. Game lovers will appreciate the Wild – Wild Platter a sampler featuring crispy fried quail with orange Oaxaca sauce, Colorado farm-raised Elk medallion with wild mushroom brandy cream sauce, a wild chili and cheese tamale topped with bison, white tail deer, and wild boar chili. Both are accompanied by a fresh vegetable medley. Or perhaps go with the Seared Colorado Elk Medallions with a wild mushroom brandy cream sauce, wild mushroom, and roasted corn flan, and steamed sugar snap peas.
The menu also has a few Southwestern-influenced entrees including Grilled Chicken Breast with [amazon_textlink asin='B00CE7N8JM' text='Tomatillo Sauce' template='ProductLink' store='theyums-20′ marketplace='US' link_id='3b5859ac-ab18-11e7-a836-dd53dcfc12c5′] and Tamale and pork carnitas. For meat and potato lovers, there's Cedar River Farms Prime Rib which is served with [amazon_textlink asin='B00BFQJZSG' text='horseradish cream' template='ProductLink' store='theyums-20′ marketplace='US' link_id='4c86b219-ab18-11e7-9f3a-a5e5ce3c41b6′], a choice of baked potato or red caboose mashed potatoes and fresh vegetables. Want to go retro? Opt for the Classic Pepper Steak with "Boulangere Potatoes," which the menu calls "A true 'Fred Harvey' classic from the heyday of Harvey House Dining." It's an 8-ounce "choice" top sirloin steak "lightly dusted with [amazon_textlink asin='B004H2GYB6′ text='white peppercorns' template='ProductLink' store='theyums-20′ marketplace='US' link_id='642f8586-ab18-11e7-a659-e570f513c68f'], pan seared and sliced over a bed of classic green peppercorn brandy sauce, served with scalloped potatoes and onions, baked in layers with herbs and a vegetable stock with fresh vegetables." There's always a fresh fish on offer; the selection changing with the market.
Dessert was a no-brainer for us. While serving our entrees, our server, a lovely young Navajo woman, told us about the double-chocolate soufflé for two in case we wanted to order it as it takes 25 minutes to prepare. Our response: "Fire it up!" The massive soufflé is served with a dark chocolate Grand Marnier sauce and whipped cream. It was very rich and decadently delicious. We oohed and aahed as we ate it. How could it miss with dark chocolate and Grand Marnier? Dining solo or with a non-chocolate lover? There's also a small soufflé for one.
Portions were large and if you have a light appetite, think about sharing an entrée. There is a charge to do this, but may well be worth it.
Price range: Breakfast dishes range from $8 to $12. Lunch and the Travelers Menu run from $8 to $13. Dinner appetizers and salads are priced from $8 to $12 and entrees run from $21 to $34 ($45 for a 14-ounce prime rib). Wine by the glass ranges from $8 to $13; carafes $30 to $34; half-bottles and bottles run from $28 to $98.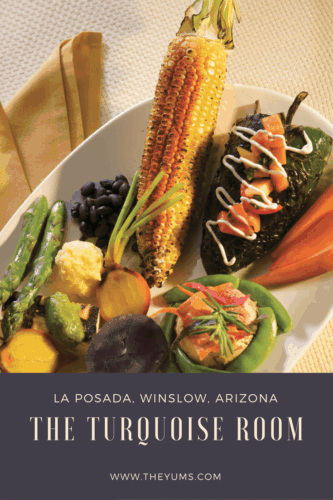 Disclosure: Dinner at The Turquoise Room was hosted by the restaurant. This post contains affiliate links. Clicking through for additional information or to make a purchase may result in a small commission being paid, at no additional expense to you. By doing so, you help support this site and its authors, and we thank you.
Latest posts by Billie Frank
(see all)