In the middle of famous horse farms in northern Kentucky sits Windy Corner Market and Restaurant, one of seven restaurants owned by Chef Ouita Michel. Its popularity is completely unhindered by its off-the-beaten-path location. Hungry diners form a line snaking out the door to order breakfast, lunch, dinner or a homemade sweet treat.
Location: 4595 Bryan Station Road, Lexington, [amazon_textlink asin='B00U8KFTMG' text='Kentucky' template='ProductLink' store='theyums-20′ marketplace='US' link_id='5a122f4c-9e21-11e7-9266-d585e8405fb3′]
Menu: You will recognize the local products and farms as you peruse the menu. Breakfast items, for example, include [amazon_textlink asin='B071R9RY6T' text='Weisenberger's stone ground grits' template='ProductLink' store='theyums-20′ marketplace='US' link_id='71165e8b-9e21-11e7-9e9f-cf47b750564a'] and cornmeal batter for the oysters, Stone Cross Farm's bacon and sausage and Browning's country ham. Lunch and dinner choices mention Kentucky Proud beef, Lisa's Famous remoulade, Shady Lane Chicken Salad and plenty of sauces made with [amazon_textlink asin='1935001817′ text='Kentucky bourbon' template='ProductLink' store='theyums-20′ marketplace='US' link_id='cbca46b5-9e21-11e7-99c4-e5f1c918d910′]. In fact, Bourbon Barrel beer cheese is one of the most popular appetizers. It is served with fresh veggies and fluffy, salty pretzels.
Interesting fried items include pickles, banana peppers, crawfish and artichoke fritters. The [amazon_textlink asin='1467126144′ text='Bourbon Trail' template='ProductLink' store='theyums-20′ marketplace='US' link_id='df834244-9e21-11e7-9eec-6b9cd5cb4ea2′] Beef Chili is thick and full of beef, black beans, Great Northern beans and a chili gravy of Bourbon-spiked tomatoes, peppers and jalapenos. It is paired perfectly with a housemade corncake. The whole menu describes other soups, salads, burgers, "sammiches" and seafood baskets. But, starting at 11:00 a.m. entrees such as seared salmon, ribeye steak, stuffed chicken breast and blackened catfish are available. In addition to potatoes and fruit, unexpected side dishes are Sassy Sorghum Slaw, Lisa's Greek Orzo Salad and Pam's Healthy Grain Salad.
Desserts come from Chef Ouita's Midway Bakery and use [amazon_textlink asin='B073245PQQ' text='Weisenberger Mill flours' template='ProductLink' store='theyums-20′ marketplace='US' link_id='399bae4a-9e22-11e7-a6b1-7db1fdc140ea'] made from corn and wheat grown in Kentucky. Some of the pastries also come from Martine's Pastries in Lexington. By personal testimony, I can say that the giant oatmeal cookies are worth every calorie.
A full catering menu is available for breakfast, lunch or dinner. This is especially appealing for groups of eight or more. Ordering at least 48 hours in advance is advisable.
Thoughts:  The unpretentious building housing Windy Corner Market and Restaurant displays a painted horse statue on one side and a whimsical mural of animals blowing in the wind on the other. Guests stand in line to place their orders and then look for available seating inside, on the back porch or on outside tables in the back and side. Servers bring meals and beverages to the tables and are available to address other needs as well.  When the weather is nice, the view of the well-manicured horse farms is a perfect backdrop and setting for the fresh and delicious meal. The clientele is a lively mix of locals and tourists.
Chef Ouita Michel and her husband Chris are both graduates of the [amazon_textlink asin='0867309318′ text='Culinary Institute of America' template='ProductLink' store='theyums-20′ marketplace='US' link_id='668f6646-9e22-11e7-83d3-ffa4f599d297′] in Hyde Park, New York. They live with their daughter in a 200-year-old cabin adjacent to the first restaurant they opened in Kentucky, Holly Hill Inn. Other successful restaurants they own, in addition to Windy Corner Market, Holly Hill Inn and Midway Bakery are: Wallace Station Deli near Midway, Smithtown Seafood in Lexington, Woodford Reserve Distillery near Versailles, Glenn's Creek Cafe and Glenn's Creek Catering. Chef Ouita recently partnered with Josh Smouse to build and open Honeywood, the largest restaurant on her impressive list.  It is in a more rural location but still embraces the philosophy of local ingredients and Kentucky flavor. Chef Ouita has been a [amazon_textlink asin='0312642180′ text='James Beard' template='ProductLink' store='theyums-20′ marketplace='US' link_id='7f1b94b7-9e22-11e7-af12-5f3f9c61493e'] nominee for both Best Chef Southeast and for Best Restauranteur. She also appeared on CBS This Morning's segment "The Dish" in the summer of 2016.
Price Range: Breakfast items range from $3.99 to $12.99. Lunch and dinner options start with $5.99 for chili and go to $17.99 for ribeye steak. Nightly dinner specials are generally $10.99 to $14.99.  And, don't forget dessert. You can get a large scrumptious cookie for $1.50 or a fully-dressed sundae for $5.99.
For ideas about where to stay in the Lexington area, check out the recommendations and reviews here. You can get comparison booking and pricing information here.
Pinterest: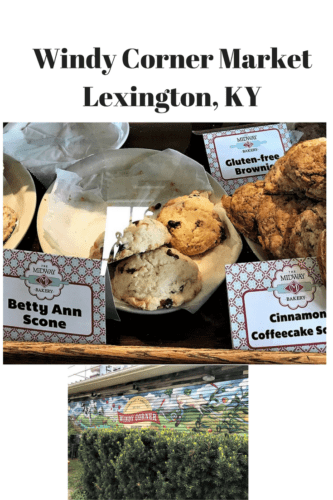 Disclosure:  This post contains affiliate links. Clicking through for additional information or to make a purchase may result in a small commission being paid, at no additional expense to you. By doing so, you help support this site and its authors, and we thank you.

Latest posts by Connie Pearson
(see all)