Mexico City today is hip. It's a vibrant, buzzing, brilliant city with its face turned clearly toward the future. But…. In the Historic Centro, there's an easy way to step back a bit and catch your breath. At Café La Blanca, one step in the door and you wonder what happened to the calendar.
Here it is: A high ceiling with big windows and a mezzanine floor looking down; a large room packed with tables and a long, U-shaped, formica-topped counter with vinyl-and-chrome high-backed stools in orange and black, vinyl booths, waiters who look like they've worked here for decades (and probably have)…. It's Back to the '50s, for sure. Though the clothes on the young chicas may be a bit skimpier, and the men at the counter who used to read the morning papers with their café con leche are now pecking at their smartphones…still, the atmosphere feels like you've fallen through a wormhole in time.
And I love it. I never come to Mexico City without making a stop…or three…at this throw-back place. You should too.
Location: #40 Cinco de Mayo, between Isabel La Católica and Motolinía, in the Historic Centro. It's about a five-minute walk from the Zocalo
Menu: The menu is enormous (relax, it's bilingual), but it can mostly be characterized as good, traditional Mexican food. Enchiladas, quesadillas, milanesas (thin breaded cutlets of beef or chicken), chicken or noodle soup, delicious cochinita pibil (shredded pork in achiote sauce), or several types of tamales. For breakfast, there's a wide range of hot cakes and cereals, omelets and other egg dishes, and the very traditional chilaquiles (a plate of crisp tortilla chips drenched in salsa and covered with cheese, sour cream, and maybe chicken or avocado). A wide range of beef, chicken, and fish dishes plus several salads and soups means there's likely to be something to suit most every taste.
Thoughts: I first came to Café La Blanca in late 1989 on my first visit to Mexico City. I was last there a month ago. And I'm happy to report it has not changed at all that I could see in all those years. The truth is, it hasn't changed much since the 1950s. Though it's proud to boast of its 100+-year history, going back to 1915, it was sold to new owners in 1943, who moved it from next door to its current location.
Today's owner, Juan Ramón Díez, is the son of one of those buyers from the '40s, so he literally grew up in this space. Díez says his dad and partners decided to enlarge the popular café, with a bigger menu and more tables, and modernize it. And for the most part, that mid-century "modernization" is where it remained. While they have updated the cash register system, they've left each earlier incarnation for taking payments all lined up in a row. The walls are lined with black-and-white photos of the streets of downtown Mexico City through the ages. Café La Blanca is the kind of place fathers bring their kids to just so they can say, "My father brought me here when I was your age. And my grandfather brought him here when HE was a kid."
Just about everyone in Mexico City has, does, or will eat at Café La Blanca at some point, or at least sip a rich café con leche. In the '40s, it was called "The Dining Room of the Great Mexican family."
Even though it is not the least bit pretentious in any way, scores of sports stars, entertainment figures, and politicians come by regularly, mingling with laborers, businessmen, students, and office workers grabbing lunch. Many Mexican presidents, have passed through the doors, including former Mexico City Mayor and current president Andrés Manuel López Obrador. President Harry Truman came in one day with Mexican president Miguel Alemán, and John F. Kennedy visited in the '60s. La Blanca is a delicious tradition for everyone here.
But let's get down to it. How's the food? In a word, it's just fine. Very fine. I've tried many things on the menu over the years. Some I've liked more than others, but not a one was ever a failure. The portions are large, enough to fill you for a long day of sightseeing and then some.
My go-to breakfast dish is usually chilaquiles with green salsa, but I'm also fond of the machaca (shredded dried beef) with eggs, served with tortillas and beans. Or the nopal omelet, filled with chunks of nopal cactus and fresh farmer's cheese and covered in green nopal salsa. If I'm not all that hungry but just want to start the day in a traditional Mexican way, I order a café con leche and pan dulce. The coffee comes, as it always has, in two parts: a tall glass of creamy hot milk and a demitasse cup of strong black coffee. You add the coffee to the milk to taste and order more of either when you need it. It may well be the very best coffee in all of Mexico City. The traditional Mexican sweet rolls come as an assortment on a tray. Take what you want, and the waiter or waitress will count up what's missing when you're done to add them to your bill.
There is also always a set "Menu of the Day," the equivalent of a blue-plate special. The day's special offerings are available on the website early each morning or written on a board out front. You get a choice of three or four starters, rice or salad, a choice of three main dishes, the dessert of the day, and a carafe of a seasonal fresh fruit drink. It's a lot of food, and it costs a little over $7 at current exchange rates. For lunch or an early dinner, I choose the arrachera (skirt steak) with guacamole whenever it's on the daily menu. It's always one of those close-your-eyes-for-the-first-bite experiences, the meat meltingly tender and swimming in its own juice, the creamy guacamole making the perfect complement. Another favorite is the tamales Oaxaqueño, wrapped in banana leaves.
If you like to "eat like the locals" when you travel, then Café La Blanca is one place you need to try when you visit the historic center of Mexico City. It's mandatory because…tradition.
Price Range: La Blanca is extremely affordable, especially compared to so many other eateries in the area around the Zocalo. The most expensive item on the menu, a large arrachera (250 grams/more than 1/2 a pound) accompanied by one enchilada, sliced poblano chiles, guacamole, and beans, costs 254 pesos, or about US$13.25. Most other main dishes fall in the $5-8.50 range. As I mentioned, the "Menu del Dia," daily special meal costs $7 all in. There are other standard combinations at set prices ranging from as little as $3.90 for hot cakes or plain chilaquiles with juice or fruit to $5.50 for huevos rancheros with chilaquiles; or eggs with bacon, ham, or chorizo. That heavenly café con leche is $2, while a thick, delicious milkshake is under $3. It's actually pretty hard to have an entire meal here and spend more than ten bucks.
Pin it for Later: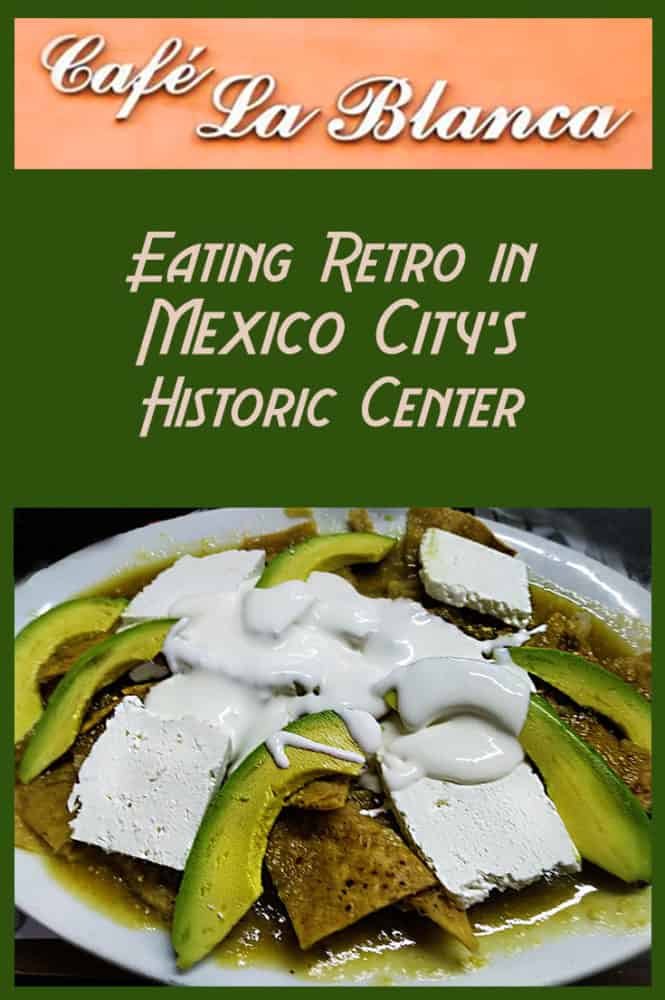 Latest posts by Donna Meyer
(see all)