When I learned that ramen wasn't just a cheap dried noodle and instant soup mix, the door opened to a world of Japanese comfort food. Hokkaido Ramen Santouka in Bellevue, Washington, could become wonderfully – and comfortingly – addictive.
Location: 103 Bellevue Way N.E., Suite 3, Bellevue, [amazon_textlink asin='1402745451′ text='Washington' template='ProductLink' store='theyums-20′ marketplace='US' link_id='93a965f2-d09b-11e7-8468-0dc833c4b617′] (between 2nd and 3rd Street). There is an additional location in University Village. East coasters can enjoy the Harvard Square or Boston Back Bay locations. There are also locations in Japan.
Menu:  All things ramen, along with the appetizers and rice bowls. Bento box meals are available for takeout.
Thoughts: Ramen is a Japanese noodle/soup dish made with [amazon_textlink asin='B0722XQN5G' text='chewy wheat noodles' template='ProductLink' store='theyums-20′ marketplace='US' link_id='a86d67b7-d09b-11e7-bf79-dd96a37a07dc'] and a meat or fish broth, flavored with additional seasonings, and finished with a choice of toppings. Most regions in Japan have a ramen specialty, and at Santouka Ramen you'll find the tonkotsu ramen found in Kyushu and the miso ramen found in Hokkaido.
Hokkaido Ramen Santouka started as a family business in Asahikawa, Hokkaido, [amazon_textlink asin='1786570351′ text='Japan' template='ProductLink' store='theyums-20′ marketplace='US' link_id='b055a340-d09b-11e7-87e0-b9b1fd8a8aa9′], with a small 9-seat restaurant, serving only shio ramen. With the goal of making delicious ramen, the business expanded within Japan and the United States.
Santouka Ramen makes their signature tonkotsu broth by simmering pork bones at low heat for nearly a day, then adding vegetables and other savory ingredients. It's a lighter touch to this classic broth, eking out the very best of all the flavors by keeping it at a low heat and avoiding a boil. This forms the base of the ramen dishes, all of which are housemade on site.
We started our meal by sharing some appetizers, a couple orders of gyoza and some edamame. The chicken and pork stuffed gyoza come five dumplings to a serving. They were steamed, then pan-fried giving them a nice chew with just a bit of crunch. Two dumplings per person make a nice appetizer serving, one just isn't enough. The edamame was steamed, with a light dusting of salt. It was fine, but it made me realize that I prefer my edamame roasted and with a little bit of spice.
We made two ramen selections:
Tonkotsu Shouyu Ramen – Shouyu means soy sauce and is the oldest and most traditional type of ramen. It combines the tonkotsu broth with plenty of soy sauce to create a tangy, salty, and savory combination that is still easy on the palate. This was the choice of a teen dining with us. He enjoyed it but said that next time he'd want to try the Shio Ramen which has a less savory and more salty flavor.
Tonkotsu Kara Miso Ramen – This miso based ramen amps up the flavor with some spiciness that I love.
Both of the ramen selections came with condiments in the dish (bamboo sprouts, seaweed, mushrooms, sesame seeds, etc.) and there were additional flavorings (soy, chili paste) on the table so you could perfect your personal palate preference. I like mine extra spicy, but everyone else at the table enjoyed it just as it came from the kitchen.
Both ramen bowls came topped with a generous serving of Chashu – slices of tender pork cheeks with just the right balance of lean and fat, to be tender and flavorful. Part of the esthetic of ramen is a balance of flavors and presentation, The bowls of ramen were not just tasty, but also pretty.
The restaurant interior is industrial. with simple tables and chairs, wooden booths, and exposed brick and pipes. Nothing fussy, which means you can pop in after work in business attire or on a weekend out exploring in jeans. This is a very popular spot, so call for reservations or expect a wait. We had reservations for 6 pm on a Friday night and the restaurant was full the entire evening. There are a few chairs in the entryway for waiting, but room is very limited and there isn't a bar. It's worth the wait.
Portions are substantial, we each ordered the regular size bowl and all felt that the small would have been sufficient with our order of appetizers. Of course, while ramen is always best when freshly prepared, I wouldn't rule out taking it home for lunch the next day.
Beer, wine, and sake are available.
One caveat for your visit, Hokkaido Ramen Santouka is located on the edge of old Bellevue, and parking can be difficult. There is a small restaurant parking lot to the side, but during busy dining times, you may find yourself circling the block a number of times. Don't let that deter you, though, from a big bowl of comforting ramen.
Price: Ramen bowls are in the $8-15 range. Appetizers and extra toppings can push the price up quickly, but it's worth it for some of the best ramen I've had outside of Japan.
Pinterest: Save this to your favorite restaurant or food board for when you want some comforting ramen.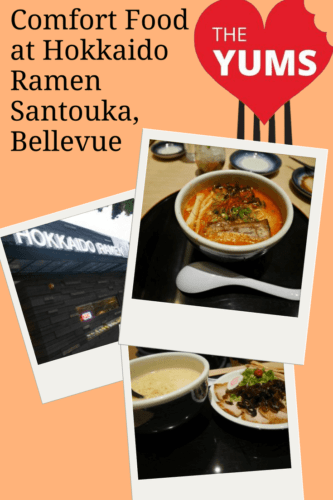 Disclosure: The author received a complimentary meal courtesy of Visit Bellevue. 


Latest posts by Mary Jo Manzanares
(see all)