San Miguel de Allende, the lovely colonial town found in the central highlands of Mexico, has become something of a destination for foodies, with a new and upscale, chef-centered restaurant seeming to open every month. But if you ask any long-time ex-pat in this UNESCO World Heritage site to name a few of their favorite restaurants, there's a good chance that the unpretentious and affordable El Pegaso, which has been around for 25+ years, will be on their personal list. With its wide-ranging menu, its stand-out friendly service, and its case full of OMG house-made desserts, El Pegaso has been a local favorite of both ex-pats and Mexicans for decades. I have been eating at El Pegaso myself ever since it opened. And in all those years (decades!), I have never once been disappointed in the food, the ambience, or the service. Or overwhelmed by the price. Let's take a closer look at why.
Location: Calle Corregidora #6, at the corner of Correo. One block from the Jardin
Menu: El Pegaso has a broad and eclectic menu. You'll find all the traditional Mexican specialties like enchiladas, fish tacos, chiles rellenos, fork-tender and savory arrachera. Some specialties they are famous for include the deeply flavored sopa Azteca, eggs benedict, pozole, and the "patriotic" Chiles en Nogada that reflect the red, white, and green of the Mexican flag. Beyond the traditional Mexican menu, there are fish dishes, pastas, burgers and salads, and some Chinese dishes. And those decadent house-made cakes, flan, and other desserts.
Thoughts: El Pegaso has a lot of things going for it. It's just one block from the Jardín, San Miguel's central plaza anchored by the wedding-cake pretty, pink Neo-Gothic Parroquia church. It's not too large and not too small, divided into three rooms downstairs and a lovely rooftop terrace with a view. The décor is Mexican funky and colorful, warm and inviting. On chilly winter days, the fireplaces are lit, inviting you to linger over a cappuccino. The fabulous desserts are all made in-house. The staff, most of which has been in place for years, is solicitous, bi-lingual and genuinely friendly and caring. It's still run by the original bi-cultural owners, Robin and Beto Diaz, whose experience and almost manic attention to the details that count create a seamless experience.
At one point of another, I've eaten most of the dishes on the menu. My current favorite is the Kung-Pao Chicken, which can be spiced to taste from fiery down to barely bites. Or maybe it's the Shrimp Brochettas, served on a bed of rice. On some days, I prefer a juicy and perfectly seasoned cheeseburger and fries or a classic Shrimp Louie Salad. If it's time for breakfast, my standard order is the Eggs Benedict, some of the best in town. For a light snack, I love the duck tostadas, the Queso Fundido (melted cheese with mushrooms or chorizo or poblano pepper strips, served with tortillas), or the crab and cream cheese wontons. A bowl of rich, dark gazpacho, perhaps the best I've ever had, is perfect refreshment on a warm day. Most dishes come with a basket of bread and house-made butter infused with cilantro—a delicious addition.
The clear queen of the menu is the Chiles en Nogada. This traditional dish was created in Puebla in the early 19th century at the end of the successful Mexican War for Independence. It's comprised of mild poblano chiles stuffed with a mixture of ground beef, raisins, nuts, and biznaga, a kind of candied cactus, then smothered in creamy white walnut sauce and topped with pomegranate seeds. The combination of flavors is fresh, unexpected, and completely delicious; and El Pegaso is generally thought to have the best Chiles en Nogada is all San Miguel. Another stand-out menu item is the classic Caesar salad, made at the table the way it should be, perfectly balanced in its ingredients, created with all the flair it deserves.
The bright rooms are filled with color, as a true Mexican restaurant ought to be. Dozens of fun and funky Day of the Dead-style "nichos" full of dressed-up skeletons engaged in daily activities, mostly humorous, march across the walls. And they're all for sale, so leave room in your suitcase. You'll want one, I promise. For an even more special dining experience, head up to the roof terrace, especially just before sunset. Not tiny, not huge, it is right-sized. On hot summer days, it's shaded by tarps. On cool winter evenings, it's heated with large, portable heaters and you're offered a cozy blanket as well. The view of the Parroquia is joyous and the often-stunning sunsets San Miguel is known for will make you temporarily forget your meal. To reach the terrace, turn left as you enter, cross the room to the corner and find the steep staircase to the right of the glass dessert case. You'll also find the restrooms upstairs. Note: They do allow smoking on the terrace.
There's a full bar, featuring well-crafted cocktails, including one of the more potent and tasty margaritas in town. Try the 400 Conejos mezcal complete with dried grasshoppers (my full review: crunchy, salty, and they stick in your teeth). Several beers, including some local ones, and a well-chosen wine list add to the celebratory feel.
Be absolutely certain sure to leave room for dessert—or plan to take one with you. Robin's cakes are legendary–carrot cake, German Chocolate cake, brownies, exceedingly fine flan and crème brûlée. If you need something a tad lighter, try the caramelized pineapple topped with vanilla ice cream.
Price Range: As Mexican prices go, San Miguel tends to be expensive. El Pegaso is a delightful exception. Prices are affordable and offer very good value for money. Here are just a few representative prices, in pesos. (At the time of writing, the exchange rate was approx. 19 pesos = US$1. For a super-quick and "close enough" rate, divide the peso price by 20.)
As appetizers or a light meal: Tacos are 110-140p for two; tostadas are 60-70p each. Wontons (8 pieces) are 110p; an order of chunky guacamole with chips is 110p; and a bowl of that rich, slightly smoky gazpacho is 75p. The Caesar salad, with all its attendant ceremony, is 85p, or 125-165p with chicken, beef, or shrimp. A cheeseburger with fries is 155p. Pasta dishes run 95-145p. Fajitas are 140-175p. For breakfast: Eggs Benedict are 110-140p; waffles are 85p; chilaquiles are 85p or up to 120p topped with eggs or chicken. For a main-dish meal: Octopus a la Mexicana is 145p; arrachera served with beans and guacamole is 195p; my favorite Kung Pao Chicken, served over rice, is 195p. The famous Chiles en Nogada are 210p. You'll go home replete, delighted and with some money still in your wallet.
Pin it For Later: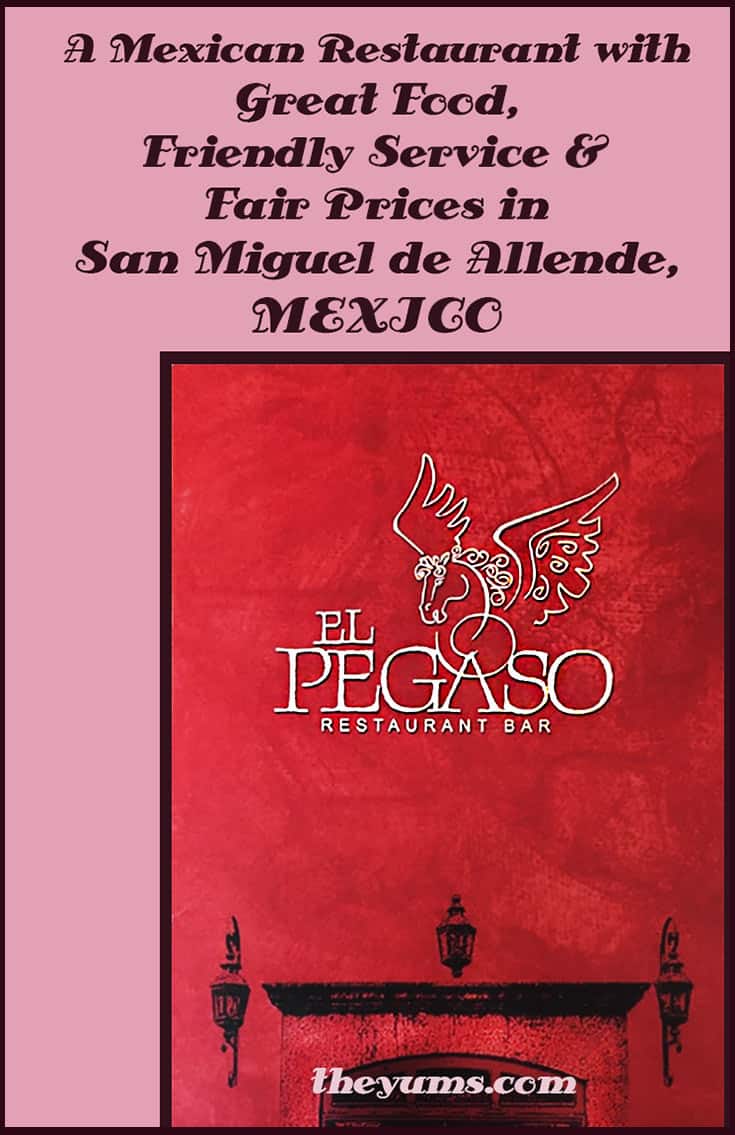 Latest posts by Donna Meyer
(see all)