La Olla Restaurant Bar and Gallery is an unpretentious downtown Oaxaca restaurant offering innovative Oaxacan specialties in a casual atmosphere just one block from the legendary baroque Santo Domingo Cathedral. Translated as "The Cooking Pot" in English, La Olla is a 22-year family business that over time has become a must-go destination for locals and tourists with a focus on fresh ingredients from the local markets and traditional recipes from Oaxaca.
Location:  Reforma 402, Centro in Oaxaca, Mexico. Just one block from the legendary baroque Santo Domingo Cathedral.
Menu: The emphasis is on traditional Mexican cuisine using fresh local ingredients from the Oaxaca markets.  Starters include guacamole and other enticing small items with a corn base such as tostadas, rellenos, and quesadillas.  Several soups are on the menu including an awesome squash blossom soup with a tableside presentation. A starter, soup, and salad make for a satisfying lunch.
Mole is a specialty of Oaxaca and La Olla always offers a daily selection of complex moles in the entrees and specials that feature seafood, beef, and pork along with vegetarian choices.   Tlayudas are a specialty in Oaxaca (picture a hubcap-sized tortilla on a plate) – there are two choices on the menu.
Even though we thought we couldn't eat another bite, we couldn't resist sharing the delectable flan for dessert, some of the best in Oaxaca.   Rich and creamy perfection with bittersweet chocolate sauce on the side was the perfect finishing touch.
Thoughts:  Balance, tradition, and innovation are how Chef Pilar Cabrera defines her kitchen on the La Olla website. You first notice the bright saturated colors in a minimal spare décor enhanced by the aroma of the fresh corn tortillas being hand-pressed & toasted on the large comal just inside the door. With her passion for Oaxaca's cuisine & culture, Chef Pilar's reputation as a national figure on the Mexican culinary scene has long been established through her La Casa de los Sabores cooking school.
There are 3 levels to this beautifully designed restaurant.  The ground floor has a small seating area that it shares with the cashier, kitchen, and handmade tortilla station and includes stunning local artwork for sale along with packaged gift treats to bring home as souvenirs and Chef Pilar's cookbook printed in English.
To get to the upper-level dining room it is necessary to share the stairs with the wait staff bringing food up from the kitchen. The 2nd-floor dining room is spacious with windows that face the street.  The dining room has a relaxed ambiance with brightly color-blocked walls and hand-painted mural – not to mention a fully stocked bar. Once seated we enjoyed a pleasant dining experience with an attentive wait staff from start to finish. The 3rd-floor rooftop terrace is a great place to have a drink at sunset gazing out at the darkening sky with panoramic views of the Santo Domingo Cathedral and surrounding mountains.
You'll also want to check out Oaxaca's craft beer scene.
Price Range:  Prices are reasonable in keeping with other fine dining restaurants in Oaxaca.  Our two lunches including a cocktail and wine came to $42. Appetizers, soups, salads, and desserts are in the $4 to $5 range with Entrees from $9 to $11. Beer, wine, and cocktails $2 -$4
Save to your favorite Pinterest boards!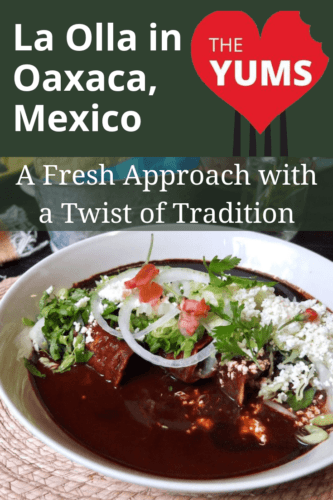 Guest reviewer bio:  Sharon Kurtz is a freelance travel writer and foodie based in Dallas, Texas. Her passion is to travel the world and write about it. She looks for unique places off the beaten path to experience the local culture and create lifetime memories. Follow her travels on Instagram @Shar_Kurtz and on her Facebook Page Sharon K Kurtz @sharonkkurtz.

Latest posts by Guest Contributor
(see all)