Chef James Boyce, the owner of three popular restaurants in Alabama's Rocket City of Huntsville, [amazon_textlink asin='1493003828′ text='Alabama' template='ProductLink' store='theyums-20′ marketplace='US' link_id='61af538c-e8fd-11e8-a79b-15d9ddfe81d5′], was persuaded to offer his culinary talents to the people of Birmingham. Galley and Garden, open since fall of 2014, has a location on Highland Avenue that is perfect for diners looking for an outstanding meal in an elegant setting.
Location: 2220 Highland Avenue South, Birmingham, Alabama
Menu: The menu at Galley and Garden is described as American-French with Southern influences. It will evolve during the course of a year according to seasons and availability of the finest ingredients.
Lunch choices are likely to include oysters, pork belly, several salads, flatbreads, sandwiches and shrimp and grits. Drinks such as mango infused iced tea, raspberry lemonade, espresso and cappuccino lift the experience up another notch.
For dinner, the menu will add a charcuterie board and tempting entrees of duck, beef and fresh Gulf seafood. Guests will want to save a few calories to spend on the chocolate hazelnut crunch cake or the Madagascar vanilla bean creme brulee.
Galley and Garden was listed among the Top 100 Wine Restaurants of 2018, so you can be assured of an extensive wine list, along with cocktails, beer, Scotch and whiskey.
Thoughts: The Five Points section of downtown Birmingham has evolved into a mecca for truly fine dining experiences, and Highland Avenue runs through the heart of the district. The stately Merritt House, built in 1908 and now restored to gleaming splendor, houses Galley and Garden and is a perfect setting for a delectable meal or a lovely party.
After parking in the rear or along the side streets, diners can admire the garden at the front entrance with succulent blackberries, lettuces or fragrant herbs depending on the season. These ingredients will make their way into dishes or as garnishes. The "galley" part of the restaurant's name refers to the open kitchen visible from the main dining room by way of a long glass partition.
Shades of taupe and gray, paired with black and white accents, make a modern and refined statement in the decor, and only the best china, crystal and silver grace the tables.
Chef Boyce partners with the area's most astute and knowledgeable farmers, such as Gratitude Farms, to bring fresh, locally-sourced and seasonal ingredients into the kitchen to be used by his carefully-trained staff. For example, on their fall menu, you are likely to find Granny Smith apple or butternut squash flatbread. Chef Boyce's wife Suzan is also a trained chef, and she oversees the wine selections.
At any of Chef Boyce's restaurants, the staff is happy to prepare dishes suitable for those with food allergies, but it is a good idea to alert them of that desire when you make a reservation. Chef Boyce participates in philanthropic events and is keenly attuned to reducing food waste.
Chef Boyce is originally from Poughkeepsie, New York and studied at the Culinary Institute of America in New York. After working in several notable restaurants, he was lured to Alabama with the idea of starting his own restaurant and has found it to be a welcoming environment filled with savvy diners. His restaurants in Huntsville, Alabama, about an hour and a half north of Birmingham, are Pane e Vino inside the Huntsville Museum of Art, and both Cotton Row and Commerce Kitchen on the courthouse square.
Price range: Lunch $9-17. Starters at dinner $9-16. Dinner entrees $26-38. Cocktails $9-15. Desserts are $8.
For Pinterest: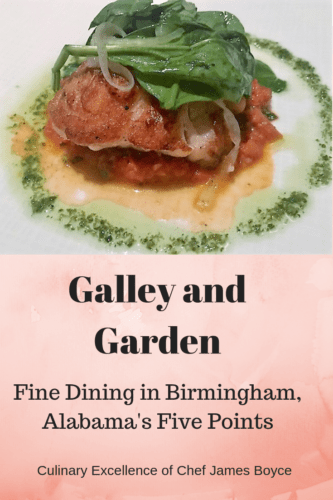 Latest posts by Connie Pearson
(see all)