Perched under the tall pines of the San Jacinto Mountains, right in the center of the idyllic mountain village of Idyllwild, California, is The Gastrognome Restaurant… or as locals call it, The Gnome. Like a rustic throwback Alpine chalet, but with a sun-drenched wooden dining deck and serving up-to-date New American Cuisine, this popular site for dining in the mountains fills a lot of needs, societal and culinary. It's a hang-out for locals, popular with visitors, a draw for hikers ready to rest, and a spot for the dog on the deck. In other words, The Gnome is where you need to eat at least one meal on any trip to Idyllwild. One of the oldest restaurants in the village, the design feels like an eclectic mishmash of 1970s rustic aprés-ski chalet, cozy cottage, and your grandmother's living room. And the friendly welcome makes you feel right at home.
Location: 54381 Ridgeview Drive, Idyllwild, CA, right on the main village square.
Menu: The menu is huge, offering dish after dish in an eclectic mix of Italian classics, American steaks and seafood, salads, and a few Mexican-influenced dishes. There are also several sandwiches and salads offered at lunch. A full breakfast menu includes all the standards plus some especially nice touches like trout and eggs, chicken crepes and Belgian waffles.
Thoughts: Eating at The Gnome has been a long tradition for locals and frequent visitors to Idyllwild for decades. Folks routinely drive up the mountain from Hemet, Palm Springs and farther afield to have lunch under the umbrellas on the wooden deck or dine inside in front of a roaring fire in winter. The wood-paneled walls and high, beamed, cathedral ceiling, the enormous fieldstone fireplace with families of gnomes populating the rustic wooden mantle, wine-red carpeting and stained glass here and there, lend the space the kind of alpine mountain cachet that rules in this pretty little village at the foot of Tahquitz Peak. For someone like me, who has been visiting Idyllwild for more than 50 years, The Gastrognome even smells just right, a mix of pine trees and wood fires and really good cooking.
Though I've been visiting the town for decades, it had been awhile since my last visit, so I was pleased to remedy that recently. And a visit to Idyllwild has always meant a meal at The Gastrognome. My group wanted to sit on the deck to enjoy the splendid mountain view, surrounded by pine trees and even sporting one growing through the deck floor itself. But after a few minutes, even wrapped in the fleecy blankets they offer outside, we found it a bit too chilly so moved inside. We could have chosen to eat in The Café, a cozy space with tables radiating from a central wood-burning stove and a full bar. It has its own lighter and less expensive menu featuring items like sandwiches, fajitas and mini pizzas, and it's particularly popular with locals and anyone winding down from a long hike up to Suicide Rock. Instead, we opted for the main dining room and the full lunch menu.
I started with a cup of their famous baked French onion soup. A heavy, oozy crust of melted cheese and French bread overlaid a savory broth rich in deep, oniony flavor. A companion ordered the jalapeño soup, creamy and spicy. A third had the Lily Rock salad of baby greens topped with almonds, sliced tomato and a breaded goat cheese patty (named for the monolithic dome of white rock that reigns from the peak above town and serves as an icon of Idyllwild). I followed this with an order of grilled chicken and broccoli pasta, steaming with a heady smell of garlic. It was a nicely balanced dish, given depth from slices of oil-cured sun-dried tomatoes. I ate every bite.
My friend ordered the grilled ahi, charred but served very rare, sliced and topped with a cilantro-lime-jalapeño vinaigrette. It came with crispy steamed green beans and rice pilaf. He was 100% delighted with his choice. My other friend had the trout amandine, grilled with garlic butter and topped with a mountain of toasted almonds. Although it was out of season for trout fishing in Strawberry Creek, which runs through Idyllwild, one bite of her meal transported me back to the many times I have angled for trout on summer visits here, when the Forest Service stocks the creek with trout.
Had we returned for dinner, we would have been offered an enormous list of options. Some of the specialties include roasted orange-rosemary chicken, shrimp and lobster tacos with cilantro and corn and finished with creamy chipotle sauce, smoked salmon pasta, a rack of New Zealand lamb in a port wine and mushroom sauce. There are steaks and ribs, many pasta dishes, including some vegetarian options, chicken cordon bleu and roast duck plus a hefty number of seafood choices. One house specialty people are willing to travel for is the macadamia coconut halibut served on a sweet pineapple beurre blanc sauce.
There is a nice and well-balanced wine list, a full bar with some special house cocktails, and a good range of beers—micro, imported and domestic. The delicious iced tea comes in a pitcher to pour your own refills.
Service was very fast and has been warm, friendly and efficient every time I've been there. Many of the waitstaff have worked at The Gastrognome for years and are good at making menu suggestions. If you choose to sit on the deck, its dog friendly. They even have a special doggie menu to keep Fido or Fifi happy while you dine. Besides those blankets they offer, there are also heaters on the deck for chilly weather. Remember, even though you are in Southern California, you are sitting at over 5400' altitude, a bit more than a mile high. It gets cold. Snow is very common in winter and draws folks up from Los Angeles to play in the mountain freshness.
Price Range: Prices at The Gastrognome are on the high side, but not out of range for a nice restaurant in a tourist area. It's important to remember that most ingredients have to be trucked up a twisty mountain road to get to the village, adding to the price. A full breakfast with bottomless cup of coffee runs from $11.95 for vegetable quiche to $17.95 for eggs benedict and $26.95 for steak and eggs, all with homemade cottage fries. At lunch, soup is $5.95 for a cup, $9.95 for a bowl. Typical appetizer prices are $9.95 for Italian toast, $13.95 for calamari, or $29.95 for bacon-wrapped scallops and shrimp, an order large enough to be a meal. Focaccia sandwiches, burgers and other sandwiches run $9.95-16.95. Lunch entrees range from $14.95-28.95. At dinner, the entrée options begin at $18.95 and top out at $37.95 for tournedos of beef. Lobster is available at market price.
Pin it for Later: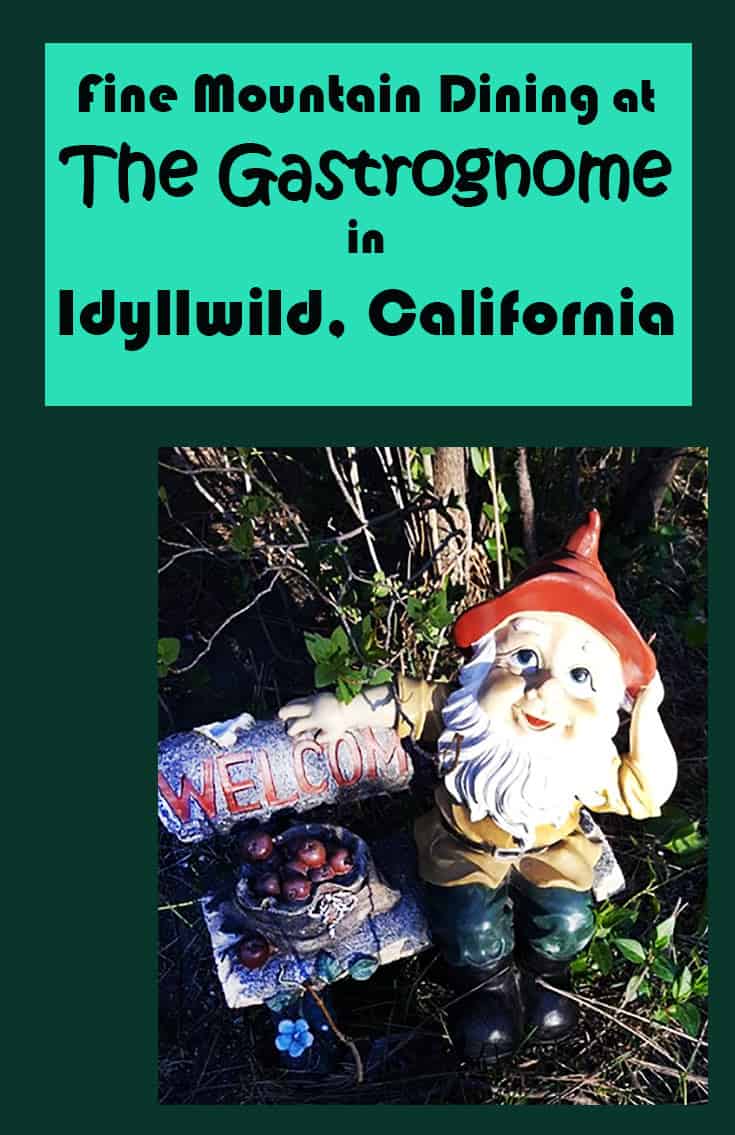 Latest posts by Donna Meyer
(see all)