Starting with a faint rumble, it becomes louder, and then the vibration begins. A passenger train roars past, with a friendly toot of the horn, and Gandy Dancer's diners break into applause as the train safely passes the restaurant. It's a tradition.
Location: The Gandy Dancer located at 401 Depot Street in Ann Arbor, Michigan.
Menu: The large single-sheet menu, updated weekly, is seafood forward. For example, 80 percent of the starters contain seafood. The entrée selections are about 50 percent seafood and the other half a combination of proteins like beef and poultry.
The menu doesn't indicate gluten-free, vegetarian or vegan options, check with the server about selections.
If you're celebrating an anniversary, you might find a celebratory greeting printed on top of the menu. When you leave, your server will present it to you like a scroll tied with a red ribbon.
Thoughts: As our car pulled up to the door for the complimentary valet parking, valets simultaneously opened the driver and passengers' doors. "Let's get you out of the cold," urged the uniformed attendant. Another opened the restaurant door and welcomed us to The Gandy Dancer. Through this process, measured in seconds, I immediately felt like a valued guest.
The [amazon_textlink asin='1938164075′ text='Gandy Dancer' template='ProductLink' store='theyums-20′ marketplace='US' link_id='95b53d65-0e31-11e9-aa57-1113cc1845c4′], slang for individuals who laid and maintained train tracks before machinery took over the job, is rich with railroad history. The restored 1886 Michigan Central Depot is an architectural landmark, which makes the Gandy Dancer part of American Railroad History. The restaurant's original interior rock walls, oak ceiling, stained-glass windows, and fireplace maintain the building's history.
Gandy Dancer is on both the State and National Register of Historic Places.
The server's uniforms are button-down shirts and black pants, covered with a black apron. Their black and white ties with thin diagonal stripes add a bit of relief to the black attire.
Some of my favorite dishes include:
The Martha's Vineyard Salad made with red leaf Bibb lettuce at the base. Then it's topped with [amazon_textlink asin='B00182GL0C' text='Point Reyes blue cheese' template='ProductLink' store='theyums-20′ marketplace='US' link_id='bf25c290-0e31-11e9-88cd-c14fedfa866e'], crunchy pine nuts, and circles of red onion. The salad's dressed with a maple-raspberry vinaigrette.
The Surf and Turf which is a six-ounce perfectly cooked filet, topped with maître d' butter, and an oven-roasted lobster tail. Under the holiday features, the Surf and Turf become the ultimate Surf and Turf with the addition of crab stuffing to the lobster tail. The plate comes with smashed redskin potatoes and asparagus.
The Applejack Sea Bass, topped with sweet bourbon reduction, tart [amazon_textlink asin='B06XQQKLDL' text='Granny Smith apples' template='ProductLink' store='theyums-20′ marketplace='US' link_id='dbca5ede-0e31-11e9-b85c-2714e36a62f8′], and sun-dried Michigan cherries. The combination of apples and bourbon result in the name Applejack sea bass. A wild rice risotto accompanies the dish.
The Media Luna, a combination of white and [amazon_textlink asin='B004CJMPOO' text='dark chocolate mousse' template='ProductLink' store='theyums-20′ marketplace='US' link_id='f20e237d-0e31-11e9-975e-27c0523a9dba'] layered on top of a dark fudge cake. The dome of deliciousness topped with a brandy rum ganache and white and dark chocolate shavings adorn the dome. A raspberry coulis swirl decorates the plate.
The house-made bread basket is worthy of mention. The warm rolls and Everything crackers, with the topping found on Everything bagels, come with butter and a smooth salmon pate.
Reservations are recommended.
Price Range: At dinner, starters range from $10.90 for the firecracker shrimp to $16.50 for the crab and avocado timbale. Salads range from $8 for the kale and arugula salad or the iceberg wedge to $21 for the ocean cobb. Soups range from $6.70 for Charley's chowder to $9 for lobster bisque. Entrees range from $22 for jumbo shrimp scampi or a smoked Gouda stuffed chicken to $49 for surf (lobster) and turf (filet mignon). The entrees include starch and vegetable. Desserts range from $7 for Key Lime pie to $12 for carrot cake.
The best value is the Sunday brunch buffet which is all you can eat for $27. Several stations; waffles, made-to-order omelets, and roast beef and ham carving stations allow you to lean toward either breakfast or lunch. An array of seafood, peel-and-eat shrimp, steamed mussels, and salmon lox make it difficult to choose.
For Pinterest: Pin this to your favorite Michigan restaurant board.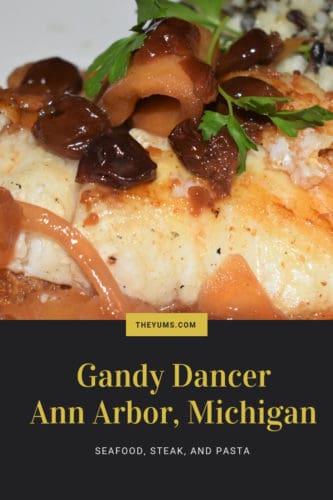 Latest posts by Amy Piper
(see all)