Oregon's Willamette Valley has become a popular destination for wine touring. The valley produces some of the finest wines in the country, with a special emphasis on award-winning Pinot Noirs. And where there is good wine, you're going to get really fine food.
McMinnville, Oregon makes a wonderful base for wine touring in the valley. While you're there, you really need to have at least one meal at La Rambla, right in the heart of Downtown McMinnville. For Spanish food and creative tapas with a Pacific Northwest twist, it's what you need after a day or tasting premium Oregon wines. They have even hosted celebrity chef Emeril Lagasse, who gave La Rambla strong kudos.
Location: 238 NE 3rd St, in downtown McMinnville, OR (Between NE Cowls and NE Baker)
Menu: Spanish cuisine and tapas/small plates with a fresh local accent. Think paella, fresh fish and seafood, perfectly roasted chicken, coffee-dusted steak. The menu features a list of pinchos, charcuteria, cheeses, tapas, cocas (Spanish flatbread) and a few main dishes. And of course, there is an award-winning wine list with more than 200 bottles, focused on Oregon and Spanish wines.
Thoughts: The Spanish motto of La Rambla Restaurant and Bar, written in script above the long copper-clad bar, says it all: Salud, amor y dinero y tiempo para disfrutar de todos – Health, love and money, and time to enjoy them all. That is the attitude of this place, which makes it right at home in laid-back Oregon.
The food is good, the price is fair, and you never feel hurried. Chic but relaxed, you can show up in a sleek dress and stilettos or a plaid shirt and hiking boots and feel at home. Conveniently located right on the main downtown street of McMinnville, it's very popular with area winemakers, town locals, and tourists alike. The street is lined with tasting rooms, boutiques, art galleries, and cafes, making it a destination in its own right.
Expect slow food, Spanish style. This is not a place to pop in for a quick meal before the theater or a tour, although it can be perfect for a light lunch at the bar after a morning of wine-tasting. If you plan to have the paella—for which the place is justly famous—you should know the menu says right up front you need to allow 45 minutes for preparation.
Personally, I like to go to La Rambla with a group and order an array of tapas to share. I love being able to sample many different creative options in one meal. The tapas will be perfectly spaced out rather than arriving all at once, so everything is fresh and the perfect temperature when you are ready for it.
Chef Aaron Fore focuses his creations on fresh, organic, local and sustainably sourced food whenever possible. His creative combinations include such popular choices as bacon-wrapped dates stuffed with Cabrales blue cheese, the bacon crispy, not limp and greasy; crispy skin pork belly with romesco and cherry glaze; and lamb nachos with lamb sofrito over sweet potato chips and Cabrales blue cheese.
Vegetarians will exclaim over the Patatas Bravas of fried Yukon Gold potatoes, Calabrian chili butter and aioli topped with a sunny-side up egg. Another "stop chewing in amazement" dish is the Mushroom Coca, a Spanish flatbread with Oregon mushrooms, arugula, manchego cheese, truffle salt and olive oil.
Since McMinnville is home to a large chunk of my family, I've eaten at La Rambla several times. I have never had a meal, a drink, or a dining experience I would hesitate to recommend to anyone, from the pickiest foodie to the "just feed me" crowd.
My absolute favorite dish from the tapas menu is the sautéed garlic chili shrimp. This perfectly balanced small plate uses both Calabrian chili and French piment d'espelette chili powder plus aioli highlighting the super fresh prawns. Coincidently, it was also one of Chef Emeril's favorites along with the paella.
My other favorites include the grilled octopus over Yukon gold potatoes with house-made chorizo and saffron aioli and the pan-roasted Brussels sprouts with jamon serrano, slivered almonds, dried cherries, and blue cheese. Who knew the humble Brussels sprout could be so delicious?
The fabulous paella, the best I've had since a 1970 meal in Barcelona, includes shrimp, clams, mussels, chicken, chorizo, house bacon, pork shoulder, green peas, piquillo peppers, caramelized onion, saffron and tomato over rice. Yeah, it's a LOT. A vegetarian option is also available.
Whatever you order, be sure to leave room for dessert because you really need to try the Meyer lemon flan drizzled with caramel. Or the Chocolate picada torte—chocolate cake layered with hazelnut picada and chocolate ganache and topped with cream cheese ice cream. Yeah, you might have to split that one with someone you love a lot.
Opened in 2004 by owner Kathy Stoller, La Rambla is situated in the 1884 Schilling Building, the oldest brick building in McMinnville. The long room is beautiful and inviting without being in any way stuffy. Overhead, graceful yellow tulip-shaped lampshades, hand-blown by glass artist Stephen Fellerman, compliment the sustainably sourced tropical hardwoods like mahogany and teak used in the floors, doors and finish work.
The long mahogany bar topped with copper is a comfortable alternative to a table when the place is full or you just want a light happy-hour bite. The specialty infused cocktails that come out of that bar are eye-opening and wonderful. I've tried a few but I always come back to the Red Hot Mama, made with ginger-infused vodka, cranberry, passion fruit and basil muddled with lime. Definitely an OMG sip.
The service at La Rambla is a fine combination of friendly and efficient. The staff are particularly good at explaining the dishes and suggesting excellent wine pairings from the extensive list. Service is generally well paced and attentive without hovering. It is a popular place so reserving in advance is highly recommended.
Price Range: The best slow food is rarely cheap, but La Rambla does offer value for money. Pinchos (light snacks) run from $2 for wonderful bread with olive oil or an oyster shooter to $8 for a selection of olives. A single charcuterie choice is $6, while a mixed board is $25. A Placa de Madera (Wood Plank) for two people, including bacon dates, roasted almonds, marinated olives, meatballs, chorizo, jamon serrano, and boquerones is $30. Cheese servings are $6 for one, $12 for three and $17 for a five-cheese board.
Tapas plates run from $8 for patatas brava, lamb merquez, or roasted carrots to $18 for grilled octopus, with most in the $11-13 range. The very special house paella costs $26 for a small order—which yields generous servings for 2-3 people (or more if you've had some tapas first)—and $39 for a large order—which easily serves 4-6 people. Large plates include a pan-roasted chicken breast with dumplings for $19, a coffee-dusted flat-iron steak with potatoes and Brussels sprouts for $29 and fresh fish of the day with veggies at market price. Desserts are $8-12.
Pin it for Later: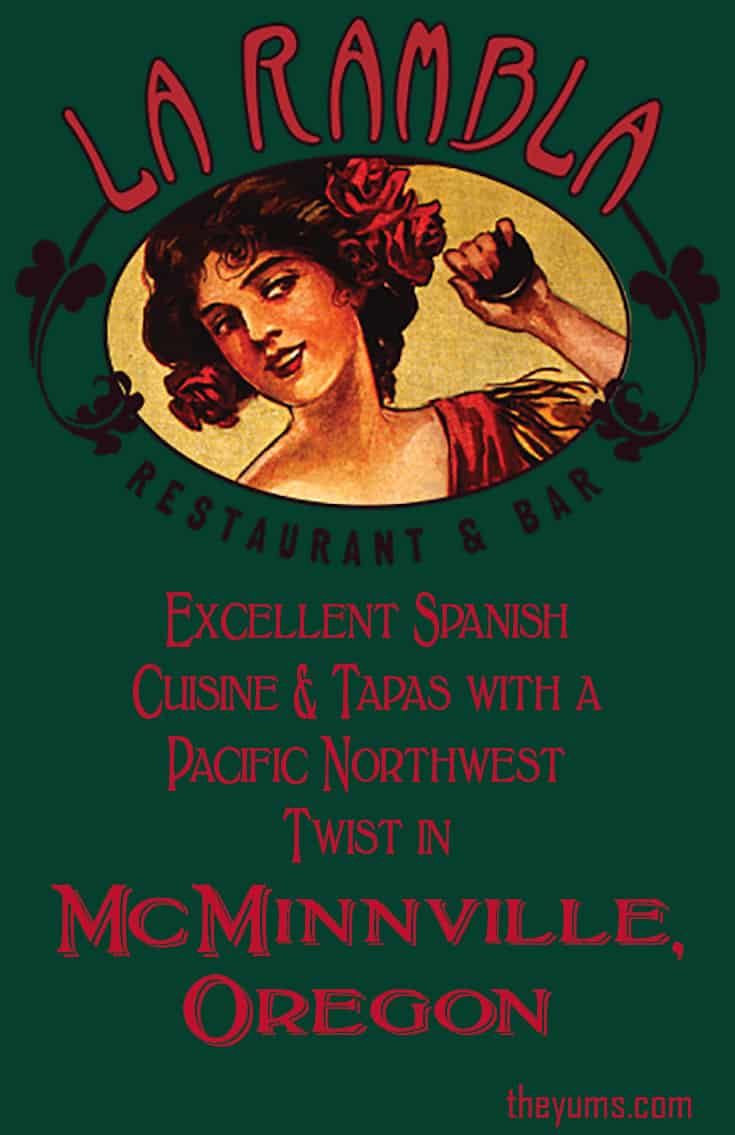 Latest posts by Donna Meyer
(see all)