If you find yourself in the LA Harbor town of San Pedro, California—and you really should; it's an intriguing place—you can't do better than to treat yourself to a meal at J.Trani Italian Ristorante. Just ask any San Pedran who has eaten here in the last 93 years! Yep, that's how long this classic Italian eatery with a modern touch has been in business. Today, Dustin Trani happily introduces himself as the "fourth generation chef owner." He started hanging around this kitchen when he was six, learning all the family culinary secrets from his father and grandfather. But he's not all Italian family home cooking. He also trained in Italy and Thailand, and has worked as a chef in Croatia, New York, San Francisco, Boston, and Beverly Hills. It is Dustin's international touch that enhances the classic Italian cuisine J.Trani has been known for for nearly a century. A Thai sauce here, some tempura peppers there, and a caramelized pear and sweet gorgonzola pizza feel perfectly at home alongside the lasagna and seafood linguini. And all are delicious.
Location: 584 W 9th St, San Pedro CA
Menu: You'll find all the classic specialties you love and expect from an Italian ristorante and steakhouse at J. Trani, though each will have Chef Dustin's special gourmet touch. Spaghetti Bolognese, marinara or with meatballs, chicken piccata or marsala, veal chop parmesan. Since the restaurant is just blocks from the harbor, uber-fresh fish and seafood figure largely on the menu. There is a generous selection of wine, a few good beer choices, and a full bar.
Thoughts: I grew up in San Pedro, so this family eatery was part of my childhood back when it was still called The Majestic Cafe. But I've been gone many years so didn't know what to expect on a recent return visit. I came with a group of friends so had an opportunity to sample many items on the menu, We opted for lots of appetizers and other smaller plates to share around the table during a two-hour dinner, including several of the house signature dishes. I can honestly say not a single one of them disappointed.
We started with the "new" calamari, lightly breaded and served with a Thai aioli, micro greens, and a balsamic reduction. I love calamari and eat it whenever I can. Let me say right here: this was flat out the best calamari I have ever eaten. It was one of those eye-widening moments when the meltingly tender rings of meat in a sweet/spicy/tangy sauce popped with flavor in my mouth. I could have ordered another plate of those babies and made that my entire dinner. But there was much more to come. We followed with an order of Tempura Sushito Peppers in sweet chili beurre blanc with feta cheese and basil. Another winner. I'm not a fan of very spicy food, but the bits of feta dampened the fire just enough to make it a near-perfect appetizer.
Next up was pizza, but not your simple classic, like a Margherita. Oh no, this was a Truffle Potato Pancetta pizza with mozzarella, parmesan, chive. I'm a late-comer to the pleasure of truffles but a strong convert. This was simply wonderful. We followed this with duck breast carpaccio with goat cheese, drizzled with a dense balsamic glaze and beautifully presented on a wooden plank. Then we had a house salad with red onions, mushrooms, tomatoes, feta cheese and a wonderfully light but flavorful house dressing. Now it was time for pasta, all of which is made fresh in-house. Dustin Trani studied pasta making in the truffle region of Belbo, Italy. We tried two: the Penne with Sunday Sauce and the Seafood Linguini. The penne featured a densely flavored sauce a short rib ragu and Bolognese, topped with fresh arugula and crumbles of feta cheese. The linguini starred lots of varied seafood in a tomato and clam sauce and hearts of celery, dusted with parmesan.
At this point in our meal, a "main dish" was impossible. There was just no room. But if we had wanted one, I would have opted for the Local Swordfish Milanese. In my memory, swordfish just goes with San Pedro, and this one sounds heavenly, served with mashed potatoes, grilled asparagus, fresh tomatoes and basil. Another that sounds wonderful is the port and tomato braised pork shank with braising juices over parmesan risotto. But no, there was no room for a main because…we wanted dessert! And oh what desserts they were! We oohed and aahed over the house specialty bread pudding. Infused with walnuts and maple syrup and topped with vanilla ice cream, it was worth over-eating for. The densely flavored chocolate gelato also did not disappoint. Add a cappuccino, and you have the perfect finish to a perfect meal.
J.Trani also offers a Sunday brunch, which has been getting raves. I'd love to go try out the Jalapeño Cheddar French Toast, the buttermilk pancake with buratta and candied pecans, maple syrup and sage. Or maybe the B.S.G.—biscuits and sausage topped with 48-hour veal gravy. There are a variety of small plates if you want to try several taste sensations and share.
This classic Italian place is not all about great food. The service was also stand-out. You're greeted like family and served with efficiency and friendliness. The room feels old-school and homey, with lots of dark wood, exposed brick, a beamed ceiling, and walls lined with photos of Old San Pedro, a special treat for someone like me, who grew up in this town. The chairs are comfortable enough that you don't have to worry about lingering over your meal. You can opt to sit in the main dining room or in the bar, if you prefer something cozier and open to conversation with strangers. A lot of Pedro locals hang out here.
Reservations are recommended, especially for prime dinner hours. If you come at lunch, there is metered parking on the street, which can sometimes be tough to find. Nighttime parking is easier, since you can use the Citibank parking lot right next door.
San Pedro is a delightful place to wander for a day or two. And J.Trani is a delightful place to end a day in this harbor town.
Price range: Not the cheapest place in town, J.Trani still offers good value for money. Appetizers and small plates are $8-17, Pizzas run $17-22.50. Soups and salads are $8-11. Most pasta dishes cost $18-29, topping out at $34.50 for Fresh Lobster Spaghetti. Mains start at $24.75 for Chicken Marsala and go up to $35.95 for a 16-oz Rib-Eye or $37.50 for Veal Chop Parmesan. At brunch, starters are $7-18, small plates are $2-8, big plates begin at $9 for chorizo and egg tacos and go up to $24 for a grilled flat-iron steak with potatoes in adobo chili sauce.
Pin it For Later: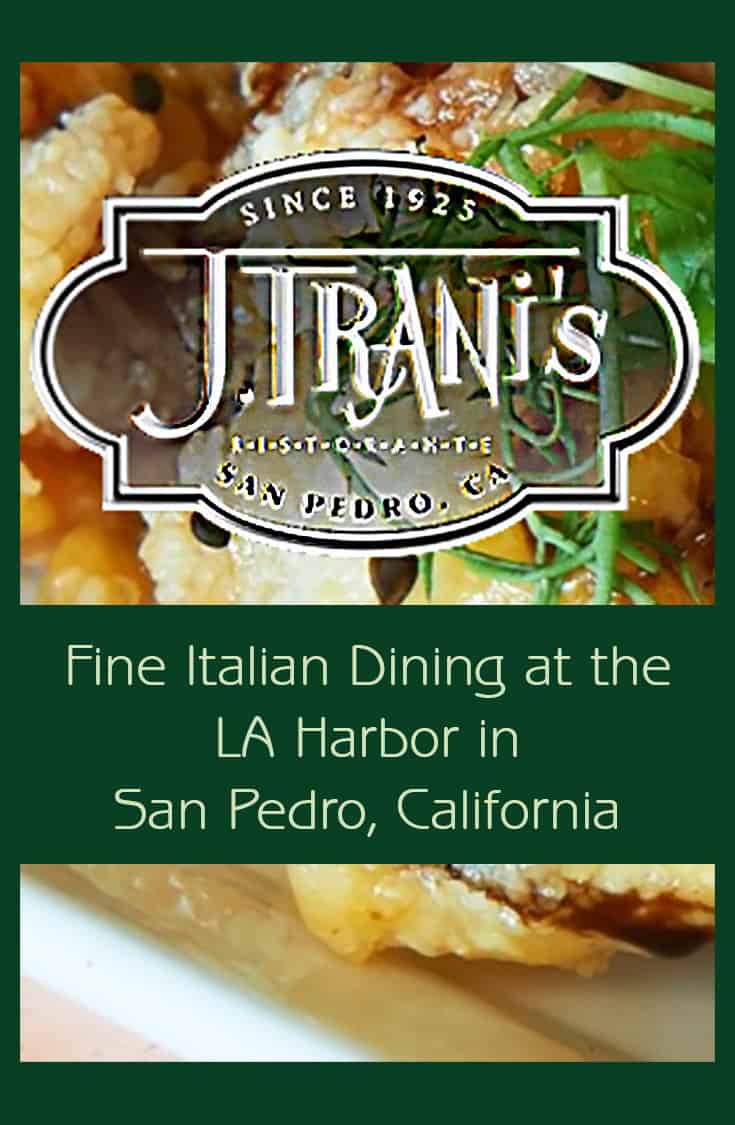 Latest posts by Donna Meyer
(see all)