Whether you want to start the day with a breakfast buffet, and perhaps a Bloody Mary, or want to grab a quick meal or snack during the day, The Kitchen at the Hard Rock Hotel in Orlando, gives options to please any family member.
Location:  5800 Universal Boulevard, Hard Rock Hotel, Orlando
, Florida (at the Hard Rock Hotel at Universal Orlando Resorts
).
Menu:  This casual eatery features new American cuisine and is open for breakfast, lunch, and dinner.  For breakfast, choose between a substantial buffet or ala carte from the menu. The lunch and light fare menus are similar; dinner features many of the lunch favorites, rounding out the menu with some more substantial dishes.
Thoughts:  I've visited The Kitchen a few times, either for lunch or a late afternoon snack, and have found consistently good food, service, and value. It can get crowded during high season peak dining times, but I've always been able to get a table on a walk-in basis. Character dining is available, so check on dates and available if you have children for whom this would be a good fit.
The decor is bright and airy, with a hint of rock memorabilia worked in. Dining is available indoors or out.
A few of my favorite dishes include:
Blue Cheese Potato Chips – I didn't see these on the menu during my last visit, so had to ask about them. They're still available, so ask for them. Housemade chips are topped with bacon, blue cheese cream, scallions, and a balsamic glaze. They're delicious as an appetizer before a meal, but I like them as an afternoon snack accompanied by a cold beer.
Chinese Crispy Chicken Salad – A usual take on what has become a classic salad. It was tasty, but honestly, there wasn't anything special about it.
The Kitchen Burger – It could have been just another burger, tasty, but ordinary. Instead, a few special touches make this a standout. I chalk it up to excellent beef enhanced with the chipotle horseradish aioli. When you're craving a good burger, this one delivers.
Jumbo Kitchen Wings – Another item that was tasty, but didn't deliver anything special that puts it over the top.
Flatbreads – Coming in various flavors, these are an often lauded highlight of the menu. Substantial enough to serve as a started shared by the table, or to serve as an entree for an individual, you can't go wrong with any of the selections. The Short Rib Flatbread with white bean puree, pickled red onions, arugula, and cheese is delicious.
Before ordering, you may want to give some thought to dessert and plan accordingly. The individual "shooters" are a couple of bites or sweet goodness. The Kitchen Sink cake is multiple layers of deliciousness all rolled into a gigantic slice of goodness that will serve a table and still have leftovers.
For more reviews about The Kitchen go here.
Price Range:  The breakfast buffet is $21 for adults, less for kids, and prices on the a la carte breakfast menu range $13-17. Lunch salads run $7-16, the burger is $18, flatbreads range $14-16, and the blue cheese potato chips are $8. Dinner entrees range $17-42.
For Pinterest: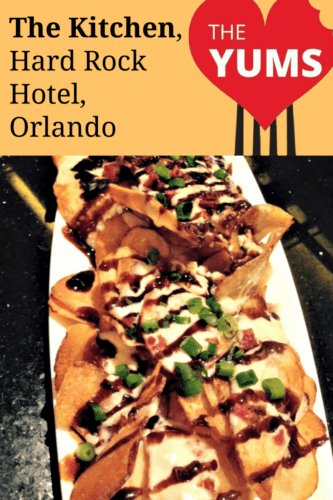 Latest posts by Mary Jo Manzanares
(see all)