The Esplanade Riel Pedestrian Bridge spans Winnipeg's Red River, between the Forks historical district and the St. Boniface neighborhood, one of the largest French-speaking communities in Canada outside of Quebec. In the middle of this bridge is Mon Ami Louis Brasserie Restaurant, the only restaurant in North America located on a bridge. The restaurant's curved windows provide spectacular views of the river. On a summer Saturday afternoon, you might catch a glimpse of a wedding party having their photos taken along the banks of the river, or enjoy watching the boating action.
Location: Mon Ami Louis Brasserie Restaurant located at 50 Provencher Boulevard on the Esplanade Riel Bridge in Winnipeg, [amazon_textlink asin='0887803229′ text='Manitoba' template='ProductLink' store='theyums-20′ marketplace='US' link_id='1963700f-b243-11e8-8573-070184c66660′], Canada.
Menu: The single-sheet menu describes the offerings. The items range from Canadian favorites like poutine and Manitoba vegetable soup to French fares like crusted Brie and savory tarts.
Thoughts: You might wonder who my friend Louis references in the restaurant's name. The restaurant, like the bridge, named after [amazon_textlink asin='0195401824′ text='Louis Riel,' template='ProductLink' store='theyums-20′ marketplace='US' link_id='4d365796-b243-11e8-af07-152e235b9c9e'] a Métis leader and founder of Manitoba. He was born in the mid-1800s in St. Boniface.
The restaurant's red-accented black and white color scheme provides a contemporary feeling by the wall art. The floors are wood and as are the unadorned tables. None of those fancy white tablecloths in this French restaurant.
 Servers dressed in black pants, white shirts, and a red tie offer friendly, helpful service. A black pinstriped apron protects their attire. The dress for diners is business casual.
 There wasn't a wait when we arrived; however, it's a good idea to have reservations as this small restaurant often at capacity.
The restaurant is open seasonally, from April or May through October or November depending on the weather. Because the restaurant is on a bridge parking can be a challenge. Find parking at either end of the bridge, and then walk to the middle of the span to enter the restaurant. There is paid parking at The Forks on one end of the bridge and a small unpaid parking lot in front of a strip of stores on the other end.
My favorite dishes are:
The Croque Croissant made from a butter croissant is crisp on the outside, buttery, and stuffed with thinly shaved Black Forest ham. It's spread with Dijon mustard and then topped with a creamy white béchamel sauce. Melted on top is a Swiss cheese gratin. House cut fries, and a pickle accompanies the dish. The Croque Croissant is a knife and fork sandwich.
The spinach salad could easily make a light lunch by itself. The spinach topped with shaved fennel, roasted pears, crumbles of feta cheese, toasted walnuts, and tart dried cranberries. The salad comes mixed with a slightly sweet lemon basil vinaigrette.
The potted lemon meringue dessert, just the right size for one. Served in an eight-ounce jar, the bottom crust starts with a graham cracker crumb. Then a tart lemon curd mixed with white chocolate pearls makes the next layer. Finally, a swirl of toasted meringue then covers the lemon curd. A stick of milk and white chocolate accents the dish. The jar sits on a black napkin, on top of a plate decorated with sliced strawberries and a berry swoosh. The dessert's multi-component presentation is beautiful.
Price Range: Exchange rates vary. These prices are in Canadian dollars with the exchange rate of $1.25 CD to $1 US. Appetizers range from $6 for warm marinated olives and roasted spiced mixed nuts or Manitoba vegetable soup to $17 for braised brisket poutine. Tartes flambées run from $14 for a half of a traditional or Mediterranean to $18 for a full garlic shrimp or BBQ chicken. Entrees, burgers, and sandwiches run from $13 for a Croque Croissant to $17 a pound of mussels in white wine cream. Desserts are from $7 for a Belgium Liege waffle to $9 for crème Brulee cheesecake. Lunch for two runs about $50 including tax and gratuity.
For Pinterest: Pin this to your favorite French restaurant board.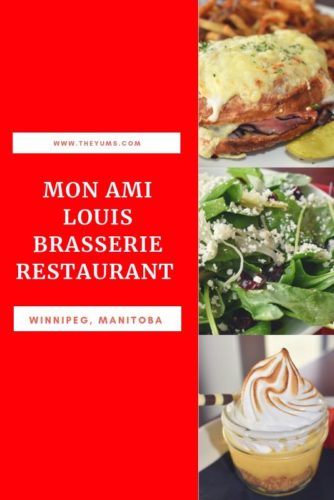 Latest posts by Amy Piper
(see all)