Locally owned and operated by an enterprising mother-daughter twosome, Ana Castillo and Ana Castillo-Guerrero, I must say The Latin Pig Restaurant is about as close as you can get to experiencing Cuba in your own backyard. Ana's mother is the main chef and serves up [amazon_textlink asin='1250036089′ text='Cuban recipes' template='ProductLink' store='theyums-20′ marketplace='US' link_id='e605f285-b451-11e8-8645-73283cbcba7d'] handed down the from the late New York chef and father, Jose Castillo. Having been to [amazon_textlink asin='1786571498′ text='Cuba' template='ProductLink' store='theyums-20′ marketplace='US' link_id='ecc27ef9-b451-11e8-9f9c-0f5273cb287c'], I can vouch that this restaurant gives patrons a truly authentic experience. The picturesque 1950's restaurant decor takes you back in time, but this is actually what you will find in Cuba today.
Location: The Latin Pig is located in the Custer Park Shopping Center at 3131 Custer Road in Plano, Texas.
Menu: Mofongo (fried/mashed plantains with flavorful crispy pork). Slow roasted pulled pork sandwiches. Pollo Guisado (stewed chicken with potatoes). You can pick your meal by dish type and the menu has choices for everyone in your party. From sandwiches to full entrees; choose by meat type (pork, chicken, beef, goat, and more), with certain dishes available in smaller lunch sized portions. There's a seafood selection, as well as vegetarian. A special section in the menu for kids. And we can't leave out the skillfully prepared sweet pastries for dessert in the bakery section.
Thoughts: The airy feel when you walk in is a nice compliment to the warm greeting you will receive just before you are led to your sitting area. The character and homely atmosphere here will truly take you to another place and time. You can enjoy your meal while hearing the beats of Latin Jazz, and [amazon_textlink asin='B01M1A5N57′ text='Buena Vista Social Club' template='ProductLink' store='theyums-20′ marketplace='US' link_id='116f6115-b452-11e8-b066-851c1234a38e'] style music from what is considered to be Cuba's musical golden age (1930-50s). Because I often eat here alone, I sometimes get lost gazing at the real canvas print photos of Havana lining the walls, along with the traditional Cuban art while waiting for my food. The booths have enough privacy where eating alone doesn't have to feel awkward. This privacy also makes the restaurant a great place for discussing business over a meal. I choose The Latin Pig as a meeting spot whenever the opportunity presents itself, and my guests never leave without commenting on the character and authenticity of this venue.
While some selections present as decorative works of art, the food here is true to a flavorful bona fide home cooked meal. My favorite dish is the lunch-sized portion of picadillo. Just enough to satisfy my hunger, without filling me up to the point where I want to unbutton my pants and take nap. A perfect serving of sizzling crumbled ground beef combined with perfectly spiced green beans, olives, carrots and peas that comes with your choice of rice (I recommend yellow with this dish), and a warm savory slice of sweet platano. Unsurpassable.
The family recently opened a second location in The Colony, Texas. The new location offers the same genuine delectable food, with a bit more of an upscale feel, and weekend events featuring live musicians. Live it up at a 'Havana Nights' party on Friday and Saturday nights, and a chance to wind down with 'Romantic Sundays' featuring the voice of Rodri Mondragon who performs your favorite ballads every Sunday afternoon.
Price Range: The ALL DAY Lunch Menu has several dishes for $7 (Monday-Friday). Dinner entrees range from $14-21, except for the house specialty (ox tails) which is around $28. Desserts are all priced the same at $3.
For Pinterest: Save this for the next time you're longing for some authentic Cuban cuisine.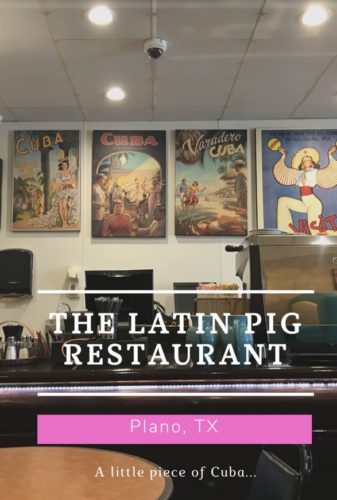 Author Bio: Shelly Willoughby is a freelance writer and small business owner based in Northern Louisiana. Solo globe-trotter (sometimes with her teen son Alex, aka the designated photographer). You can find Shelly on Instagram and Facebook @aspietravelwriter and www.aspietravelwriter.com.

Latest posts by Guest Contributor
(see all)