Classic Maine lobster dishes are the specialty of Stonewall Kitchen Café and Cooking School, so if you love lobster, you will not be disappointed here. It's a new take on traditional favorites.
Location: 3333 Bear Street inside Macy's Home Store at South Coast Plaza in Costa Mesa, California
Menu: The casual dining menu features four lobster specialty dishes.
Thoughts: It all started with Maine blueberry jam produced in the family summer cottage in 1991. Now, Stonewall Kitchen is the largest tourist attraction in the state of Maine, where they deliver about 75,000 jars of the ever-popular jam every day. In 2006 they added a cooking school to add state-of-the-art culinary experiences for their customers.
In early 2018, Stonewall Kitchen teamed up with Macy's in their flagship store at South Coast Plaza, a tourist destination in itself, and brought New England fare to the West Coast. November 2018 Stonewall Kitchen Café and Cooking School opened inside Macy's Home Store..
Each dish has a generous helping of large chunks of lobster meat, not shredded and disguised with fillers. The lobster roll is overflowing with delicious goodness and is served with sweet potato fries.
My favorite dish is the Lobster Mac & Cheese. It marries the best of all worlds with a specialty pasta, four kinds of cheese, lobster meat, and baked under a crown of breadcrumbs until golden brown.
Hearty New England Clam Chowder and Lobster Bisque are made from a secret Stonewall Kitchen recipe and served piping hot in a cup or bowl. I sampled a cup of the clam chowder and remembered why I love New England.
There are classics for the kids (or adults who like simple, traditional comfort foods) such as Grilled Cheese or a PBJ.
The Café, open daily for lunch, is an excellent place for a business lunch. Parking is easily accessible, plentiful, and close to the restaurant. Service is fast and efficient. The dining area is roomy and lends itself well to private conversations. It's also ideal for mom's and children with ample space for strollers and a menu to please the most discerning child. The warm, grab-and-go meals are a welcome break in a shopping day.
To-go meals are also beautiful and carefully prepared. Soon, delivery services such as Grub Hub, Uber Eats, and Meals on Wheels will whisk these dishes to your home or hotel room. Whether a local or a tourist staying locally, imagine your dining delight when this yummy, flavorful meal is delivered to your door.
The location is ideally situated in Central Orange County. Three major freeways intersect in Costa Mesa making it easily accessible from all cities in the county and a good meeting place to shop, to enjoy the arts, and dine well.
Price Range: Deli sandwiches are $9, grilled sandwiches are $12, salads are $7-14, lobster specialties are $20-24. Daily specials that include quiche, soups, and sandwiches range from $5 to $12.
Chopped lobster can be added to any salad for only $8.
Beverages include tea, coffee, espresso, hot chocolate from $2-5; cold drinks such as Stonewall Kitchen Blueberry Lemonade are $2.50. Beer and wine are also available.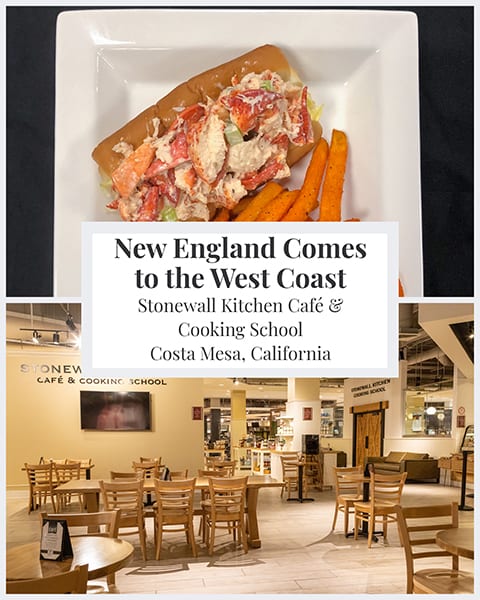 Disclosure: Because the Café was definitely worth a second visit and photo opportunity, my meal was complimentary on the second visit.
Latest posts by Julie Diebolt Price
(see all)