Osteria Pronto took its inspiration from Venice, Italy's traditional osteries. Translated as "tavern" in English, an osteria was traditionally a place that served wine and simple food. In the 21st century, the focus in osteries has turned to food. At Osteria Pronto, this held true. While the wine list was stunning, the food was stellar.
Location: Osteria Pronto is located on the corner of Second Street and Congress, at 110 East Second Street in downtown, [amazon_textlink asin='1935806718′ text='Austin' template='ProductLink' store='theyums-20′ marketplace='US' link_id='66013f05-cf24-11e8-9158-81d53a5936b1′], [amazon_textlink asin='1786573431′ text='Texas' template='ProductLink' store='theyums-20′ marketplace='US' link_id='76ad9673-cf24-11e8-b037-7379b887f70f']. Find the restaurant tucked in the corner on the lobby floor of the JW Marriott hotel.
Menu: The menu offered authentic Italian cuisine with a modern twist. The chef's signature dishes included lasagna, bone-in veal piccata, and a Straw and Hay pasta that reinvented pasta carbonara with a soft-boiled egg broken on top. The Straw and Hay had peas and prosciutto tossed in a cream-based sauce. Veal piccata is difficult to find on restaurant menus these days, and Chef Gilberto Ramirez didn't disappoint with his version.
In addition to pizza and pasta, the menu offered a variety of fish and chicken entrees, plus a 14-ounce Texas wagyu strip steak as a nod to the regional Texas cuisine.
The menu includes vegetarian and gluten-free options, ask your server for additional guidance. Our server was particularly helpful in avoiding foods that would trigger allergies.
Thoughts: Osteria Pronto had a modern elegant atmosphere with an open kitchen and a wood-fired pizza oven. For those nice summer evenings in Austin, outdoor seating was available. The dining room wore shades of black, gray, and white. The windows and etched glass partitions allowed for natural light during the day, while caged chandeliers provided ambient lighting at night.
The wait staff provided attentive service. The uniform of long-sleeved, black, button-down shirts covered with gray aprons added to the staff's professionalism.
 While Osteria Pronto is a fine-dining restaurant, families with children are welcome.
All of the dishes were elegantly plated. My favorites were:
The bruschetta served in three varieties on grilled ciabatta. Each variety includes two slices, so there is a little something for everyone. One type is the traditional bruschetta with diced cherry tomatoes and fresh mozzarella. A second version had chopped basil and eggplant caponata. Finally, the third variety was a peperonata with strips of red, yellow, and green bell peppers. All served on top of grilled ciabatta, then placed on a wooden cutting board as a serving platter.
The endive and pear salad with cubes of Gorgonzola dolce and candied hazelnuts. A Frangelico vinaigrette with a hint of sweetness enrobed each bite.
The pan-seared Chilean Sea Bass was golden-brown and crispy on the outside while creamy and moist on the inside. The Sea Bass sat on a bed of creamy polenta. The dish had an added dimension, topped with rock shrimp and crispy house-made pancetta. Broccolini was the vegetable accompaniment.
The [amazon_textlink asin='B00OABLQAS' text='Bucatini' template='ProductLink' store='theyums-20′ marketplace='US' link_id='5306959a-cf25-11e8-919b-777c7747d4b2′] Bolognese was a classic Italian meat sauce sprinkled with Parmesan. To enhance the portion size, add the meatballs.
The caramelized lemon tart, which looked like a work of art. The tart lemon curd filling sat in a crisp vanilla crust. A quenelle of crème fraiche, strawberries, blueberries, and a thin slice of preserved lemon beautifully decorated the tart.
Price range: Dinner for two was about $60 including tax and tip without alcoholic beverages. Antipasti ranged from $10 for meatballs to $17 for charcuterie. Soup and salads ranged from $8 for a local lettuce salad to $13 for a Caprese salad. Pizzas started at $13 for a Margherita pizza to $15 for a hot Italian sausage pizza. Entrees range from $17 for cheese ravioli to $19 for four-layer lasagna. Other entrees ranged from $25 for the pan-roasted chicken to $42 for the Chilean Sea Bass. Desserts were $7 for a caramelized lemon tart to $10 for traditional Italian tiramisu. Hand-crafted cocktails were $13-15.
For Pinterest: Pin it for later to your favorite Italian restaurant board.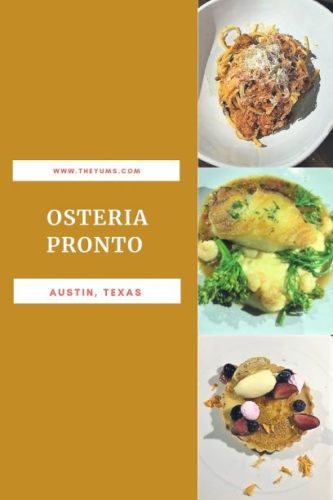 Latest posts by Amy Piper
(see all)