The expansive covered porch, the beautiful woodwork inside, and the neon sign hanging by the bar are the first indications of the comfortable experience you'll have at The Willard. Exposed brick walls create a homey feel in each of the dining rooms. As soon as you step inside, it's apparent that this is a place steeped in history. The Willard is located in a house that was built in 1866 by William McCaslin. It was sold to Mrs. Willard in 1922 for $11,000.  Mrs. Willard owned it with her niece and nephew and remade it into the Willard Hotel. The next iteration of The Willard is when it became a restaurant. Although it was refurbished, care was taken to maintain the original historic details. The current owner, Tony Priola has owned it since 2015, and he inherited it from his father. Although changing hands from time to time, it's always been family owned.
That feeling of belonging is why The Willard is a place where local families enjoy a meal together, visitors kick back on the porch or in the bar, and everyone who spends time there feels at home.
Location: The Willard is found in downtown Franklin, [amazon_textlink asin='076275026X' text='Indiana' template='ProductLink' store='theyums-20′ marketplace='US' link_id='79b7a87a-d23c-11e8-8525-2197c0dddadb'], at 99 Main Street. It's situated on a lovely corner lot next to a gorgeous refurbished Art Deco theater. Perfect for a dinner and a show date night. The Willard is a short walk to a smattering of antique and clothing shops as well as a historical county museum.
Menu: Although locally known for their pizza and wings, there is also a wide selection of sandwiches, appetizers, and entrees available. The Willard has a full bar, interesting cocktails, an extensive beer and wine list (with many local varieties on tap) and delicious desserts.
Thoughts: In addition to their regular menu, The Willard boasts daily specials on food and drinks. These deals can make for a very affordable outing. An example is their recent Monday lunch special of $6.50 for a hamburger and fries.
Some of my favorite dishes are:
Bean burrito. This unassuming entrée is loaded with creamy pinto beans and cheese. Served alongside it are crispy, salty chips, salsa, and homemade guacamole. It's a filling and delicious vegetarian option.
Pizza. The pizzas at The Willard are made fresh to order and loaded with toppings – the small is a perfect individual size.
Fish and chips. Two large pieces of lightly breaded flaky fish, a mound of hot French fries and creamy coleslaw create this filling option.
Long Island Ice Tea. The Long Island at the Willard is perfectly blended – the taste was smooth and a bit dangerous!
Price Range: The Willard is very affordable. Pizzas start at $6.00 for an individual cheese and go up to $18.50 for a 16" specialty. Appetizers range from $4-9. Salads, sandwiches, entrees, and burgers start at $5.99 and nothing on the menu is higher than $9.99. A family of four can easily enjoy dinner including drinks and tip for under $70.
Pin it to Pinterest: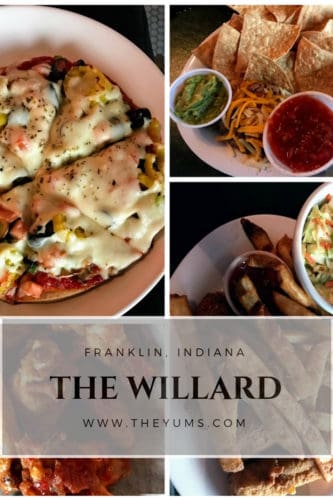 Author Bio: Pam Howard writes at Be Healthy Be Happy Wellness. where she shares her everyday adventures and travels.  Her goal is to encourage her readers to find adventure everywhere and enjoy each day to the fullest.  With a full-time corporate job and two growing kids, she's found ways to still create an adventurous life and hopes to encourage you to do the same.

Latest posts by Guest Contributor
(see all)