Imagine being seated 35 stories up and having unobstructed views of Zurich while indulging in gourmet dining. That's what you get at Clouds – it's a treat for all of your senses. This elegant eatery boasts impeccably dressed servers who ensure you feel well taken care of. They check on you just enough that you never need anything, but not so much as to interrupt your meal.
Every table in the restaurant is adorned with a white tablecloth and fresh flowers, but the first thing you notice is the incredible view. You are, after all, in the tallest building in the city. Floor-to-ceiling windows encase the room. If you're lucky, or made reservations well in advance, you will be seated next to a window to enjoy the view up-close while you dine.
Location: 35th floor of the Prime Tower. Maagpl. 5, 8005 Zürich, Switzerland. Website here.
Menu: Clouds is a gourmet European eatery offering several different menus that change seasonally. They have a four to six-course tasting menu in addition to dinner and quick lunch menus. The menus online already differ from when I was there a few short months ago.
Offerings are varied and wide. Every dish is well thought-out with elegant pairings. You won't find hamburgers and chicken strips on the dinner menu here.
Currently serving their winter menu, the selections reflect a more hearty, soul-warming flavor. Pumpkin soup, Porcini risotto, Austrian dumplings, Lobster bisque and Zurich-style veal with kidneys are a few of their seasonal offerings.
Pasta and risotto are both homemade and if I were to visit today I'd have to say the Orange risotto with endive, gorgonzola and pistachio sounds divine.
Thoughts: If you find yourself in Zurich, you'd be remiss not to savor a meal here while taking in the views of the city. Perfect for a romantic dinner date, book for sunset if you can swing it, or simply enjoy a casual lunch amongst friends.
Traveling solo? Take in the views over a beverage at the bar and chat up some locals. No matter how you choose to visit Clouds, you won't be disappointed. Stunning views, gorgeous decor, welcoming staff and mouth-watering meals will ensure a memorable visit.
Tasting menus are my absolute favorite way to dine somewhere new. Not only do I not have to make any decisions, but I am also afforded the pleasure of sampling several dishes instead of just one or two. Wine pairings are a must for me and while Clouds does not offer this addition, my server was more than happy to select an accompanying wine for each of the dishes.
I thoroughly enjoyed the four-course dinner tasting menu experience. Every dish was a palate- pleaser. The beef tartare melted in my mouth as the mushrooms added a slight crunch to every bite. Cooked to perfection, the venison lay on a bed of tart cranberry sauce, a surprisingly delicious combination. The Brussel sprouts were almost as buttery as the potatoes, nothing was left behind on my plate.
To end the meal I enjoyed the deconstructed fruit crumble with vanilla ice cream. It was the perfect ending to a wonderful meal.
Reservations for Clouds can be made online and are recommended, especially if you plan to have dinner and prefer a window seat.
Price range: Bear in mind that you are dining at the tallest restaurant in Zurich with unobstructed views of the city. This is a high-end establishment and the prices are reflective of this.
All prices are listed in Swiss Francs (SF). At the time of writing, the SF was on par with the US Dollar. The starters range from 18 -28 SF, the main courses from 34 -65 SF and all desserts cost 15 SF. The tasting menu ranges from 98 -155 SF depending on the number of courses you order.
A great way to experience Clouds and its panoramic views in a more cost-effective manner would be the Quick Lunch, promised in 25 minutes for 25 SF.
For Pinterest: Pin this to your food, restaurant, and travel boards.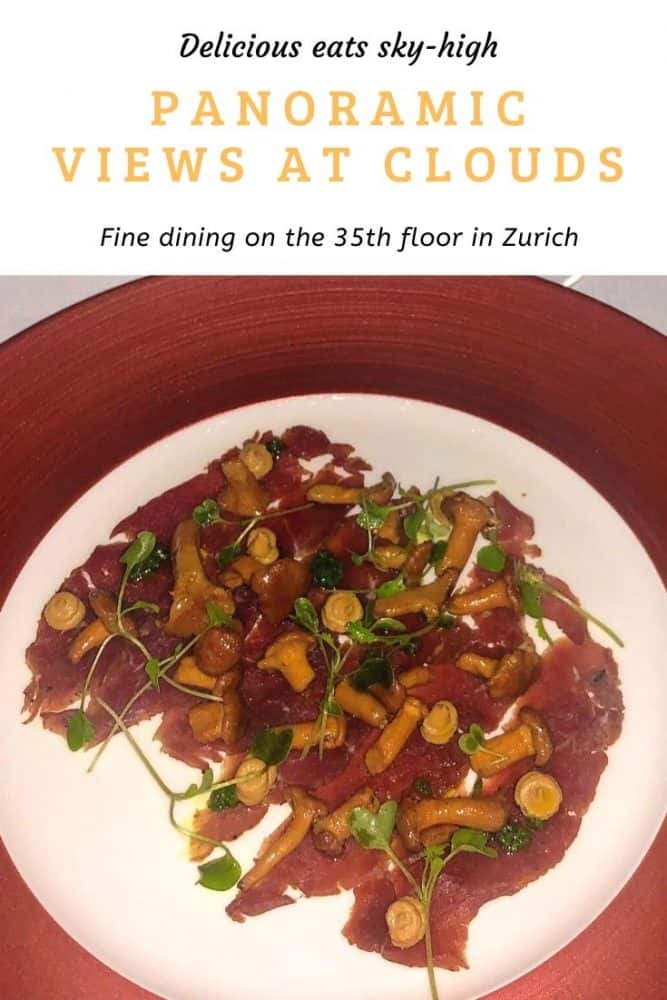 Guest Review Bio: Kathryn Anderson is a freelance health, wellness and travel writer whose mission is to inspire others to live a life they love. Based in Vancouver, BC, she frequently travels the globe and has visited 21 countries on 5 continents. A member of ITWPA, and a Level 7 Google Local Guide, you can follow Kathryn on Facebook, Instagram, and her travel blog, Coffee and Mascara.

Latest posts by Guest Contributor
(see all)