After buying two exquisite turquoise pieces in a small shop across the street from The La Fonda on the Plaza in Santa Fe, I asked the shop owner for a lunch recommendation. What a home run! He suggested The Shed across the patio from the store. You can't miss the bright pink and turquoise door.
Location: 113 ½ E Palace Ave, Santa Fe, New Mexico. Website here.
Menu: They take New Mexican red chile seriously at the Shed. The chiles come directly from the farm and are ground fresh daily. The signature dish is the famous red chile cheese and onion blue corn enchiladas.
Build-your-Margaritas made with fresh lime and lemon juice, are served exclusively with 100% blue agave tequilas. You may request a sweeter version if you prefer. Pay extra to add a float of Cointreau, or Grand Marnier, to an existing margarita. Try the Shed Gold with Hornitos Reposado and Torres Ora or the Silver Spur with Espolon Blanco and Cointreau for a blend of richness added to the citrus flavors.
You pay for your chips and salsa along with guacamole or queso served with corn and blue corn tortillas.
The lunch menu includes soups like corn chowder (winter only), green chile stew, posole, a Pueblo stew with posole corn (similar to hominy) lean pork,
red chile, garlic, and oregano, or fresh mushroom soup. The selections of salads are impressive such as the Shed Ceasar, bleu cheese & walnut salad, kale salad with pine nuts and feta, or Italian green bean salad with protein choices to add, including chicken breast, wild-caught salmon, or flat iron steak.
Besides the classic Shed New Mexican Enchilada Plate, other entrees include tacos, burritos, chile con carne with frijoles, chicken enchiladas, Carne adovada, made with slow-roasted lean pork in a marinade of Shed red chile, garlic, and oregano, served with a blue corn enchilada with red chile sauce, and pinto beans and posole.
The restaurant uses blue corn tortillas almost exclusively. Gluten-Free and Vegetarian are available, also. Traditionally, the Shed serves garlic bread with its New Mexican dishes, reserving its history as a gourmet restaurant.
Thoughts: Family owned and operated, serving up New Mexican cuisine since 1953 on Burro Alley, the restaurant to its present location at Prince Patio in 1960. Set in a historic former home of small charming rooms with doorways so low you have to duck your head.
Prince Patio dates back to 1692 when the king of Spain gave this property to Captain Diego Arias de Quiros in recognition for his reconquest of the area. In 1879 the patio acquired its name when Governor Bradford Prince bought the eighteen rooms built around three courtyards and settled his family here, where they stayed until 1940.
At lunch, for starters, our friendly waitress delivered the house guacamole, salsa, and a mixture of yellow corn and blue corn tortilla chips along with our margaritas. The salsa had that perfect kick of spice, and the blue corn tortillas are bursting with homemade flavor. The guacamole disappeared in a flash.
I ordered the special of the day Chili Rellenos, Stuffed Poblano Peppers with Monterrey Jack cheese, mild tomato sauce, served with beans and rice. The Rellenos were mildly spicy, just perfect for my taste.
My husband ordered The Tamales, wrapped in the traditional corn husks, Christmas, with rice and beans. When you order Christmas, you get both the red and green chile sauces. I heard my husband exclaim: "Just like Mary's." He was in God's country, having been born and raised in Carlsbad, New Mexico.
For dinner, more substantial meat dishes include the steak and enchilada or Southwest grilled shrimp.
The Shed was awarded One of the nation's 32 best Mexican restaurants by Travel + Leisure, Best Red Chile in Santa Fe, and on its 50th Anniversary, won a James Beard award in 2003 as an American Classic.
From the online store, order a Christmas gift pack of sauces, one red and one green for any season. The Posole kit, a bundle of specialty ingredients like the Shed Posole, Chile Caribe, Mexican Oregano, along with the Posole recipe card. Or hot chocolate fudge sauce, or chocolate fudge sauce without the heat.
Price Range: Lunch and Dinner: starters, soups, and salads: $4-10, Lunch entrees $8.50-12.50. Dinner entrees $11.25-25.00. Desserts, brandy, espresso, cognac, cordials, port, hot drinks $2.25-9.50 Drinks: $7.25-22.00
Guest Reviewer Bio: Janie Pace, loving life as a travel writer and photographer, is a native Texan based in Fort Worth covering restaurants, travel destinations, wineries, breweries, cruises and much more locally, nationally as well as internationally from Peru to Canada plus Hawaii to Bermuda. She is a member of the ITWPA, International Travel Writers and Photographers Alliance and United States Press Agency USPA. Follow her on Instagram.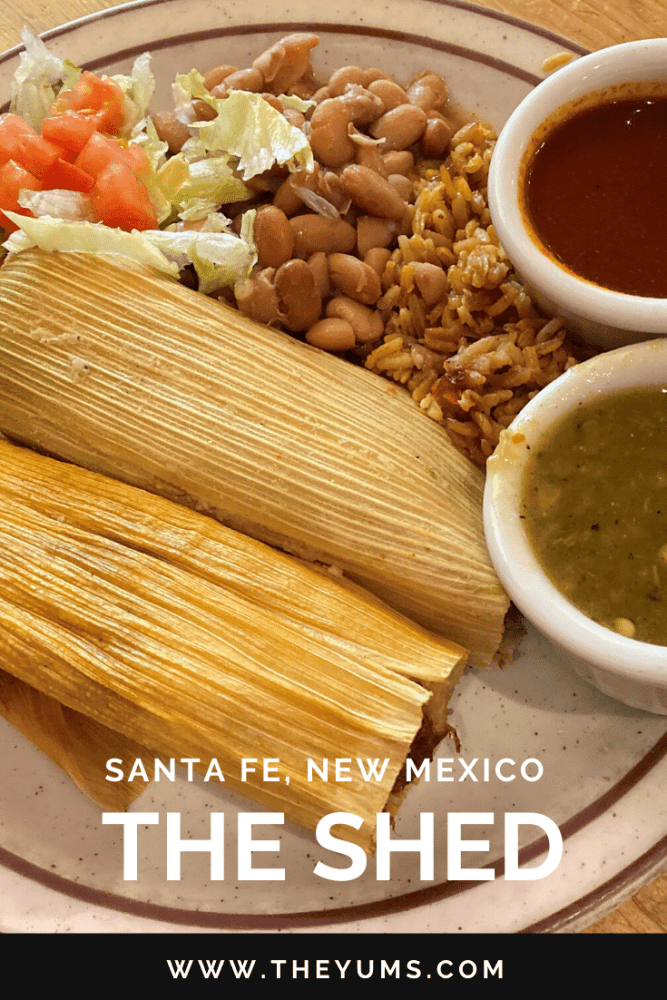 Latest posts by Guest Contributor
(see all)