The craft brew scene in central New York State is hopping. In fact, the 200-mile long Finger Lakes Beer Trail boasts more than 100 craft breweries. One of them, right in the heart of downtown Auburn, is Prison City Brewery, which gets its name from the nearby Auburn Correctional Facility. And it's not just the beer you want to go here for. You also want to go hungry, because not only is it Cayuga County's only brewpub; it's a really good one. This gastropub has a strong farm-to-table focus and even lists their many local producers right on the menu.
Location: 28 State St., in downtown Auburn, New York
Menu: The menu takes traditional pub grub and twists it into something quite fine, though still casual. For example, on the sandwich front, instead of a simple BLT, order a salmon BLT where the salmon is IPA glazed and the whole is topped with caper dill mayo on a fresh NY bakery roll. The pub burger, for which they are locally famous, is made from grass-fed beef and topped with caramelized onions, locally made cheddar, house-made pickles, and chipotle mayo on a bakery roll. So, you get the idea. Pub grub…elevated.
The menu changes frequently, taking advantage of what's good and in-season from their local suppliers. There are always several daily specials on offer that your server will rattle off for you and explain the details. Also, the menu is clearly marked with the many items that are vegetarian, vegan, gluten-free, or dairy-free.
Thoughts: Extremely popular with locals as well as those passing through, Prison City Brewery is a great place for a casual meal and a chance to try out some excellent craft brews. If you love beer but want to test a few, I recommend you get a flight. You can pick four 5oz. pours of any of their brews then argue with your friends over which are the best. And there are some truly excellent ones.
Even though they only opened in 2014, they have been winning awards regularly. Their Mass Riot IPA was named the #1 American IPA by Paste Magazine two years in a row. And in March 2019, their Wham Whams Imperial Stout took the Governor's Cup in the New York State Craft Beer Competition, making it the number one beer in the state. Aged in Willett bourbon barrels and conditioned on toasted coconut and Madagascar vanilla beans, it's a smooth 9.3% brew that goes down sweet. It's been compared to a boozy liquid Mounds Bar.
But you also want to eat. The menu, though not extensive, is well designed to complement the beer, though it is also perfectly able to stand on its own, with a glass of wine, a cocktail, or a ginger beer or lemonade.
My first food suggestion is that whatever you order, you accompany it with a pub pretzel. They are big and soft, topped with Everything salt, and come with pub cheese and delicious ale mustard. For my money, there's no better starter or pub snack.
Other great appetizers include brussels sprouts topped with crispy pork belly, goat cheese, beer mustard, and honey, served in a crock. These are not your grandma's brussels sprouts. There are four different flavors of big, juicy wings. And poutine… ah, the poutine, with Yancy's Fancy cheese curds and house gravy. You can also top them with beer-glazed pork belly or an egg. If it's a day for their special pot roast topped poutine, you are really in luck.
Among the salad selections are the Power Bowl or the wonderful Abundance Bowl, with house-made ginger maple dressing. Any of the salads can be topped with salmon, chicken, steak, or a vegan beef patty to make a heftier meal. The list of sandwiches includes those luscious 6 oz. burgers, a vegan burger, and the Smoked Blues Burger, made with local grass-fed beef, bacon, stout onion rings, and smoked blue cheese. My favorite sandwich was the Schnitzel-wich, overstuffed with fried pork, apple chutney, cheddar curds, arugula, and beer mustard on a pretzel roll. Fantastic.
One of their top-selling main dishes is their mac & cheese, made with several local kinds of cheeses, their own IPA, and topped with pretzel crumbs. To make it an even more killer dish, you can mix in caramelized onions, roasted mushrooms, smoked blue cheese, chicken, and/or pork belly. And one more can't-miss main dish: Pork Belly Tacos. These flour tortillas are stuffed with beer-braised pork belly, house-made kimchi, cilantro, and avocado-lime sauce.
The space at Prison City Brewery is a casual pub with an industrial vibe. The prison motif runs throughout, from the bare brick walls and metal chairs to the names of many of the beers and the vintage black-and-white photos of prison scenes on the walls. Wooden floors, exposed ductwork overhead, and a huge sign on the back wall that spells our BEER in round light bulbs.
For warmer days, there is also pleasant outdoor seating at a raised terrace in front with umbrellas over metal grate tables. Although they are frequently very busy, especially on weekends, when you can expect to wait a bit for a table, service is always friendly and efficient.
The servers know both the menu and the beer list well and are very good at helping you choose a beer you might like, or four of them for a flight. You come away with a strong feeling that people enjoy working here.
Price Range: Expect to spend $25-35 per person for a meal and a brew. Beer prices are quite reasonable, starting at $150-3 for a small 5oz pour. Pick any four of these to make a flight. The 16oz draft pours are $6-8.
Pin it For Later: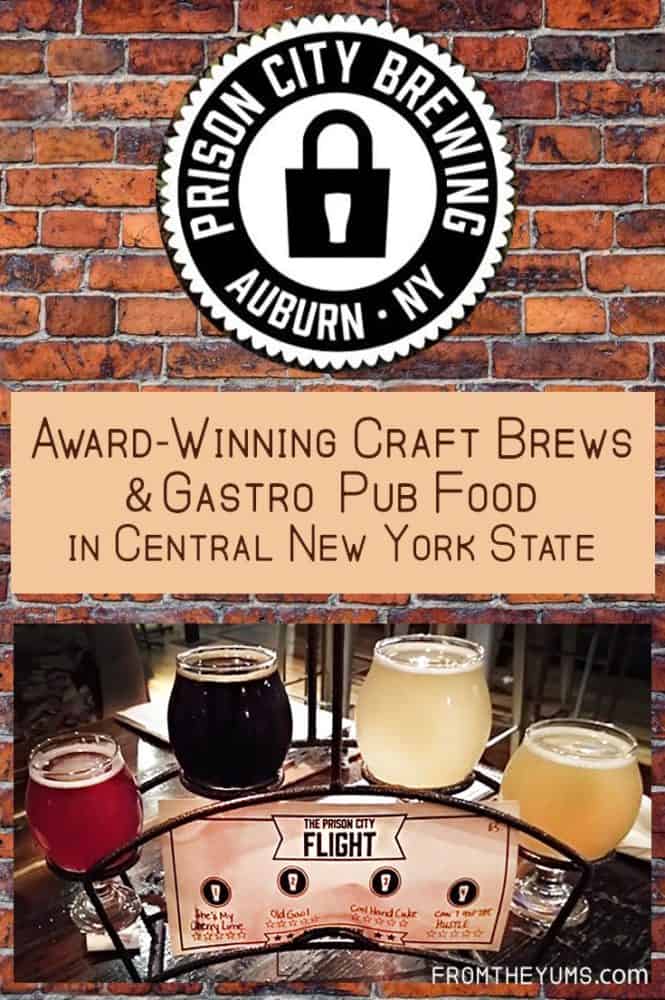 Disclosure: The author's meal was provided compliments of the Cayuga County Office of Tourism.
Latest posts by Donna Meyer
(see all)