There is a feeling of nostalgia when you walk into a Roots Ocean Prime Restaurant. The concept reflects the old-fashioned dining experience of a New York Style Steakhouse.
The word prime refers to the grade given by the USDA to describe quality beef. At Roots, the beef is prime, center-cut, and sourced from quality ranches in the mid-west. It is aged and cooked to perfection at 1800 degrees. Roots Ocean Prime is serious about steak, but it has incredible seafood as well.
Location: Roost Steakhouse is located at 98 University Place, Princeton, New Jersey. Find the restaurant website here.
There are four locations in New Jersey – the first opened in Summit in 2006 on the site of the iconic "Roots" clothing store. The name and the mink vault remained, the latter incorporated into the restaurant as part of the decor. Their other locations are in Morristown, Ridgewood, and Princeton, New Jersey.
Menu: Along with tantalizing appetizers like Applewood smoked slab bacon with a maple glaze, there is creamy clam chowder and lobster bisque with chunks of meat as well as a wonderful list of salads.
The raw bar includes seafood "cocktails" like lobster, jumbo shrimp or lump crab – de-shelled and perfectly chilled. The sandwich list is mouth-watering with a slow-roasted prime rib with horseradish cream and hot au jus, crispy chicken, and an open-faced colossal crab cake. The entrees list steaks, salmon, and scallops but for vegetarians, there are delicious options like roasted cauliflower steak and veggie Shepherd's pie.
Thoughts: Roots has four restaurants in New Jersey with the new addition of the Princeton location (previously a French brasserie) which opened in 2019. The decor is clubby with wood-paneled walls and leather seating. The dining room is gorgeous and elegant.
First, it is important to note that the service is exceptional. A warm greeting followed up with a lot of attention to detail like regular refills on drinks and napkins re-folded if you stepped away from the table. My dining partner has a severe shellfish allergy. Her requests to alleviate any cross-contamination were taken seriously in the kitchen and in the delivery of our meals. One server brought out her meal while mine was handled by another. This service is appreciated as any contamination could cause a serious reaction.
Next, the warm popovers arrived. My server brought the pan to the table and served them piping hot alongside sweet butter sprinkled with flaked salt. They were sublime.
The menu was chock-full of steakhouse favorites like a classic wedge salad with blue cheese and an 8 oz. petite Filet Mignon with spinach and garlic whipped potatoes. My friend chose the wedge and a twice-baked potato that was double the normal size. This enormous side-dish included the potato mixed with the addition of broccoli, bacon and melted cheddar cheese.
I am always looking to sample a few items from the menu, so when I noticed the McCarter Trio, I had to ask my server about it. The McCarter trio consists of a Filet Mignon slider with horseradish cream and crispy onions, half of a lobster roll and a cup of lobster bisque or clam chowder. This is my kind of entree. When it arrived, it was a lovely sight.
The rectangular plate held the three portions in a neat row. The slider, served inside a tiny brioche roll contained a generous portion of tender steak slathered with horseradish cream and crispy onions. It was scrumptious. The cup of lobster bisque was light with chunks of lobster meat and potatoes. I could have enjoyed an entire bowl. My personal favorite, the lobster roll, arrived on the classic split-top buttered roll. The sandwich was filled with lobster, delicately dressed and supremely fresh. I would endorse this dish as a winner for anyone who wants to sample a few items rather than one large plate.
Finally, we tried the dessert specialty, butter cake. Known as the quintessential American cake, it is reminiscent of a buttery pound cake but extremely moist. The round cake served warm and topped with vanilla ice cream, macerated blueberries, and whipped cream could feed at least four people. Words cannot describe how delicious the Roots version is. If you love dessert, this is THE choice.
Price Range: Appetizers range from $9-15 with the raw bar ranging from $16-46 for the chilled seafood platter. Sandwiches are around $16 with the lobster roll at $18.95. Entrees are around $20 including the McCarter Trio which is an incredible deal.
Pinterest: Save to your favorites Pinterest boards and visit Roots Ocean Prime next time you're in the area.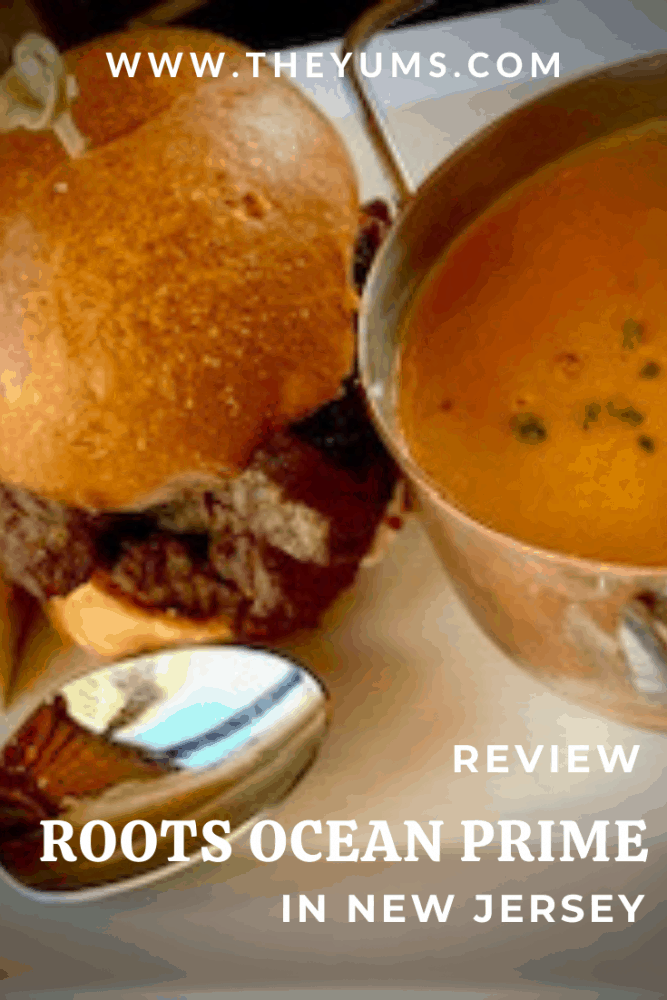 Latest posts by Jeanine Consoli
(see all)