Come for the views and stay for the food! The Volcano House Restaurant at the Hawaii Volcanoes National Park overlooks the Kilauea caldera and the billowing Halema'uma'u Crater. As you eat, the tall windows that stretch the length of the seating area up on the rim provide you with a view of the active volcano venting steam.
Rarely will you ever see Mother Nature up close and personal like this while safely feasting on exquisitely prepared meals of freshly caught fish, or grass-fed, organic beef, or sashimi.
Location: 1 Crater Rim Drive, Hawaii Volcanoes National Park, Island of Hawaii. The website is here
Menu: An extensive selection of Hawaiian foods populate the menus for breakfast, lunch, and dinner. Most food is locally sourced and as fresh as can be. 
Breakfast is a buffet with an egg station, meats, and potatoes. Waffles, Granola or Turkey hash extend your choices. The lunch selections offer Pacific-fare themed soups, salads, sandwiches, and plate lunches. The dinner menu is heartier with a full selection of appetizers, soups, salads and entrees of fish, lamb, chicken, and beef.
There is also a Keiki (kids) menu with pasta, pizza, and hot dogs.
Thoughts: Right off of the Hawaii Belt Road (Highway 11), near the entrance to the 505-acre Hawaii Volcanoes National Park, the Volcano House offers lodging, food, and gift shops with jaw-dropping views of the volcano. Depending on the current activity of Kilauea, you may see fire and lava, or only steam. It is a site you won't forget, regardless of its intensity.
The historic building was built in 1846 as a one-room shelter. In 1866, the hotel was expanded to four bedrooms. Mark Twain stayed here and wrote about it. Over the years, it has been updated and expanded, but still has a delightfully rustic charm.
Even though we arrived in the early afternoon, the restaurant was packed and it took about 30 minutes to be seated. Meanwhile, we relaxed on the couches in front of the full-length windows, watching the steam escape through vents in the floor of the Kilauea caldera. Outside, there was a walkway along the side of the building with a low rock wall at the top and telescopes for viewing.
By the time we were seated, I was hungry and excited to try the lobster and crab cakes. Made with Kona cold lobster and lump blue crab, the cakes were beautifully plated over a vegetable slaw. The ginger beurre blanc and dragon fruit sauce complemented the lightly fried cake. Lobster and crab are less frequently seen on menus in Hawaii and I was happy to eat two of my favorite kinds of seafood prepared so creatively.
My husband stayed with the more traditional, ordering fish and chips. The fish was a flaky, white ono that had been encrusted in coconut and macadamia before being lightly fried.  The house-made remoulade dipping sauce was well suited to the dish.
The dining rooms are simple – wood floors, plain wood tables, and metal chairs. Special care is taken by the kitchen to add signature Hawaiian twists to the food preparation and to create beautiful presentations that exude decadence despite the simplicity.
The diverse menu caters to the tastes of the varied cultures that visit Hawaii as well as offering more standard Hawaiian fare.
Examples include:
The Sashimi Sampler and Poke includes a seaweed salad and soba noodles with infused soy, pickled ginger, and wasabi.
Plate Lunches are a standard in Hawaii, and at Volcano House, your side options include house-made potato and macaroni salad, steamed rice, and Johnson's Farms organic stir-fried vegetables. Ono, pork, chicken or tofu can be added.
The Volcano Market Salad is made with locally sourced Hawaiian greens and vegetables. Wild mushrooms, vine-ripened tomatoes, Maui onions, Wailea hearts of palm, all topped with Thai papaya and Hawaiian vanilla bean vinaigrette. Make it a full meal by adding grilled chicken, jumbo shrimp, steak, fish, or tofu.
Desserts include Hawaiian ice cream and sorbets, salted caramel toffee cookies, cheesecake, cakes, and pies.
A full bar is adjacent to the dining room with island cocktails, beers and wines. Every evening, local musicians provide entertainment with an aloha vibe.
Price Range: Breakfast buffet $20 for adults and $12 for kids. Lunch $8-19. Dinner appetizers start at $8, soups and salads at $12, and entrees range $20-42
Keiki (kids) menu ranges from $7-12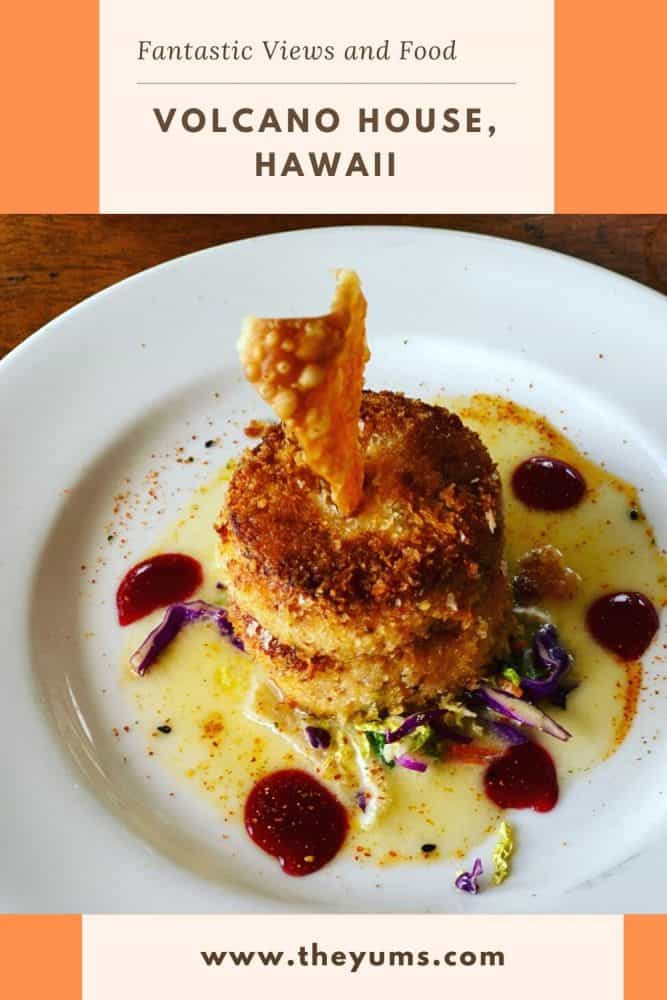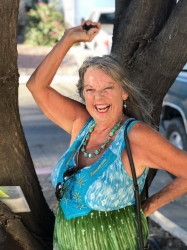 Latest posts by Joeann Fossland
(see all)