Saint Leo catapulted to the top of everyone's radar when it became a [amazon_textlink asin='0847847462′ text='James Beard' template='ProductLink' store='theyums-20′ marketplace='US' link_id='f7169cba-61d6-11e8-bdb3-ed1af5bc52a5′] semi-finalist for "Best New Restaurant" in 2017, only a year after it opened. How could an eatery in small-town Oxford, Mississippi make such a list? The vision of Emily Blount has become a delicious reality, and diners are coming in droves.
Location: 1101 Jackson Avenue East, Oxford, [amazon_textlink asin='1493012819′ text='Mississippi' template='ProductLink' store='theyums-20′ marketplace='US' link_id='1162075f-61d7-11e8-8198-1ff2ad3ac08e'], one block from the town square.
Menu: Diners at Saint Leo can expect fresh, seasonal, locally-sourced ingredients combined with the tantalizing aromas of Italian seasonings. The menu is short and simple: appetizers, salads, pizzas, pasta and two plates featuring chicken or grilled quail. The tastes, however, are long and complex in terms of flavor and creative preparations.
The bruschetta I sampled was possibly the best I've ever eaten, and my fellow diners raved about the marinated house olives. Other exceptional antipasti include farinata (chickpea crepes) and a salumi board.
Salads are loaded with fresh vegetables and housemade dressing. One of the most frequently ordered is the Chopped Salad with romaine, soppressata, avocado, radicchio, sunflower seeds, herbs and a dill dressing. Another is a broccoli and kale salad with mustard vinaigrette.
Pizza is the undisputed star of the show at Saint Leo. In fact, the Burrata and Soppressata version was recently featured in [amazon_textlink asin='B07B25HR1W' text='Southern Living Magazine' template='ProductLink' store='theyums-20′ marketplace='US' link_id='3806e9fd-61d7-11e8-9b59-7123f7255925′]. In addition to the expected toppings, Saint Leo pizzas might be prepared with ingredients such as pork belly, charred scallions, asparagus, leeks, and [amazon_textlink asin='B00T564BKK' text='prosciutto' template='ProductLink' store='theyums-20′ marketplace='US' link_id='44922012-61d7-11e8-aaee-ddaed96230ce'].
A couple of pasta dishes are also on the menu, along with Pan-Roasted Chicken and Grilled Quail.
Ice creams highlight the dessert offerings. Beyond chocolate and vanilla, you'll find flavors like Grilled Fig Leaf, Brown Butter Bourbon and Native Son Farms Strawberry.
Thoughts: Emily Blount is both the brains and the organizer behind Saint Leo. The restaurant, which opened in late summer of 2016, is named for both the patron saint of chefs and Blount's astrological sign. She brings her Northern California roots, plus ten years of experience in New York City, to Oxford, Mississippi. Her sister-in-law is the pastry chef, and Marco creates the pizzas. The wood-fired oven dominates the back corner of this smallish place that seats 72 people. They even have a mobile, wood-fired oven that can be brought to outside venues to facilitate their catering.
Saint Leo is loud, busy and pulsating. Tables for lunch and dinner fill up quickly. The service is fast and friendly.
Saint Leo's meteoric rise in popularity can be attributed, in part, to the annual Southern Foodways Alliance Symposium held in Oxford under the leadership of John T. Edge. Many people influential in the world of food and cooking attend the symposium, James Beard award voters, for example. Saint Leo generally caters one or more of the meals for the attendees. As a result, many have sampled Saint Leo's cuisine and spread the word.
If there is such a place as a dressy pizza joint, then this is it. When you walk in and see the well-heeled clientele, only your nose will alert you to the fact that Italian cooking is happening on the stove and in the oven. It might be a little too pricey or fancy for university students to indulge in on a daily basis, but it is perfect when parents come to town and feel like spoiling their hard-working kids. Those parents are bound to appreciate the extensive wine list on an otherwise small menu.
Price range: Antipasti selections range from Garlic Rubbed Grilled Bread for $3 to a Salumi Board for $32.50. Salads are $10 to $18.50. Pizzas are $14.50 to $22.50. Pasta dishes are $18.50 and $20.50. A plate of Grilled Quail is $26.50, and a plate of Pan-Roasted Chicken is $28.
Brunch main dishes range from $9.50 for a Chocolate Waffle to $20.50 for a Burrata and Soppressata Pizza. Desserts are $4 for a single scoop of ice cream with a waffle crisp to $9 for a Chocolate Pot de Creme.
For Pinterest: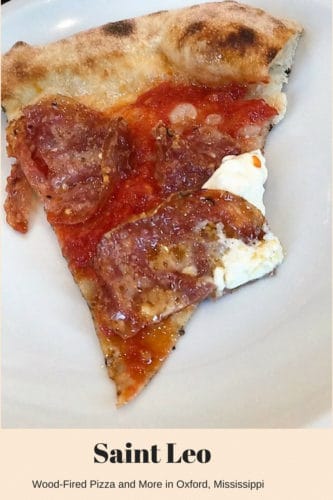 Latest posts by Connie Pearson
(see all)