Dining at the Genesee Brew House next to the iconic Rochester New York Genesee Brewery is like dining in beer history. It's a full-on beer destination experience featuring beer, food pairings, brewery tours, beer tastings and a gift shop dedicated to good ole "Genny."
Location: Genesee Brew House, 25 Cataract Street, Rochester, [amazon_textlink asin='1905131704′ text='New York' template='ProductLink' store='theyums-20′ marketplace='US' link_id='d79ecef1-6b43-11e8-8951-6fc00ef28987′].
Menu: Featuring typical bar fare but with a beer twist such as hot dogs, burgers, tacos and wings as well as some unique finds such as Buffalo Chicken Perogies, and Vietnamese Banh Mi Sandwich. Genesee Brew House is a casual spot for eats and of course beer. There are 16 beers on tap – two of them guest brews. Luckily, the menu offers suggestions for food and beer pairings so that you don't need to guess what goes best with what. Vegans and vegetarians may be a bit out of luck with only a few selections to choose from the menu.
Thoughts: Genesee Brew House is loud and boisterous especially if the game is on TV. With people coming and going all around you, the crowds add to that party atmosphere.
Dining facilities are upstairs and feature an outdoor patio that offers a great view of High Falls State Park and Genesee River Gorge. There is also a 41-foot long bar for additional seating to sit and watch the game.
The main floor features a gift shop of all things Genesee Beer complete with interactive history exhibits, a brewery tour, and a tasting bar that features a flight of four different beers.
A few favorites to try:
Bavarian Pretzels ($10US) – Four of signature Bavarian pretzel sticks served with your choice of dipping sauce (house beer mustard, beer cheese sauce, or maple bacon peanut butter).
Santa Fe Salad ($11US) – Fresh mixed green salad tossed with a chipotle avocado dressing and topped with cheddar jack cheese, house-made salsa and house-made tortilla strips for a bit of crunch. My traveling (and eating) companion wanted something healthy (ish) and opted for this salad and really enjoyed it.
Honey Brown Bratwurst ($9US) – A favorite dish according to our waitress, this seasoned pork sausage blend is infused with Genesee Honey Brown Lager and is served on a toasted bun with a side of beer mustard for dipping. It's deliciously topped with grilled onions and sauerkraut and complimented with a side of salty kettle cooked chips. This bratwurst was a very satisfying lunch choice. The only thing that would have made this better, in my opinion, is if the chips were freshly made — but sadly, they are from a bag.
Prices: Starters range from $8 to $12; Salads range from $10 to $15; Sandwiches range from $11 to $14; Hot Dogs and burgers range from $5 to $14.
Located between the legendary Genesee Brewery and High Falls State Park, Genesee Brew House is a great place to grab a bite, drink a "Genny" and experience a bit of beer history, one of the oldest continually operating breweries and possibly the largest in the USA.
Pinterest: File this beer fan favorite on your Pinterest board.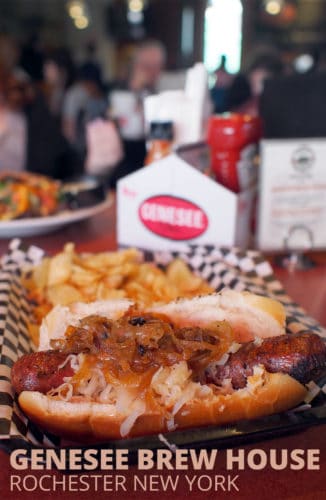 Latest posts by Mary Chong
(see all)