After a day spent exploring the Coachella Valley, the San Jacinto Dining Room at Mission Lakes Country Club is a welcome dining oasis in the Colorado Desert. Open to the public and close to Palm Springs, there isn't a bad seat in the house. The picture windows look out over the verdant green golf course and valley to the San Jacinto Mountains. The spectacular view is even more breathtaking when it is covered in snow as it was this winter. If you go after dark, the twinkling lights of Palm Springs create a magical landscape and add a little romance.
Location: Mission Lakes Country Club is located at 8484 Clubhouse Boulevard in Desert Hot Springs, California.
Menu: The casual but elegant dinner menu appeals to many dining preferences. From hearty beef dishes to chicken, pork, and seafood entrees, there are also vegan and gluten-free items for those with food restrictions.
Coconut shrimp (always my favorite) with coleslaw, potato skins, calamari sticks, and a bubbling hot spinach crab dip are on the Appetizer menu. What stands out on this list, however, is the Gluten Free Crusted Cauliflower Vegetarian Pizza. There is no guessing about the ingredients as everything is listed on the menu.
The soups and salads are well marked as to vegan, vegetarian, and gluten-free. The Arugula Pear and the Golden Beet salads add a touch of sophistication to the experience. The expert staff in this dining oasis has thought of everything.
Burgers, made with Angus ground beef that are hand pressed in house, are offered along with the regular entrees. You can select from pork ribs, sirloin steak, filet mignon, salmon, chicken, meatloaf, as well as fish and chips.
Dinner specials that are available only on Friday and Saturday are a great way to order the best meals in the restaurant. Because I was in the mood for a lighter meal, I ordered the vegetarian quinoa bowl, one of the specials that evening. It was a substantial dish with crisp, peppery arugula, mushrooms, quinoa, avocado, and other fresh vegetables, topped with a creamy, house-made yogurt dressing, hummus and served with grilled pita bread.
Our party of four enjoyed a mix of lobster fettuccini, the quinoa bowl, and meatloaf. We were all happy with our selections and appreciated the variety of entrees.
The San Jacinto Dining Room's mouthwatering desserts are irresistible. Many favorites are on the menu like Chocolate Wipe Out Cake, Sunny's Crème Brülée (my personal choice), Four High Carrot Cake, Raspberry White Chocolate Cheesecake, Chocolate Moulton Cake, Chocolate Lava Cake (gluten-free), The Big Apple (pie, of course), and Pumpkin Bundt Cake. And, if this isn't enough, you can add a scoop of Vanilla Bean ice cream to any of them.
A single serving of Four High Carrot Cake was enough for the four of us to share. There wasn't one delectable morsel left on the plate when we were finished.
Thoughts: Desert Hot Springs, located in the Greater Palm Springs area, is unique in that it has both hot and cold mineral aquifers. It's the only place in the world with this claim to fame. So, after a day of soaking or hiking or golfing, you can enjoy a local dining experience that is moderately priced and easily accessible.
Reservations are highly recommended at this dining oasis, especially on Fridays and Saturdays. That can be accomplished online on their website. Membership is not required for you to dine at their restaurant. And, you don't even have to play golf!
On Saturday evenings the San Jacinto Dining Room presents live music for dancing and background entertainment. This is one stop for dining and diversion on a Saturday night in the desert.
There is a Dress Code for the Bar and Dining Room. It requires that men wear proper golf, tennis, or sporting attire, no blue jeans, shoes worn at all times, a shirt with sleeves, and pants, shorts, or knickers must be clean, free of holes, rips, and tears. Undergarments must not be visible, and no hats are allowed after 6 pm.
For women, the Dress Code requires proper golf, tennis and sporting attire, no bare midriffs, shoes to be worn at all times, and pants, shorts, or knickers must be clean, free of holes, rips, and tears. Undergarments must not be visible. Sleeveless and collarless tops and dresses are permitted.
Price Range: Appetizers and salads range from $9 to $12, with soups from $3 to $5. Burgers and regular entrees from $15 to $30. Weekend dinner specials are $16 to $19, and prime rib is $25 (served Friday and Saturday only). All desserts are $6.
This dining room is "cashless," and they accept all credit cards.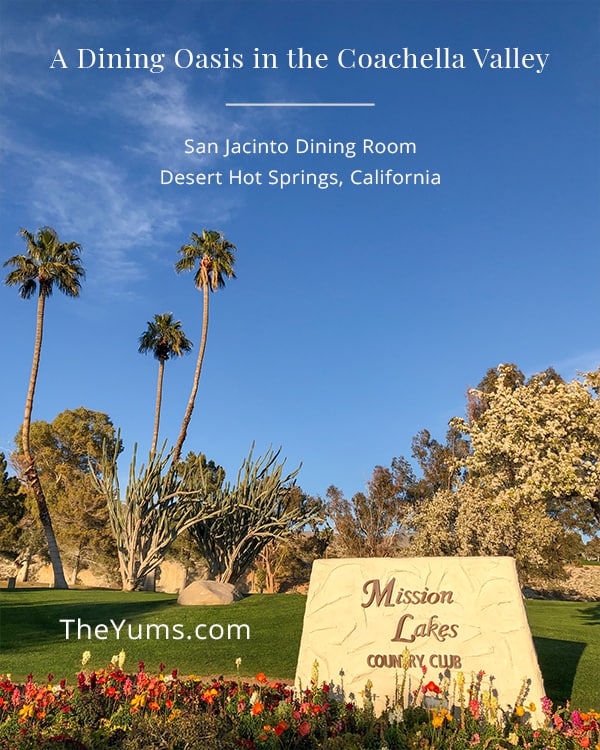 Latest posts by Julie Diebolt Price
(see all)